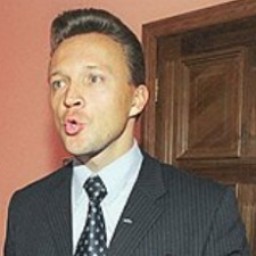 Biography
Maxim Finsky (born 25 March 1966) graduated from Moscow Institute of Finance with a degree in finance and lending.
1993-1995 chairman of the board of a private bank called Moscow Bank for Development and Reconstruction
1995-1998 chairman of the board of United Regional Bank
1998-2001 first deputy chairman of the board of International Company for Finance and Investment, or MFK, a private bank
2001-2008 deputy director general of Mining and Metallurgical Company Norilsk Nickel Open JSC
In 2005, Finsky received a degree in Law from the University of International Relations Ministry in St Petersburg
In September 2008, he became the president of Mining and Metallurgical Company Intergeo.
As of 2011, his wealth was estimated $360 million.
He is married to Vlada Verevko, born in 1982. Verevko won a Miss European Beauty pageant, held in the city of Velikiye Luki in 2002.
Sources: Polyusgold.com/Sovet Directorov, Delovoi Peterburg-personalii/ Finance, 14 February 2011
Dossier
In 2000-2001, the media linked Finsky with the Incombank fraud, though his role was to counteract the fraudsters. Troubled Incombank was a Ponzi-like scheme. Shortly before the bank's collapse, its funds were being taken to offshore companies. When the debt of the bank exceeded $ 4 billion, the lenders established a debt recovery committee. They invited representatives of Rosbank, who acted as debt collectors and pushed the debtor to pay.
Finsky, first deputy chairman of MFK bank, invited all directors general of Incombank's daughter companies, through which the assets of Incombank had been stripped off, to bring back the funds. They were appointed consultants at Incombank, which enabled Minsky to control them and to prevent further asset stripping machinations. Within nine months, Finsky resolved the debt crisis in Incombank and proved that proper bankruptcy could bring profit. He supervised over 60 legal actions and pushed Incombank to pay almost all debts.
Source: Kompaniya, 22 October 2001
In 2001, Maxim Finsky gave up boring banking and got close to oligarchs Potanin and Prokhorov. The same year they established Norilsk Nickel. Finsky was in charge of buying gold mines in September 2003. Finsky was bidding for 45% of Russia's Lenzolo, a gold processing enterprise with discovered reserves of 1100 tons of gold. Bidders fought hard, with proposal reaching $152 million, five times higher than the initial price and 240 times higher than the lowest bid. Base element, Sovlink and Russian oil major Nafta-Moscow lost to Polyus, a daughter company of Norilsk Nickel.
Finsky concealed the fact that Polyus was linked to Prokhorov and Potanin, according to the reports. But at the meeting, Finsky boasted about his successful deal, unnamed insider source said.
Source: Vedomosti, 18 September 2003
Friendship with Prokhorov, embroiled in the prostitute scandal, affected Finsky's way of life. Max Finsky enjoyed Prokohorov's company in Courchevel upscale ski resort, to where Prokhorov flew in beautiful woman from Russia.
On 31 July 2004, Finsky married Vlada Verevko. The couple decided to hold their wedding in a historic estate of Russain tsars - village of Tsaritsino, which is a state protected territory. The groom's best man was his boss, head of Norilsk Nickel Prokhorov. The event was secret, journalist not allowed in.
Anonymous friend of Maxim Finsky revealed the details of the wedding reception. More than 150 policemen guarded the guests, double-checking every car entering Tsaritsino, which was closed for public during the event.
So-called chill out area was located in newly restored Guards Wing of the tsar's palace. Leather sofas were brought in, and sitting on them one could enjoy the company of beautiful ballet dancers. There was also a casino called Las Vegas with luxury car as a first price. There were governor of the Tver Region Zelenin with his wife, governor of Krasnoyarsk Region Khloponin, former speaker of the State Duma Seleznev, deputy head of Moscow City legislature Bocharov, and Baibakov among the guests.
However, only 400 people out of the two thousand invited came to nuptials, worth $2 million of unpaid taxes. Even Finsky and Prokhorov's companion Potanin did not risk his reputation and did not come.
Source: Vslukh, 9 August 2004
In 2007, Mikhail Prokhorov quitted as director general of Norilsk Nickel after the prostitution scandal in Courchevel. Potanin and Prokhorov decided to divide their assets. Meanwhile, Finsky was still a senior manager of Norilsk Nickel. Finsky was a man of Prokhorov and helped him to seize the gold-related assets. At Norilsk Nickel he supervised the process of getting licenses and developing newly discovered resources. In 2008, the shareholders of Norilsk Nickel expressed concerns about his activities, suspecting fraud. According to Finsky's scheme, Potanin's Interros Holding bought licenses for mining, while Norilsk Nickel funded the development of mines, whereas different daughter prospecting companies and Finsky's Intergeo controlled the mines. Later on Finsky admitted to helping Mikhail Prokhorov. In fact, it was Prokhorov who designed the scheme. Prokhorov promised that the daughter prospecting companies and mines would go to Norilsk Nickel, but instead of that they went to Prokhorov, together with Finsky's Intergeo company. Prokhorov seized even those mines, which were bought after the split of Onexim and Interros.
Source: Moskovsky Komsomolets, 17 December 2008
In January 2012, Canadian gold mining company White Tiger Gold, which had been bought by Finsky, secured $150 million loan from VTB. The bank announced its approval of the loan in December 2011. The loan was secured against the shares of Russian companies that own White Tiger Gold.
The funds are intended for expanding the mining capacities of the company in the region near Lake Baikal by 7.5 times.
Source: Marker, 31 January 2012