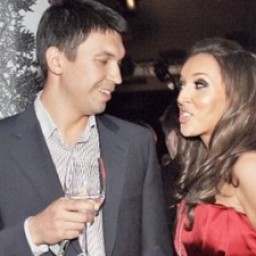 Bio:
Marat Safin was born in 1977. His father, Ralif Safin, is a senator and former vice-president of LUKOIL oil company. His younger sister Alsou is a well-known singer.
In 1994 Safin graduated from Oxford High School. In 1999 he graduated from London School of Economics and Political Science.
In 2000 -2002 he was an executive director of MV Capital Group.
In 2002 he was appointed executive director of MARR Group.
Sources: Tatar-Inform
Dossier:
Marat Safin was associated with a scandal on assets that broke out in 1997, after sudden death of former vice-president of LUKOIL Vitaly Schmidt. His son, Vadim Schmidt, suspected then that his father's money could be gone, ans repeatedly applied to the courts for disclosure of assets his father had placed in trusts. But trust companies refused to disclose the information. They stated that it could conflict with interests of other beneficiaries. In the documents produced to the courts the companies and its owners were named. It turned out that beneficiaries of the trusts were Russian businessmen related to LUKOIL. Vitaly Schmidt placed his assets in Rosewood Trust Limited, managed by people from Isle of Man, including Janak Kumar Basnet. Basnet was a director of Marr Group Holdings Limited, operated by Marat Safin. Safin admitted that he had dealt with Rosewood Trust Limited, but nothing else. He strongly denied any involvement in the scandal on missing Schmidt's assets.
Source: Vedomosti, 10 May 2011

As far back as 2001 Safin as a major shareholder of Zyudtsuker-Moldova Moldovan-German joint enterprise virtually owned Drochia, Falesti and Donduseni sugar mills. He also owned shares of some other Moldovan enterprises engaged in sugar refining.
However, Safin's interference in sugar business in Moldova got evident only a year and a half later, when in mid-December 2002 Glodeni-Zaher plant observed its 25th anniversary. Alsou and Ralif Safin came to the celebration party then, while Marat Safin publicly presented himself as a shareholder of the plant.
Anatoly Muntean, a chairman of the Union of Moldovan Sugar Producers, publicly admitted that he had not been informed and did not know anything about the way Safin had got the sugar mills. "These people has never made public statements before." "They are just unfamiliar with the market they came to. One could have got all the plants for nothing", Muntean said.
Safins' sugar business was criticized and even mocked by Russian businessmen. Russian traders said they did not know any player of the sugar market named Marat Safin and in general, all this was more like a joke, because "one can't start serious business in Moldova." The matter was that after joining the WTO, Moldova set extremely low import dues of sugar, what made domestic market unprotected. Therefore Russian companies were no longer interested in it. So the companies Safin took over were almost dying
Source: Vedomosti, 26 December 2002

In 2006 it became known that Safin family held controlling stakes of Valdemara centrs modern centre built by the Scandinavian in Riga, and Saliena Real company that was an owner vast land area along Riga-Jurmala highway. Valdemara centrs was managed by Marat Safin and Safins' trustees. The same was true of Saliena Real founded by Latvian vice-premier, Minister of railways Ainars Slesers and Norwegian Stene-Johansen Tormod. Still, in Saliena Real Safin had to share the authority with former prime-minister of Latvia Ivar Godmanis and Tormod.
Source: Kompromat.lv, 28 August 2006

In June 2007 Zenit bank reported that 7.85% of its shares were owned by Rodilla Investments Limited. In a quarterly report the bank indicated that Marat Safin was an owner of Rodilla Investments Limited. By the 1st of July, the stake of Rodilla was reduced to 6.8%. In 2003, while announcing his candidacy for the president of Bashkortostan, Ralif Safin said that he had placed his 6.7 million dollars in six different banks, including Zenit. Thus, he observed a family tradition of transmitting social status.
Source: RosInvest.com, 28 August 2007

In 2011 Marat Safin won the 2nd place in the rank of successful children of major developers of RealEstate edition. According to RealEstate, Marat headed MARR Group investment company, which invested in the production of rapid tests for HIV in the United States, as well as in sugar production and construction of luxury housing in Moldova. Besides, Marat and his uncle Rinat, Ralif's brother, owned shares of Saliena Real public company that built elite housing estate by Riga-Jurmala highway and was constructing a business centre in Riga.
Source: Realestate.ru, 12 September 2011