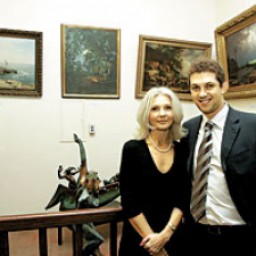 Biography
Until 2007 Margarita Rudyak, nee Antonova (born in 1958), was a wife of late millionaire and Ingeokom Group owner Mikhail Rudyak.
She has 3 children from Rudyak, sons Ernest and Aleksandr and daughter Yulia.
She lives with her children in Boston.
As of 2011, Margarita Rudyak's wealth was estimated $290 million.
Source: Kto Est Kto v Rossii
Dossier
In 2004 Margarita's husband Mikhail Rudyak began an affair with popular actress Evgeniya Kryukova. Mikhail rented a flat in the centre of Moscow for his new lover, paying 7,000 euros every month. They traveled around the world, and he showered her with expensive presents. The affair could turn into a serious relationship and destroy Margarita's family. In case of a divorce, Margarita's chances to get a share in Rudyak's assets were arguable.
Sourse: Tvcenter.ru, 29 March 2007
In May 2007 Mikhail lost conscience during the flight from Portugal to Moscow. They traveled together with Kryukova. Upon the arrival he was in a coma. After essential organs failed, the doctors switched off medical ventillation of lungs. Rudyak died of brain edema, which developed after a car crash, according to an official version which raised certain doubts.
Margarita Rudyak's reaction towards her husband's affair was painful. She tried to prevent films, starring Kryukova, from being showed in the cinema theatres of Karo chain, of which she was a member of the board. Karo refused to distributed Musketeer film, where Kryukova had a part. After her husband's funeral, which she was refused to attend at Kryukova's request, Margarita continued to poison the live of her husband's lover. She frightened Kryukova, saying she would destroy her successful career as an actress.
Source: Ekspress Gazeta-Onlain, 3 December 2009
In 2011 the Rudyaks were ranked 17th on the list of the most prosperous Russian families by Finans magazine. Their wealth was estimated $1.16 billion. Margarita Rudyak's personal wealth was estimated $ 290 million.
Source: Reporter, 19 March 2011