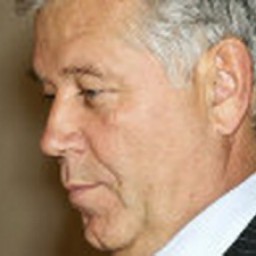 Biography:
Megdet Rakhimkulov was born October 16, 1945 in Moscow.
In 1971 he began working at the Ministry of Gas Industry of the USSR.
In 1973 he graduated from the All-Union Correspondence Financial and Economic Institute.
In 1978 he graduated from the Moscow Institute of Management.
In 1978 he became deputy head of the "Soyuzgazavtomatika" (a company Mingazprom).
From 1989 to 1992 - Director General of foreign trade company Gazexport.
In 1991 he became first deputy in Gazexport.
Since 1992 - General Director of "Interpromkom".
In 1994 he was appointed CEO of Trader Panrusgas (joint venture between Gazprom and the Hungarian MOL).
Since 1996 - Chairman of the Supervisory Board of Credit Bank "Company on Project Financing."
Prior to 2001 - head of the intermediary firm «Panrusgas». After completely focused on their own investments.
C 2005 - owner of the Hungarian bank «Altalanos ErtekForgalmi Bank».
Since 2007 - the owner of the shares of the largest Hungarian bank OTP Bank and gas company MOL.
In 2007 he returned from Budapest to Moscow.
Family:
Married. Wife - Rahimkulova (Salugina) Galina Dmitrievna. Sons: Timur Megdetovich (born in 1977. An economist, graduated from the University of Budapest), and Ruslan Megdetovich.
Source: ru.wikipedia.org
Dossier:
In 2001, the German newspaper Frankfurter Rundschau published investigation due to which it became known about the way Gazprom had gradually lost interest in firms ' Interprokom "and "Intergazkomplekt".
The company "Interprocom" was formed earlier than Gazprom in 1989, and then it was transformed into a joint venture Interprocom, where the Soviet side owned a half. Deputy General Director, Mr. Rakhimkulov signed constituent documents on behalf of the Soviet company "Soyuzgazavtomatika ".
In 1992, Interprocom was converted into a limited liability company, at the same time one of its founders was Rakhimkulov, who owned 16.25%, and Oleg Vainer (14.25%) and Tatiana Dedikova, daughter of the head of Gazprom Rem Vyakhirev ( 3%). In November 1993, the share of Rahimkulov was increased to 23%, and in another six months - up to 33%, and at the beginning of 1995 - up to 49%. All this time Rakhimkulov was running the company.
In 1996, Gazprom was getting prepared to sign a long-term contract for the supply of gas to Hungary until 2015. To implement it, a joint venture with Hungarian company MOL was created, as well as unprofitable Altalanos Ertekforgalmi Bank (AEB) was acquired, that was a bank for value turnover. Joint venture was called "Panrusgaz", Rakhimkulov became its CEO, and the CEO of the bank. His deputy at the bank became the son of Rem Vyakhirev - Yuri Vyakhirev.
Rakhimkulov also received 10% in "Panrusgaz". Huge financial flows passed through the company.
By 1999, 9% of "Panrusgaz" passed from "Gazprom" to the AEB, and in 2000 the owner of 8,5% in AEB was Rakhimkulov. Gazprom had only 31% in "Panrusgaz" remained.
In October 1997, all co-owners of "Interprokom" somehow gave way their share of the company Horhat, belonging to Galina Rahimkulova and Irina Kravtsova, spelled out to the same addresses that Rakhimkulov with Oleg Vaynerov. The authorized capital of Interprokom simultaneously rose.
In 1998 Rakhimkulov joined the Board of Directors of Gazprom, and in November the same year his wife Galina and Kravtsov sold their shares in "Horhat" cheaper than face value. The shares were acquired by Dedikova Tatiana, Elena Dmitrieva (the daughter of deputy chairman of Gazprom, Vyacheslav Sheremet) and Vitaly Chernomyrdin on a very low price. Thus, Rakhimkulov shared the company with the "children" of Gazprom.
The same thing happened with "Intergazkomplekt", a major supplier of imported equipment for Gazprom. It was established in 1992 by "Interprokom", foreign firms and subsidiaries of Gazprom, which then gradually came out of it by selling their shares to" Interprokom "and Gayar Rahimkulov. In 198, all shares of Intergazkomplekt went to Tatiana Dedikova, Vitaly Chernomyrdin, Vadim Sheremet and his son Timur Rahimkulov again for ridiculous sum of money.
Since then Gazprom's relation to «Intergazkomplekt" and "Interprokom" has become as to a subsidiary.
Source: Bulletin of 21.05.2001
In the mid-90's Gazprom made a joint venture with the Hungarian oil and gas giant - Hungary's oil & gas giant – it was headed by Rahimkulov. Later, he bought a 10% stake in the industrial association. At the same time, Gazprom acquired a financial enterprise Altalanos ErtekForgalmi Bank (AEB) for transactions with payments of the Hungarian customers. It was also led by Rakhimkulov, and later he bought it from Gazprom. But, despite the fact that the bank AEB generate more sales, in 2007 Rakhimkulov sold it, and for the money gained he bought the shares of the Hungarian company MOL and the Hungarian bank OTP, one of the most important and largest.
Rahimulov then announced that he wants to increase his stake in OTP from 6% to 9%. The acquisition of shares in OTP by Rahimkulov sparked controversy because it was one of the few national banks in Hungary, most of its investors were Hungarian entrepreneurs, and Russian investor was not welcomed.
Source: peoples.ru on 07/11/2008
However Rakhimkulov did not receive permission to increase his stake in OTP from the State inspection of financial institutions in Hungary.
Source: Journal of The Secret Companies № 35 (267) on 09/08/2008
In June 2001, OOO "Interprocom", a major supplier of telecommunications equipment for JSC" Gazprom" "( 100% of its shares is owned by ZAO Horhat - the company was founded by Rahimkulov's family - Gayar and Galina Rahimkulov, as well as a relative of the manager of Gazprom, Oleg Vaynerov - Irina Kravtsova) issued a release accusing Gazprom of debt for the supply of telecommunications equipment. Prior to that, the media reported on accusations of "Interprokom" in the withdrawal of assets from Gazprom, and now "Interprocom" committed a retaliatory attack.
The German newspaper Frankfurter Rundschau first reported about the withdrawal to Gazprom assets by "Interprokom". The press got information about the letters of guarantee for 501 million dollars, issued by Gazprom to "Interprokom". In response to these allegations "Interprocom" released data about their financial relationship with Gazprom, in which it spoke of the debt of Gazprom. And the amount of the debt coincides with the specified amount of letters of guarantee.
But still, most likely, it was not as easy as Interprocom would like to present it as guarantees issued by Gazprom to it, were twice as more than the guaranties it gave to " Media-Most and Itera. This fact could not have been suggestive.
Information, published in the German newspaper, could be a "drain" from competitors. The biggest part of the money was to pass through "Interprocom" to purchase equipment for fiber-optic lines for projects of JSC" Gaztelekom".
According to another version, people from the environment of the new leadership of Gazprom wanted to weaken the influence of Rahimkulov, and ran that information to the press.
Source: Kommersant »№ 109 (2239) on 06/26/2001
In April 2007, Rahimkulov was fined by the Hungarian financial market regulator PSZAF at 1.4 million dollars. The reason for this was that Rakhimkulov used insider information to trade in shares of the largest chemical company BorsodChem - in 2006 Rakhimkulov sold his stake in BorsodChem to British private equity fund Permira. During the investigation Rakhimkulov cooperated with the authorities, which helped him reduce the amount of the fine, which could make all the profit he received from the transaction in the quadruple size.
Earlier Rakhimkulov and his family, owning 100% of the Hungarian AEB Bank through the company Kafijat Kft, acquired large stakes of the tiles of Zalakeramia and telecommunications company Antenna Hungaria, and then sold those investments with a profit. But there were no claims on those transactions by Rahimkulov.
Source: Expert Online on 04/20/2007
In May 2007, hungarian AEB Bank, controlled by Rahimkulov, acquired 3.3% stake in oil company MOL. As for Rahimkulov, the deal could be as simple as embedding finance and purchasing guarantees on informal agreements between MOL and Gazprom. There might have been a tacit agreement between Gazprom and MOL, according to which the latter received access to Russian oil and Gazprom - to the Hungarian gas distribution networks. This could help Gazprom, since European gas directive does not prohibit the possession of the gas distribution assets, but it prohibits control over them. This condition imposes restrictions on Gazprom. A Gazprom was interested in working with end users of gas in Hungary.
Source: vz.ru of 23.05.2007
In 2007, MOL shares rose sharply in connection with buying of its shares by a rival of the Austrian OMV, and Rakhimkulov used that. He began buying shares of MOL in the early years, but then it turmed out that his offshores, such as Charing Investment Limited and Firthlion Ltd sold the shares to the investment fund Vienna Capital Partners Unternehmensberatungs AG (VCP), which, in turn, resold them to OMV.
Source: Kommersant № 110 (3686) dated 27.06.2007