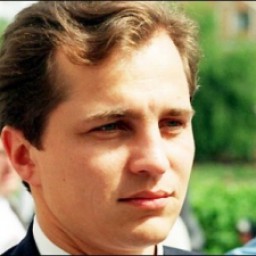 Biography:
Mikhail Zhivilo was born on July 28, 1966 in Donetsk region. His father was a miner at Russia mine.
In 1991 Mikhail Zhivilo and his brother Yuri established Metallurgical investment company (MIKOM), which undertook attracting investment in ferrous metallurgy in Russia.
In 1996 MIKOM was transformed into a joint-stock company. Mikhail Zhivilo was appointed President of the MIKOM group of companies and his brother became the vice-president of the group.
Many large metallurgical enterprises in Russia, including such giants as Novokuznetsk aluminum plant, were under the control of MIKOM.
In 1999 he lost in the corporate war for Chernigovets coal mine to Vladimir Gridin and Mikhail Fedyaev, who enjoyed support of Aman Tuleyev, the governor of Kemerovo region.
In 2000 Aleksander Tikhonov, the Olympic champion, was arrested on charges of plotting the assassination of Aman Tuleyev. Mikhail Zhivilo was called the customer of the murder attempt. It was associated with redistribution of property in the region. In the same year he left Russia and fled to France.
In February 2001 he was arrested in France at the request of Russian law enforcement agencies. However, in the middle of May he was released.
In spring 2005 he got political asylum in France.
Source: Wikipedia
Dossier:
In 1994 Mikhail made his first offense. He and his brother Yuri forced their partner Ruslan Shamurin to give up his share (50%) in jointly established offshore companies, and to hand over to them all the money he had on banking accounts in London and Moscow and his apartment. For that the brothers resorted to extortion through threats of violence, including murder.
Source: Novaya Gazeta, 24 September 2001
In 1994 the head of MIKOM and his best friend and partner Dmitry Chirakadze started to actively buy up shares from the employees of Novokuznetsk aluminum plant. This company is smaller and far less effective than BrAZ, and therefore much cheaper. According to various sources, the cost to capture the enterprise would have amounted to about $12 million. But then Zhivilo did not have enough money and he decided to seek help from Lev Cherny, who controlled TransCIS Commodities group. Cherny helped and received a 12-15% stake in Novokuznetsk aluminum plant. But a conflict arose between him and Zhivilo.
But in clashing with Lev Cherny, Zhivilo made his first serious mistake. The thing was that Cherny personally from London controlled the situation in Novokuznetsk and instructed his representatives to watch MIKOM. The entity was monitored by Oleg Deripaska, who was then not yet even Sayan Aluminum plant CEO but only the head of Aluminproduct. And Vladimir Lisin, who at that time yet was not chairman of Novolipetsk Steel works board of directors, but the main coordinator of the Cherny brothers firms in the CIS. And all the hostility of Zhivilo and his team turned to the associates. By this time Mikhail has probably wished more than once that he had not clashed persistently with Deripaska.
Source: Company, 21 August 2000
In 1996 MIKOM made the first attempt to seize Kuznetsk Metallurgical Combine (KMC), which had a monopoly in Russia on the production of rails. The company's CEO office was seized by armed security forces. Aman Tuleyev, head of the Regional Legislative Assembly, then supported MIKOM. But Zhivilo was the owner of the combine for only one day.
In 1998 Kislyuk, as expected, was replaced by Tuleyev. Gradually, relations between Tuleyev and MIKOM turned from friendly to hostile. The new governor began with casting Alpha group, which controlled the West Siberian metallurgical enterprises, out from the region. Then he began to lobby for the merger of Kuznetsk Metallurgical Combine with Zapsib. MIKOM was left out of the scheme. In response, MIKOM decided to put KMC for sale.
Rather than resolve the standoff with the government by peaceful means, he began to stir up the conflict, telling the press that the governor extorted money from MIKOM as payments to a regional risk fund. Tuleyev responded. His team issued a report which described the scheme used by MIKOM to withdraw funds from the region. In particular, Mick Base metal trading affiliated with MIKOM bought metal from KMC at 7-12 dollars below the average price in the foreign market. Similar schemes were described concerning the coal supplies by Zhivilov's firms to KMC.
As a result Zhivilo was unable to sell KMC to his own businesses. Tuleyev with FSDN removed MIKOM from managing the plant and appointed people from Euro-Asian metals. External control extended for a period of 10 years. MIKOM manager was put under arrest for some time.
Source: FIS, 12 July 1999
In 1999, after losing a fight with Tuleyev, Zhivilo decided to eliminate him and for that matter addressed Aleksander Tikhonov, Olympic champion in biathlon, his friend and business partner. Tikhonov, in turn, according to the prosecution, had his brother Victor help him with the assassination.
Soon Viktor Tikhonov contracted two criminal Novosibirsk kingpin,s Sergey Nikanorov and Vladimir Kharchenko. The gangsters agreed to do the work and received an advance payment of 180 thousand dollars. They quickly spent the money, but the work was not done. Furthermore, they reported the preparation of attempt on Tuleyev to FSB officers.
Victor and Aleksander Tikhonov were immediately arrested. Mikhail Zhivilo had been timely warned by his friends who worked at law enforcement agencies, and he managed to escape to Paris. In May 2001 a French court refused to extradite the head of MIKOM to Russia, citing as grounds a lack of evidence incriminating the businessman. A little later, in connection with a serious illness, prosecutors released Aleksander Tikhonov on bail, who immediately went abroad to improve his health.
Source: RIA Novosti, 13 November 2002
In 2005 Zhivilo and Dmitry Chirakadze, his partner and former vice-president of MIKOM, bought a Moscow bank Severo-Vostochny Alliance with its former owner, Sergey Kovanda.
With the bank Zhivilo received a share in Gazprom. The gas monopoly shares accounted for 95% of the price of the securities owned by Severo-Vostochny Alliance bank. According to the bank's report, on May 1, 2005, the shares cost 1.5 billion rubles, which makes it about 0.05% of the shares of Gazprom.
Source: Vedomosti. 13 September 2005