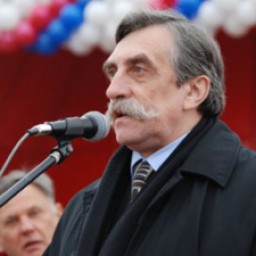 Bio:
Mikhail Trinoga was born on 10 April 1949 in Ivano-Frankivsk Oblast, Ukrainian SSR. He graduated from Ivano-Frankovsk Institute of Oil and Gas as a "mining engineer for the development of oil and gas fields" in 1971 and Institute for Advanced Studies of National Economy Academy under the USSR Council of Ministers in 1990.
In 1970-1980 he was engaged in gas industry
In 1980-1984 he was a manager of operational and production services and the main geologist at Mostransgaz production association.
In 1984-1986 he worked for the USSR Ministry of Gas Industry.
In 1986-1991 he was a member of the USSR Council of Ministers (in 1991 - The Cabinet of Ministers of the USSR)
In 1992-1998 he was a deputy head of the secretariat of the Russian prime-minister.
In 1998-2000 he was a deputy chief of Gazprom's administration.
In 2000-2005 he was a deputy head of the Government.Administration.
In 2007 he was re-appointed to this position.
Since 2008 he has been an adviser to the president of the Russian Federation.
Trinoga is a member of the International Fuel and Energy Complex Academy;
He is an Honored Worker of Gas Industry, Honored Worker of fuel and energy complex of Russia, a winner of the RF Government Prize in science and technology.
Trinoga has a son and a daughter.
Source: CustomsUnion.ru



Dossier
In 1992 Trinoga was appointed deputy head of secretariat of the RF Prime Minister Viktor Chernomyrdin. He held this office until 1998, when Chernomyrdin left his position. Then Trinoga was invited to the headquarters of Our Home - Russiamovement, led by Chernomyrdin. But once Chernomyrdin was becoming less and less powerful, Trinoga moved to Gazprom public corporation.
Source: Kommersant-Vlast, 19 May 2008

Reports say that his son, Artour Trinoga, works for Gazprom and his daughter Natalia, who in 2003 graduated from Gubkin State Oil and Gas University, is a bank employee.
Source: Oil-gas.ru, 12 April 2004

In November 2005, by order of Prime Minister Mikhail Fradkov, Trinoga was appointed head of the secretariat of Medvedev as the first deputy prime-minister. According to analysts, the fact that
Medvedev's secretariat was headed by Trinoga, "one of the most experienced Russian officials'', indicates that the new first vice-premier can be considered as a possible successor of Vladimir Putin as Russian president.
Source: Politkom.ru, 12 January 2005

Medvedev was reported to have found a powerful ally at Gazprom - Alisher Usmanov. " In private he made no secret of counting on Medvedev and admitted that he only needed those media [Kommersant, Gazeta.ru newspapers and Sekret Firmy publishing house - Rumafia] until the elections ", an official close to the Kremlin said. Usmanov influenced on the successor's team as well "In particular, many people believe that it was he who suggested Mikhail Trinoga as the head of Medvedev's secretariat ", - the source said.
Source: SmartMoney, 17 December 2007

In 2008, when Medvedev appointed Trinoga as his adviser it was regarded as a demotion. According to a former employee of Vladimir Putin's administration, ''the status of the presidential adviser is rather a pension, than an opportunity " as opposed to presidential aides, who can have real influence on decision-making. Governmental officials expected Trinoga to be appointed deputy chief of Presidential Administration, or at least an assistant to the president.
Source: Oil and gas forum, 14 May 2008

In 2009 the total amount of Mikhail Trinoga's declared annual income was 3.1 million rubles. He owned a land plot with an area of 1024 sq. m., a 406.4 sq. m. house, and two apartments with an area of 81.2 and 194.7 sq. m. His wife earned 407 thousand rubles. She declared two apartments with an area of 70.7 and 96.27 sq. m. and Audi A6 car of the approximate price over 1, 587 million rubles (known from audi-taganka.ru).
Source: Gazeta.Ru, 13 April 2010

Blue Buckets, the Internet community fighting against abuse of flashing lights, published a list of holders of "privileged" state car numbers containing letters AMR (the main government series of car numbers). A078MR97 was a number of Mikaill Trinoga's car.
Source: GZT.Ru, 28 February 2011

Artour Trinoga was appointed director-general of St. Petersburg Fuel and Energy Complexstate unitary enterprise. Formerly, he worked for Gazprom as the department head of energy engineering management at the electricity sector and power marketing managing directorate.
Source: ZakS.Ru, 1 November 2011