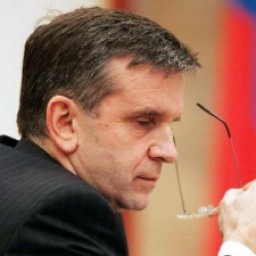 Biography:
Mikhail Zubkov (born 3 October 1953, Leningrad) was born to Yury Grigorievich Zurabov, a high-profile official at the Soviet marine ministry. In 1970 he finished school no.239 with specialization in physics and mathematics. The same year he was accepted to Leningrad Institute of Water Transport. In 1971 he transferred to Moscow Institute of Management. In 1975 he graduated from the institute.
In 1978-1981 he did his postgraduate research in All-Russia Institute for Systems Research. Chance meeting with Evgeny Adamov, future minister of nuclear industry, changed Zubkov's fate. They met when he came to contaminated Chernobyl after the nuclear catastrophe.
1992-1998 chairman of medical insurance company called MAKS
28 October 1998 advisor to the president for social issues
1999-2004 chairman of the Government Pension Fund of Russia
2004-2007 minister of public health and social development
On 25 June 2009 the State Duma committee for the CIS and relations with former compatriots supported candidature of Mikhail Zubkov to the position of Russian ambassador in Ukraine by a 7-1 vote.
On 19 January 2010 Dmitry Medvedev ordered Zurabov to enter upon his duties of ambassador extraordinary and plenipotentiary of Russian Federation in Ukraine
Awards:
Order of Merit for the Fatherland 4th Grade (2003)
Honorary badge of Services to the Samara Region (2003)
Zurabov is married. His wife Yuliya Anatolievna heads Oktopus firm that imports medical equipment and drugs to Russia. They have a son and a daughter. In 2006 they adopted 2-year-old boy.
Source: Russian Wikipedia
Dossier:
In 1979 Zurabov worked at the laboratory of Stanislav Shatalin, prominent Soviet economist, academician and specialist in methodology of economic planning. His fellow students and researchers were Yegor Gaidar, architect of the shock therapy, Petr Aven, president of Alfa-Bank and Viktor Danilov-Danilyan, minister of environment and leader of Russian green movement.
In 1981 he finished postgraduate research, but he defended his PhD thesis in economics only in 1982. According to a source, his thesis was so poor that it took Zurabov additional year to improve it.
Source: Itogi, 19 December 2005
In summer 1986 Zurabov took part in liquidation of consequences of the Chernobyl disaster. In Chernobyl he met Evgeny Adamov, influential official at the Ministry of Nuclear Industry of the USSR. Adamov was reported to have helped Zurabov become deputy chairman for economic issues of Mospromtekhmontazh trust.
Source: Profile, 10 June 2003
In 1990 Zurabov was appointed chairman of Konversbank. Set up in 1989 by Soviet Ministry of Nuclear Industry, the bank was charged with providing services to daughter companies of the ministry. The bank also secured Soviet nuclear conversion programmes. In 1991 Zurabov's younger brother Aleksandr was appointed chairman of the bank's currency and financial operations department.
Source: Gazeta.Ru, 17 March 2005
Zurabov is the architect of controversial programme of social welfare monetization - conversion of all kinds of social benefits into monetary compensation. The government implemented the programme in 2005. The programme drew wide public response. In summer-spring 2005 the wave of protests emerged all over the country, led both by opposition and ordinary citizens. During one of such rallies a pensioner died.
Source: Vremya Novostey, 15 July 2004
In November 2006 Andrey Taranov, Zurabov's former business partner, was arrested. He was Zurabov's deputy in MAKS company and chairman of Government Fund for Obligatory Medical Insurance. In November Zurabov lobbied the fund for Taran's appointment, sources claim. Prosecutors accused Taranov of bribery and misapplication of state funds. Taranov's deputies Dmitry Usenko, Natalya Klimova and Dmitry Shilyaev were arrested, as well as the fund's accountant Galina Bykova. The fund was a part of Zurabov's ministry and after the arrest of its management, a number of State Duma deputies and public figures urged Zurabov to step down. But he refused.
Source: Kommersant, 17 November 2006
The minister's daughter Anastasiya Zurabova graduated from the faculty of international journalism of prestigious Moscow Institute of International Relations. She specialized in PR. Being a student she already drove Mercedes-Benz 200 and chaired PR department in a company, which was a part of offshore empire of Russian-native Aleks Shnaider (the Forbes magazine called him a shadow man, because of virtual intransparency of his income). He owned steel works in Vologda, a number of metallurgical plants in Ukraine and a casino in Moscow's Arbat Street.
The minister's younger brother Aleksandr Zurabov is a founder and manager of the company called Club of Buratino's Friends. The company specialises in arranging exclusive gifts for rich people. Aleksandr Zurabov hold top positions in Aeroflot - Russian international airlines JSC. He was a member of the board of the directors during the period when Roman Abramovich had a share in the company and later. Before joining Aeroflot he chaired a company which set-up now non-existent Trust and Investment Bank. In the 90s Mikhail Zurabov's MAKS Closed JSC and a number of companies, owned by members of Zurabov family, had the accounts in the bank.
In 2003 the ministry's wife Yuliya Zurabova bought 8 land plots (69,550 square metres) near Telepnevo village in the Istra District (Moscow Region). Partly this land was a water reserve. The prosecutors began probe in the deal and arrested the land. Soon the prosecutor of the Moscow Region who opened the probe was forced to retire.
Besides lands near the Istra, the Zurabovs own a flat in Moscow (96,3 square metres). According to the tax return, Zurabov has 2 land plots (3000 and 6500 square metres) as his private property. He also owns 2 country houses (318.1 and 1359.2 square metres) in Petrovo-Dalnee cottage village and in the Rublevka Highway (both are places where the rich lives).
In 2004 Mikhail Zurabov's income was 41m ($1.4m) roubles, in 2006 - 9m ($0.32). It is 39 and 8.5 times higher than the salary of a federal minister.
Source: Novaya Gazeta, 24 August 2007
On June 2011 Russian ambassador to Ukraine Mikhail Zurabov together with ex-member of the Party of Regions Oleg Kalashnikov laid a wreath on the eternal flame memorial. The police cordoned off the park where the memorial is situated. Because of the Russian ambassador, ordinary Ukrainians could not commemorate the war heroes.
Source: Ukrainskaya pravda, 22 June 2011