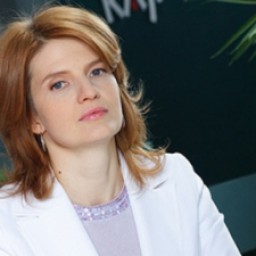 Bio:
Natalya Kasperskaya was born on 5 February 1966 in Moscow.
She graduated from the Moscow Institute of Electronic Engineering as a specialist in applied mathematics. She received bachelor's degree at Business Open University, UK.
In 1994 she worked for KAMI scientific and technology centre as a vendor of software products. Later she headed AVP anti-virus project, from which Kaspersky Lab started.
In 1997 she was a co-founder of Kaspersky Lab.
In 2004 InfoWatch company was founded on the base of Kaspersky Lab. InfoWatch was engaged in development of DLP-systems of internal threat protection for confidential corporate information.
In summer 2007 Kasperskaya was elected chairman of the board of directors of Kaspersky Lab.
In 2007 she was a director-general of InfoWatch.
In April 2008 she was elected member of the Russian-German Chamber of Foreign Trade.
In July 2011 she withdrew from the board of directors of Kaspersky Lab.
In 2008 she was ranked 4 in the list of powerful business women of Russia. Kasperskaya has numerous awards of international IT-associations and periodicals. In 2010 she won the 2nd place in Kommersant rank of the top managers in Information technology nomination.
Exact amount of Kasperskaya's wealth is unknown, but it is reported to be quite large.
Kasperskaya has two sons, Maxim and Ivan Kaspersky.
Source: Wikipedia

Dossier:
In 2007 Kasperskaya received 30% stake of Kaspersky Lab. Reports say that organizational change in the company was caused by a conflict between former spouses. Their views on strategy development of the company diverged. After Natalya had realized that her authority could be terminated, she managed to take away important documents from the depository and cancelled the second signature of CFO. Thus she got total control over all the funds.
Later she claimed that the documents from the depository had been of no value, while signature cancellation had been carried out for personal reasons. Evgeni Kaspersky refused to comment on the circumstances.
Natalia was later appointed director-general of InfoWatch, the subsidiary of Kaspersky Lab, engaged in developing internal threat protection systems for confidential information. To get 50% plus one share Kasperskaya dismissed director Evgeni Preobrazhensky. Later she announced to the shareholders of minority interest that their share would probably be diluted by additional share emission.
Source: RBK, 1 November 2007

At the beginning of 2011 it became known that about 15-20% of Kaspersky Lab had been purchased by General Atlantic investment foundation of the U.S. for about 150-225 million dollars. According to representatives of Kaspersky Lab, the investment foundation purchased the shares that mostly were already placed, so other shareholders did not reduce their stakes.
Natalya Kasperskya was reported to be the main seller of the shares. Kasperskaya did not comment on the rumours, but noted that she was still an "important" shareholder.
Source: Kommersant, 20 January 2011

Dmitry Medvedev excluded former leader of the Pravoye delo party Mikhail Prokhorov from the modernization committee. Instead of Prokhorov director-general of InfoWatch closed company Natalya Kaspersky, CEO of Federal network company of unified energy system Oleg Budargin, president of Skolkovo foundation Viktor Vekselberg and chief designer of Russian rocket and space engineering and information system corporation Yuri Urlichich were introduced to the committee.
Source: Kommersant, 26 September 2011