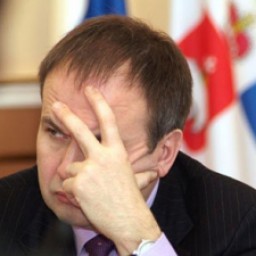 Biography:
Oleg Chirkunov was born on November 15, 1958 in Kirovsk in Murmansk region of the RSFSR. In 1967 Chirkunov moved to Perm, where he finished school number 9, in which he studied in the mathematics stream. In 1981 he received his first degree at the Faculty of Aero Engines at Perm Polytechnic Institute majoring in Economics and organization of engineering production.
In 1983-1985 he worked as the second secretary of the Leninsky District Komsomol Council in Perm.
In 1985 he graduated from Higher School of the USSR KGB.
Since 1985 he worked in the USSR KGB.
In 1988 he graduated from law school of the Perm State University, in which he studied by correspondence.
In 1991-1994 he worked as an expert of the Russian Federation Trade Representation in Switzerland.
In 1994 he was deputy CEO of the EKS Group of companies
Since 1996 he was director of EKS OPT Ltd
Since December 1997 he was head of the EKS Group of companies
From December 1997 he was member of the Legislative Assembly of Perm Region (members keep their previous jobs and work for the Legislative Assembly part-time).
On January 18, 2001 he became Region Administration Representative in the Council of Federation from Federal Assembly of Perm and deputy chairman of the in the Council of Federation Committee on Budget.
On March 14, 2001 he was the only senator who voiced opposition and voted against amendments to the law on the State Anthem of Russia
Since September 2002 he served as member of the Council of Federation Commission on Natural Monopolies.
Since March 2004 he was acting governor of Perm region.
On December 1, 2005 he has been governor of Perm region.
He is author of a collection of humorous stories Sketches, published in 2003. It has a circulation of 2,000 copies.
He is co-owner of the retail supermarkets chain Semiya (Russian for "family") in Perm. According to official data, Chirkunov owns an apartment in Perm, a plot of land with a banya in the river Sylva (Perm region), an apartment in Moscow in the Maly Kozikhinsky street, and a Mercedes car. According to the media, he has an apartment in Switzerland, although he claims that owns no real estate in Switzerland and that he only rents it there.
His wife is Tatiana Chirkunova. The couple has two sons, Anton and Andrey, who live in Switzerland and have dual citizenship, that of Russia and Switzerland. As of May 2007, Tatiana Chirkunova was a surgeon at a hospital. Anton Chirkunov graduated from the Swiss St. Gallen University with a bachelor's degree in economics in 2009. In 2009 the media claimed that Anton Chirkunov was adviser on business and industry to Yuri Utkin, Deputy Chairman of Perm Government. In 2010 Oleg Chirkunov said that his son had never worked for the Government.
Source: Wikipedia
Dossier:
Little is known about the activities of Chirkunov in the 1980s. From 1983 to 1985 he was second secretary of the Leninsky District Komsomol Council in Perm, probably at the same time he met with Yuri Trutnev and went abroad for the first time, having received a hotel voucher from Komsomol.
Source: Profile, 21 June 1999
After collapse of the Soviet Union in 1991 Chirkunov moved to Switzerland, where he was an expert of the Russian Federation Trade Representation until 1993, remaining member of the Foreign Intelligence Service of Russia. He worked as an expert in foreign economic association Technointorg in the Trade Representation until 1994. Then Chirkunov began working with Yuri Trutnev in his company EKS, which dealt in food products. Chirkunov became head of the Swiss trade representative of the firm, EKS Handels AG. In this position Chirkunov signed a contract with Ferrero and urged EKS managers to begin importing chocolate eggs Kinder Surpise to Russia.
In 1994 he returned to Perm and became deputy CEO in EKS Limited, owned by Trutnev. In 1996 Chirkunov became CEO of EKS Opt. After Trutnev was elected mayor of Perm in the same year, he sold his business to Chirkunov, who headed the holding group of companies EKS and established EKS International with the participation of his own Swiss-based investment company Norpexal SA.
Source: Novaya Gazeta, 11 May 2007
In 1996 Chirkunov headed the election headquarters of Trutnev during the campaign for Mayor of Perm elections. It is worth mentioning that during the elections Chirkunov was involved in a scandal, when there was a criminal case against him for arbitrariness, that is, for disposal of the circulation of leaflets and the kidnapping staff of Trutnev's competitors. But Chirkunov was not arrested, and after Trutnev won, apparently, the case was closed.
Source: Komsomolskaya Pravda, 04 December 1996
In December 2001 Chirkunov headed the election headquarters of Trutnev during the campaign for the governor of Perm region, which Trutnev won. In March 2004 Trutnev was appointed Minister of Natural Resources, and Chirkunov was appointed by Vladimir Putin as acting governor of Perm region. On March 24, 2007 Chirkunov voted in the Council of Federation for a law to merge the Komi-Perm Autonomous District and Perm region, and at the same meeting the upper house of parliament voted for the early termination of its office in connection with his appointment as Acting Governor. Chirkunov handed his office as head of EKS over to Svetlana Kuzmich. After his appointment Chirkunov fired the former team of Trutnev, keeping only Nikita Belukh, who was vice-governor of the region.
Source: Vesti.ru, 15 January 2009
According to some reports, in 2004 Chirkunov was involved in laundering budgetary funds through basketball team Ural Great, but Chirkunov said that he was "not that poor to steal sponsorship money." Chirkunov subsequently tried to sell Ural Great to a private investor, but he did not succeed, and in 2009 it was decided to close the club.
Source: Kommersant, 13 August 2009
In 2006 Chirkunov was involved in a scandal when during the round table on "Youth and ideology" he gave the floor to Evdokim Knyazev, the representative of the so-called skinheads and a member of the National People's Party, who to the indignation of many of those gathered, said that his party "came to the conclusion that killing is not effective," and that "Germany was lucky to have Adolf Hitler." Pro-Kremlin movement Nashi put forward an ultimatum that Chirkunov apologized to the veterans and other residents of Russia. However, in response Chirkunov encouraged youth organizations in the region "to open a free discussion" to prove that the idea of ​​nationalism "contradicts the basic laws of human life on earth."
Source: Komsomolskaya Pravda, 07 February 2006
In summer 2007 Prosecutor General's Office conducted an extensive audit in Perm region, which revealed corruption among those close to the governor. It was also found that the regional administration paid for personal flights of Chirkunov. Another check was carried out in summer of the same year by the Ministry of Natural Resources. According to some reports, Trutnev was the customer of the checks. Trutnev and Chirkunov had a conflict because of disagreement over the 2006 Uralkali failure in Berezniki, which led to flooding of the mine and threatened the city. According to rumours, Trutnev was the beneficiary of the company, and Chirkunov, alleging man-made disaster, thereby blamed Uralkali and its owner, Dmitry Rybolovlev, for what had happened.
Source: Perm obozrevtel, 23 March 2009
In 2009 Chirkunov organized work to elaborate a master plan for Perm. Drafting of the plan attracted the attention of law enforcement agencies. It turned out that instead of holding a competition, Perm officials established an autonomous organization, which hired the Swiss firm KCAP (Kees Christiaanse architects and planners), headed by Kees Christiaanse, scientific advisor of one of Chirkunov's sons. The governor said that the transparency of the firm's work ensured its straightforwardness and honesty, and that officials did not enrich through the establishment of an autonomous organization to develop a master plan.
Source: Kommersant-Perm, 02 October 2009
On December 5, 2009 there was a fire in a Perm club Khromaya Loshad (Russian for "lame horse"), which resulted in 150 deaths from smoke inhalation and burns. This incident led to the resignation of the government Prm region government, Perm city administration, and local heads of Rospotrebnadzor (Federal service on customers' rights protection and human well-being surveillance) and Rosimushchestvo (Federal Property Agency). Vladimir Zhirinovsky and other Duma members also demanded the dismissal of Chirkunov. However, Perm legislature refused to have the governor's dismissal on their agenda. Chirkunov said that he admits the moral responsibility for what had happened. Anatoly Zak, co-founder of the club, was a member of the Economic Council of the Governor of the region and Chirkunov's friend.
Source: RIA Novosti, 25 December 2009
The media discussed the information that even after Chirkunov was appointed governor, he continued to control the Semiya chain through his family-owned Swiss company Norpexal Holdings SA and Chirkunov did not deny it. The company was managed by the same people as the EKS company. Chirkunov, who was a minority shareholder in the chain, according to critics, used his influence to boost the business of Semiya in the region.
Source: IA Parity Media, 22 July 2009
In 2011 Governor Chirkunov cancelled budget-sponsored transportation for officials. The initiative was supported. Moreover, Chirkunov demanded that officials wrote about it in their blogs. "The governor limiting their rights and puts excessive pressure on them. This is wrong in any case: officials would spend their free time on blogs, which means that they will actually work when they are supposed to rest. Or if they write at work, then the question is when will they work? ", said Vladimir Grebenyuk, deputy of the Legislative Assembly of Perm region.
Public servants liked both walking and writing in blogs. "I believe that it is a good idea. I do walk, and I do write about it ", said Aleksander Kudryavtsev, Deputy Chairman of the Government of Perm region.
Source: business-class.su, 20 June 2011