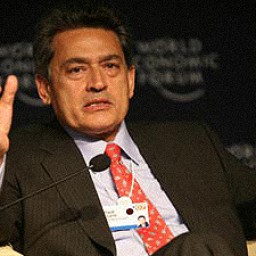 Biography
He was born on February 2, 1948, in Kolkata, India. He studied at the Modern School in New Delhi. In 1971, he received a bachelor's degree in mechanics at Indian Institutes of Technology; in 1973, he received a master of business administration at Harvard Business School.
In 1973, he began to work for McKinsey & Company: in 1984, he became a senior partner, in 1990 - the head of the Chicago office, in 1994 - the director general. He was twice re-elected as director - in 1997 and 2000.
On March 1, 2011, the United States Securities and Exchange Commission filed an administrative civil complaint against Gupta for insider trading.
On June 15, 2012, Gupta was found guilty on three counts of securities fraud and one count of criminal conspiracy; he was found not guilty on two other securities fraud charges.
Source: Lyudi.ru
Dossier
According to the Securities and Exchange Commission (SEC), in the midst of the crisis in 2008, Gupta transferred insider information about Goldman Sachs to his friend and business partner Raj Rajaratnam. This, in particular, was that Warren Buffett's Berkshire Hathaway would invest into the bank $ 5 billion. Gupta told the news to Rajaratnam before the official announcement of the transaction that allowed Galleon to earn about $ 1 million. In addition, he informed the partner on Goldman's financial results before their publication. Transactions with the bank shares before disclosure of the official report for the second fiscal quarter of 2008 brought Galleon $ 13.6 million of profit.
According to investigators, Gupta also passed to Rajaratnam information on financial results of Procter & Gamble.
Source: Forbes, October, 26, 2011
Gupta is a longtime friend of Raj Rajaratnam, he often visited the office of Galleon. In addition, they had a joint business: in 2006, they together with the ex-manager of Goldman Sachs Mark Schwartz founded the investment fund Tai Capital focused on South Asia. Subsequently, the company changed its name to the Silk Route, and Rajaratnam went out of business.
Source: Gazeta, October, 27, 2011
Shortly after the start of the investigation, Mr. Gupta left his post at Goldman Sachs and went out of the board of directors of Sberbank and other companies. However, in June 2010, Sberbank officially announced only a change in the format of cooperation with the independent board member Rajat Gupta - he withdrew his candidacy from voting on election of members of the Supervisory Board of Sberbank, but he had to take a post of strategy adviser to the board of the bank. Yesterday Sberbank declined to officially comment on further development of cooperation with Rajat Gupta. A source close to the bank said that Mr. Gupta didn't take the post of adviser, and legally Sberbank had had no relationship with him since June 2010.
In October 2011, Rajat Gupta surrendered to the FBI and was arrested but later released on bail of $ 10 million. In June 2012, the court found Mr. Gupta guilty of securities fraud and conspiracy.
Source: Kommersant, October 26, 2012



In June 2012, the District Court in Manhattan found Gupta guilty of fraud with securities and conspiracy. According to the court, in the autumn of 2008, Gupta passed insider information on accountancy of several companies to his close friend and partner, billionaire Raj Rajaratnam, founder of hedge fund Galleon.
Gupta was sentenced to two years in prison and a fine of $ 5 million for insider information trading. That was less than the prosecutor asked. Some law experts were surprised with softness of the sentence, while others believed that Judge Jed Reykoff made a reasonable decision.
Source: Slon.ru, October 25, 2012