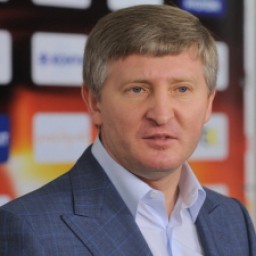 Biography
Rinat Akhmetov was born in Donetsk in 1966.
In the early 1990s he became a co-founder of ARS group of companies. The other co-founders are Akhat Bragin and Yakov Bogdanov.
In 1995 Akhmetov founded Dongorbank
Since 1996 he has been the president of soccer club Shakhter (TN: Russian for «miner»)
Since 2000 Akhmetov has been the owner of CJSC System Capital Management
In 2004 he became one of the sponsors for Viktor Yanukovich in the presidential election campaign
In 2005 Akhmetov joined the Party of Regions
In 2006 he became people's deputy of Ukraine from the Party of Regions
Rinat Akhmetov is the richest man in Urkaine
He is married, with two children.
Source: wikipedia
Dossier
Akhmetov has influence not only in organized crime and criminalized economy spheres. He has successfully worked his way into the administrative and political circles of the country.
Anyone who takes interest in the modern social and political life in Ukraine can see why six months ago the position of prime minister was filled with a person who, in any civilized country, should have been long put behind bars.
Viktor Yanukovich was able to get such high office thanks to the influence of Akhmetov, a huge soccer fan. They say, back in 1997 it was being under Akhmetov's wing that granted Yanukovich his position as head of Donetsk region administration.
Source: Kompromar.Ru, 14 August 2003
On 24 December 1986 a grave offence was committed in Gorlovka settlement in Donetsk region. Five gunmen, including two wearing police uniforms, broke into the house of a Lysenko, manager of a workshop for procurement of leather and furs. Lysenko was known to be a tsekhovik (TN: shadow capitalist; owner of an underground workshop or factory in the Soviet Union). He used the workshop he was managing to get quite a profit for himself. According to the tsekhovik's wife, the gunmen demanded to return what he had "stolen from the country", i.e. 50 thousand rubles. Lysenko told them he had not got the money. They did not believe him and tourtured him to death. It was the wife of the murdered man who gave them the valuables accounting for the demanded sum of money.
According to the case file, Leonid Yurchenko (who is now dead) confessed that he and his four accomplices attacked Lysenko. He even gave the names: Vasily Novikov, an Aistov, Igor and Rinat Akhmetov. During the interrogation Yurchenko claimed that the tsekhovik was murdered by Novikov and Rashid, a nickname Igor Akhmetov had in the gang; the other men were "assisting".
When Yurchenko was transfered to Gorlovsky pre-trial detention facility, he suddnely refused to testify against his accomplices. The wife of their victim became mentally demented from all the awful things she had to go through. That left no legal grounds for the arrest of the Akhmetov brothers and the rest of the gunmen. The police did not question the other suspects, for some reason. Later it came out that some of the head officers in Gorlovsky police district loved to play cards with Rinat.
Source: Grani plus (Ukraine)
There is some gaps in the millionaire's biography. For instance, like most of Ukraine's rich men, he never gave any details about how he got his first money to start up a business or how he got his first million. In interviews Akhmetov says that he managed to become rich having withstood many business risks in the first years after the collapse of the Soviet Union.
For the general public it still remains a secret whether it was only friendship and legal business that bonded Akhmetov and Akhat Bragin a.k.a. Alik Grek, an influential Donetsk businessman and a criminal don. Bragin died in October 1995 in the per-planned explosion on Shakhter staduim in Donetsk.
Source: LIGA Business Inform, 13 February 2013
Akhmetov's first money most likely came from Sochi where Soviet elite came on vacation. Looking for new impressions secretaries, generals and company directors played a shell game with him, betting large sums of money. The result was quite predictable.
In the late 1980s Bragin and his group were known as the shaddow owners of Donetsk. The perestroika, green light for private ownership, timid economic reforms and lifting of the iron curtain gave a chance to people like him to come out of the shadow. They began to invest money received from under-the-counter curency exchange and gamling into different entities; they bought computers and VCRs and brought them from the West; they opened shops selling tapes and equipment.
Source: Ukraina kriminalnaya, 13 January 2003
According to mass media, Rinat Akhmetov was one of Bragin's closest people. When in mid 1990s Bragin and Evgeny Sherban, a prominent Ukraine politician and businessman killed in 1996, received over $80 million from Kuntsevskaya criminal group to let them into the process of privatisation of companies in Donetsk, but later decided to curb the Moscow group from privatization in Donbass, a conflict situation arose in the area. Joseph Kobzon came to Donetsk and accused Bragin of murderring a thief-in-law Eduard Braginsky a.k.a. Chirik who tried to convince Bragin to let the Moscow gang into Donbass privatization. After that there was a series of murder attempts on Grek. Akhmetov realizaed that he was also in danger as a man close to Akhat Bragin for whom now there was a sort of manhunt …
An attempt on Akhmetov did take place. He managed to escape only thanks to information about the upcoming attempt he got in the last moment from a "reliable source". Akhmetov and abovementioned Kobzon soon sat down to negotiate. Akhmetov was of interest for the Moscow gang (and influential people from power ministries who were behind the crimimal group) as a smart prospective partner and representative in Donbass region. In such circumstanses Akhmetov saw support from the then mayor of Kazan Kamil Iskhakov and a long-standing head of Tatarstan KGB Vener Salimov. Kinship also had its bearing on the situation …
Source: ORD, 22 June 2012
Some experts on Donbass criminal world claim that criminal group led by Givi Nemsadze, one of the bloodiest gangs in Urkaine, played the rope of the special brigade in Akhmetov's empire, that is, it provided armed support and related services to rid of unwanted people… In the late 1980s Nemsadze organized a group of young muscular men who did combat sports of all kinds and wanted to make ise of the energy steaming in ther young bodies, but also who wanted to live in luzury. Nemsadze's group was in charge of several residential districts of Donetsk thriving with drug trafficing and prostitution.
The gang gained its fame in the criminal world through extreme cruelty to those who refused to pay the toll. Often the gang murdered those unwilling to cooperate with a show-off violence, witnessed by people and in the daytime. They had no mercy for women or children and reporting to police made no difference. According to witnesses, Nemsadze openly bribed the leadership of local police and prosecutor's office by buying new vehicles and giving out stacks of dollars.
However, the group was not independent. It offered services and received orders that paid well. This is how the idea of cooperation between Nemsadze and Akhmetov came about. Some experts claim that their relation was such that it was ok for Givi to kick Rinat Akhmetov's door open.
Source: h.ua, 6 May2006
There were more ties between Viktor Yanukovich and Rinat Akhmetov than one could notice at the first glance. While Yanukovich was the President, Akhmetov succeeded in fulfilling his most secret ambitions in buying state-owned property. Akhmetov and Yanukovich are more than just friends or fellow party members, they are business partners.
Few people remember the details of bringing the residence Mezhigorie into private ownership. The federal budget never got any money for it. It was a barter. Two shabby buildings were given over to the state by a Donetsk bankrupt company in exchange for the residence at the shore of Kiev sea that became the headquarters of corruption in Ukraine.
In five years the residence was turned into a prive paradize with a golf club, yacht club and horse riding cub, an ostrich enclosure and tennis courts, a helicopter landing site and bowling. Where did all the money for such real estate development for the Yanukovich family came from? The answer is – from using former state property to cater for their own interests. Including those of Rinat Akhmetov.
Source: Kharkiv kriminalny, 1 June 2012