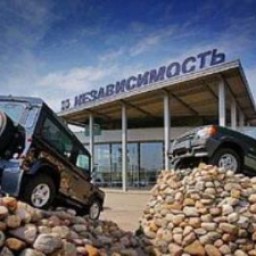 Bio:
Tchaikovsky was born in 1968.
He graduated from the faculty of journalism at Moscow State University.
In 1996 he was the director-general of Trade Motors LLC that sold everything but motor transport.
In 2007 he was the director-general of Nezavisimost group of companies. He registered the group as Nezavisimost Holding Company LLC. Then he sold half of the company, but kept 50.05% of shares, that is, controlling stake.
In 2008 he resigned as director-general but still remained the main co-owner of Nezavisimost.
In 2010 Tchaikovsky's wealth was estimated at $ 210 million dollars.
Sources: Forbes

Dossier:
Before the crisis 2008 Nezavisimost used to increase its sales constantly. The most impressive results in car trading were achieved in 2001-2006 and in the first half of 2008. The company was awarded by numerous awards and prizes from Russian offices of Volkswagen, Jaguar, Volvo, Ford, and Land Rover.
After Tchaikovsky had become the director-general, quick growth of the company was terminated. In 2007 Nezavisimost did not receive any awards from car manufacturing companies. In 2008 Nezavisimost did not expand its presence in the car market but just before Tchaikovsky's resignation it turned out that the company had received a loan for 1.06 billion rubles which was not paid off yet.
Sources: Public quarterly report of Nezavisimost group, 2Q 2008

Just before the crisis Tchaikovsky made a good purchase in the market of top managers. He lured Eric Blondeau from Mosmart trading network. In 2008 Nezavisimost group was ranked 8th in the list of car dealers. In 2009 Nezavisimost was ranked 4th, mainly beacause Blondeau restructured regional offices of the group.
Source: LiteCars.ru, 24 February 2011.

The Federal Security Service of Russia was a client of Nezavisimost group, but terms of their interaction were dubious. The Federal Service got group expensive cars like Volvo, Volkswagen and Audi from Nezavisimost. In 2009-2010 the group received about 155 million rubles from the Federal Service. In 2010 relations between the Federal Service and Nezavisimost became publicly known. Tchaikovsky and the FSS's press service refused to comment on that fact.
Source: Novaya Gazeta, 21 April 2010

Certain shareholders of Nezavisimost group were dissatisfied with Eric Blondeau's activity. They stated that his expansion policy in the regions had not been aggressive enough, as in 2008-2011 the only deal had been made. A joint enterprise was established by Nezavisimost group and Autoland Ural company. The shareholders did not mention that it had been the biggest business transaction between Moscow and regional companies in the history of Russia. Eric Blondeau was offered to resign as director-general. Yet, Tchaikovsky himself described Blondeau's activity in a very positive way and considered his resignation as a loss. In March 2011 Oscar Akhmedov replaced Blondeau, as Akhmedov was believed to get along with exacting shareholders.
Source: Kommersant, 10 February 2011