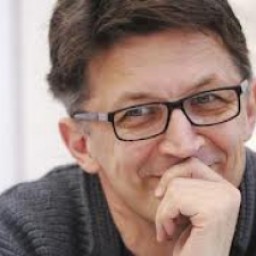 Biographi
Born November 8, 1961, in Kazan, then moved to Moscow. 1980-1985 – studied in Moscow History and Archives Institute (now Russian State University for the Humanities), faculty of technical information, technical archives, standardization and patenting, then worked as a books` layout artist in Moscow publishing houses and ad agencies. For some time Adagamov was an art director in Soros Foundation`s publishing house.
1994-1996 – got a re-education in Moscow State University of Printing Arts
1996 – after the graphic artists` awards in Brno Adagamov was employed by Saatchi & Saatchi ad agency`s Norwegian representative office`s top-managers. He moved to Tromsø, Norway and lived there until the middle 2000-s. In Norway Adagamov was working in the ad agency, then became a Norwegian representative office`s art director.
Afterwards Adagamov set up his own ad agency in Norway. After immigrating to Norway he was living in Tromsø for 5 years, then moved to the south of the country. Living in Norway, Adagamov earned a Norwegian citizenship, but he retained Russian one as well.
From 2002 Adagamov keeps a LiveJournal blog http://drugoi.livejournal.com/, where he publishes translations of the Norwegian articles and photos made by Reuters and France press with his own comments. His blog is on the 2-nd place of LiveJournal top list now. It has 80 000 "friends", but, according to Adagamov, it has by several times more "friends".
Adagamov doesn`t keep in secret the fact that he publishes the advertisement in his blog. He marks it with special tag. However, some of his non-commercial posts also look really biased:
http://drugoi.livejournal.com/3931129.html - photo of Ochlobystin with fascist salute
http://drugoi.livejournal.com/3928980.html - video and criticism of Sochi Olympic Games` coverage
http://drugoi.livejournal.com/3926298.html - photo and criticism of Russian Olympic sports uniform
http://drugoi.livejournal.com/3899286.html - post, approving and vindicating the arrested Greenpeace photographer
http://drugoi.livejournal.com/3892386.html - post, approving Navalny
http://drugoi.livejournal.com/3877143.html - post about the "concentration camp" for ineligible foreigners
http://drugoi.livejournal.com/3875476.html - post about the Russian photographer Dmitry Kostyukov, who was attacked and beaten in Kiev.
http://drugoi.livejournal.com/3867072.html - post, condemning the collection of signatures campaign for Krasnodar`s opposition members` termination of citizenship and exile
Posts, not tagged as "advertisement", but advertising in fact:
http://drugoi.livejournal.com/3914720.html - The New Times magazine advertisement
http://drugoi.livejournal.com/3105293.html - Landrover`s hidden advertizing. Criticized by other bloggers.
2012 – Adagamov became one of the Electors` League`s founders. The Electors` League`s stated goal is control of the observance of the citizens` electoral rights.
October 2012 – Adagamov was elected to Coordination Council of opposition, which ceased to exist in October 2013
February 2013 – Rustem Adagamov announced that he had moved to Prague. In Prague he was going "to ply photojournalism and write to the blog". From autumn, 2013 he`s working as a sport photojournalist at Sportbox.ru
Adagamov was married Tatiana Delstal, the VIP-Systems marketing director. In 2009 she was №1 in "Pechatnik"`s top list of the printing market businessmen. Their marriage lasted 20 years, but in July, 2010 the couple divorced. According to bloggers, the cause of the divorce was Adagamov`s adultery. His ex-wife lives in Kristiansann, West-Agder, South Norway.
Now Agadamov lives in a conjugal relationship outside marriage with Ekaterina Makarova. They are registered in Moscow.
Dossie
August, 2009 – Adagamov posted Alexander Popov`s photos without permission and cut off the author`s copyright. Alexander Popov, the photographer of Artemy Lebedev`s studio, publically insisted on noting his authorship, only after that Adagamov noted the author`s name under the photo.
Source: LiveJournal.com
http://tema.livejournal.com/437397.html
2009 – Adagamov became a party to conflict because of his assignment to Sayano–Shushenskaya hydroelectric power station. In summer RusGidro invited him as a blogger to make an exclusive report about the accident on Sayano–Shushenskaya hydroelectric power station. However, the company canceled the Interfax journalist`s access to the power station. A blogger had been preferred to a professional journalist – the professional society was outraged at this fact and criticized Adagamov.
"The most popular runet blogger first publisher the scary gossips about the catastrophe on the power station and then makes pretty photos of remedial work. Bloggers and blog comments` authors like criticizing the mass media – but are they better? Journalists are responsible for their actions to their editors, audience and law. What the bloggers are responsible to? Their conscience only… or something else".
Source: Interfax, 1.09.2009
http://www.interfax.ru/russia/txt/98386
December 27,2012 – Adagamov`s ex-wife Tatiana Delstal blamed him in the rape of unnamed minor girl, happened 15 years ago in Norway. According to Isvestia, this fact is recorded by police of Lillesann, Norway. On the basis of media publication the Investigation Committee launched an inquiry.
The Izvestia sources of information between the investigative authorities confirmed that Delsal wrote an official application and gave Russian investigators the evidence of Adagamov`s guilt. It includes the email correspondence, in which the blogger confessed his guilt and implores his wife not to make the fact of the crime known to public. The blogger ignored the summons for questioning, his lawyer answered that Adagamov is abroad in a faraway expedition, and nobody knows, when he`s going to come back.
Source: Izvetia, 24.01.2013
http://izvestia.ru/news/543573#ixzz2rbu4ID6x
The accusation of pedophilia was the cause of Megafon`s and VTB`s refusal to co-operate with Adagamov.
Source: Izvestia, 07.01.2013 and 09.01.2013
http://izvestia.ru/news/542649
http://izvestia.ru/news/542535
January 15,2013 Adagamov withdrew from the Public Council of the Ministry of Culture because of the minister Vladimir Medinsky`s statement. Medinsky expressed his wish to exclude Adagamov from the Council, because the blogger ignored the Council boards. Adagamov answered that during the several months the Ministry`s secretary didn`t inform him about the boards. After his withdrawal the blogger called the Council`s work "Potemkin Village and yet another pageantry".
Source: NEWSru.com, 15.01.2013
http://www.newsru.com/russia/15jan2013/adagamsovet.html
End of February, 2013 Rustem Adagamov reported that he had moved to Prague. His decision was criticized by Solidarnost`s activist Oleg Kozlovsky and oppositional journalist Alexander Podrabinek.
"It looks like some opposition figures still suppose our activity to be a game. They can act on the rallies, write something boojie in their LiveJournal, be a member of some council with a dominant name – but as soon as it's getting really tough, or they understand that struggling for democracy is a long and uninteresting business, they can drop everything. So the people of art return to their art, the journalists – to their journalism, the bloggers – to their blogs. "We owe nothing to nobody" – they explain to those whom they just persuaded in "nobody can replace us"".
Source: Novaya Gazeta, 01.03.2013, Grani.ru, 07.03.2013
http://www.novayagazeta.ru/blogs/197/57013.html
http://grani.ru/opinion/podrabinek/m.212359.html
January, 2014 Adagamov owerblew a scandal connected with Roman Abramovich`s girlfriend Darya Zhukova, modern art center Garage`s owner. On his Facebook page he drew readers` attention to Zhukova`s interview published in Byro247 magazine and illustrated with the photo. On the photo Ms. Zhukova sits on a chair made in the shape of a tied black woman. Adagamov noticed that the photo and interview with Zhukova had been published in the Day of Martin Luther King, the leader in the African-American Civil Rights Movement, which is celebrated all over the world except Russia.
Source: Piter.TV, 21.01.2014
http://piter.tv/event/Zhena_Abramovicha_okazalas_zameshana_v_rasistskij_skandal/