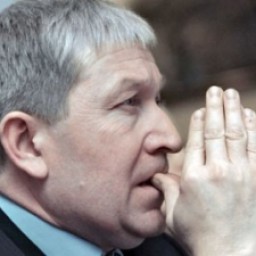 Bio:
Said-Salaam Gutseriev was born on 25 July 1959 in Tselinograd city of Kazakh SSR. In 1982 he graduated from Grozny Academian M. D. Millionshchikov State Oil Institute, having specialized in machinery and chemical equipment.
In 1999 he graduated from the Finance Academy under the Russian Government.
In 1977 he worked for design and engineering bureau under Chechen-Ingush Transit Authority. In 1978 he was an operative, in 1983 he headed a workshop of Grozny petroleum storage depot. In 1987 he was an engineer at the shipping department of RSFSR State Oil Trading Agency in Grozny. In 1988 he headed resources and quality department of the agency.
In 1988-1990 he worked as a chief engineer for Grozny oil supply company.
In 1990-1992 he was a director of Local Industry Grozny industrial complex.
In 1993 he was a director-general of BIN Industrial and Financial Company LLC . In 1997 – 2007 he was a board member of Joint Stock Commercial BIN Bank.
In 2003-2006 was a member of the board of directors of RussNeft public company.
On 19 December 1999 Gutseriev was elected to the State Duma of the third convocation from Zhirinovsky Bloc, but later he joined Unity pro-governmental group.
In 2000-2002 he was a member of Funds and Taxes Committee. In 2002-2003 he was a member of the Committee on Federation Affairs and Regional Policy.
On 7 December 2003 he was elected to the State Duma of the fourth convocation as a member of United Russia governing party . He was a member of State Duma Committee on Women, Family and Children.
In 2000-2007 he was a member of the central verification committee of United Russia.
In 2004-2008 he was a member of the Political Council of United Russia in Moscow.
Awards:
Medal In Memory of the 850th Anniversary of Moscow
Medal of the Ministry of Finance
Medal of the Ministry of Defense
In 2000 Gutseriev got JD degree. His thesis was devoted to improvement of the supply chain for public use.
In 2003 he received doctor's degree in economics. His doctoral thesis was titled "Improving the supply of industrial and agricultural production in the national economy."
Gutseriev is married and has five children.
Source: Wikipedia
Dossier:
At the end of 2001, after Ruslan Aushev had resigned as president of Ingushetia, three candidates were proposed for his position - State Duma deputy Alikhan Amirkhanov, interior minister of Ingushetia Khamzat Gutseriev and State Duma deputy Said-Salaam Gutseriyev.
Source: Versiya 8 December 2002

On 20 January 2002 Said-Salaam Gutseriyev said that he had withdrawn his candidacy from the election race. Gutseriyev asked people to vote for his brother Khamzat. Gutseriyev said that "Lieutenant-General Ruslan Aushev governed the republic, so his successor must also be a lieutenant-general, that is, Khamzat Gutseriev."
Source: Ingushetia, 20 January 2002
In 2007, after Vladimir Putin had announced his candidacy for Duma elections as a member of United Russia, many businessmen were ruled out from the election list of the governing party, for instance, owner of Nafta-Moskva Suleiman Kerimov and former manager of RussNeft Said-Salaam Gutseriev.
Source: News Press Agency, 30 November 2007

At the end of 2010 former chairman of the board of directors of BTA Bank Mukhtar Ablyazov sold his flagship real estate assets, Severnoye Domodedovo production and logistic complex, that had an area of ​​558,000 square meters. He sold Domodedovo to a company of BIN group, associated with the Said-Salaam Gutseriyev. According to market experts, it was Chaika company operated by BIN group. Chaika consolidated a major portfolio of commercial real estate in Moscow. Suleiman Kerimov was said to be Gutseriev's partner.
Source: Zakhvat.ru, 12 January 2011

According to Finance magazine, in 2011 Said-Salaam Gutseriev managed real estate assets of Gutseriev family. His personal wealth was estimated at 1.15 billion dollars.
Source: Finance, 14 February 2011

On 25 March 2011 Said-Salam Gutseriyev became a direct owner of 15.4830% of Petrovsky Passazh, one of the oldest trade companies in Moscow.
Source: RIA Novosti, 25 March 2011