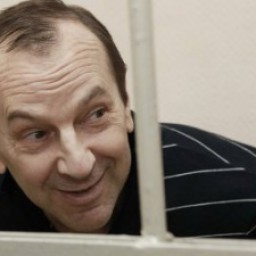 Biography
52-year-old Savely Burshtein, native of Novokuznetsk, is believed by the investigators to take part in the embezzlement of $41 millions from the accounts of the Central Bank of Turkmenistan. He was a close advisor to chairman of the board of Index-bank Aysoltan Niyazova, who is accused of devising the scheme to defraud the Turkmen coffins.
Burshtein denies any of the allegations, saying he helped Niyazova without knowing that he was involved in crime.
Sourse: Vremya Novostei, 7 October 2009
Dossier
Back in 2002, joint Russian and Turkmen investigation found that a Turkmen Central Bank employee, Arslan Kakaev, an officer of the international payments department, had removed $41 million from his bank in Turkmenistan and transferred it to Deutsche Bank and then to other banks - about $20 million was sent to Latvia's Parex Bank; and another $20 million to the Russian Deposit Bank to an account opened by a Vietnamese citizen and his front company called Svancitygroupbank. According to Kommersant's report on 21 June, Savely Burshtein was accused of stealing this money.
Sourse: Kommersant, 15 December 2009, Eurasia.Net 26 September 2011
The Russian business daily Kommersant says that in 2002, German intelligence found that Arslan Kakayev (killed in St Petersburg in 2003), an official at the CBT's international payments department who had access to the SWIFT codes was able to siphon off $41 million to Deutsche Bank and then to other foreign banks, including Latvian Parex Bank and the Russian Depository Bank, RDB ($20 million). According to the judges, RDB placed the money to an account opened with forged documents, belonging to a Vietnamese citizen, Woo Fyong Nam. The head of RDB, Dmitry Leus, who was sentenced to a four-year sentence in 2004, ordered to cash $19.3 million, charging a $700,000 commission. $19.3 million were moved to Index-bank that cashed the sum. Savely Burshtein and Aysoltan Niyazova drove away the cash in their BMW X5, and distributed among their accomplices.
Savely Burshtein passed himself off as an ordinary bank officer and used forged passport. Niyazova invested the large part of the money, stolen by Burshtein, into her hospitality business in the Check Republic. In summer 2008, the police arrested Savely Burshtein in the Check republic, where he fled following the massive embezzlement scandal. The Check Republic extradited him to Russia in 2008.
Source: Kommersant, 1 June 2010
Aysoltan Niyazova, accused of embezzling $19.3 million from Turkmenistan's Central Bank, who has been on the lam for eight years, has finally been located in Switzerland and is being extradited to Russia, Russia's business daily Kommersant reports. Aysoltan Niyazova was the chairman of the board of Index-bank. Interpol arrested her in Switzerland in 2011.
Source: Lenta.Ru, 16 September 2011, Eurasia.Net 26 September 2011
The lawyers of the defendants continue to claim that there is no proof that $20 million were in fact stolen from the accounts of the CBT. They say that the officials of the CBT have not presented any documents, proving the CBT incurred damages.
Source: Kommersant, 19 September 2011