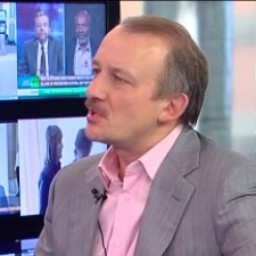 Biorgraphy
Sergey Aleksashenko was born on 23 December 1959 in Likino-Dulevo in Moscow region. He graduated from the Economics Faculty of Moscow State University in 1986 and has a Ph.D. in Economics.
In 1986 - 1989 he worked at the Central Economics and Mathematics Institute under the USSR Academy of Sciences.
From January 1990 to April 1991 he was the leading expert of the Commission on Economic Reform of the USSR Council of Ministers, also known as Lev Abalkin Commission.
In summer 1990 Aleksashenko was one of those who outlined the 500 days programme.
In April 1991 - May 1993 he was advisor to management of Scientific and Industrial Union of the USSR (later - the Russian Union of Industrialists and Entrepreneurs).
In 1993 – 1995 he was deputy Minister of Finance of Russia.
Since April 1995 he has been president of the Russian Association of currency exchanges.
In 1995 he was appointed general director and member of the scientific council of Russian Union of Industrialists and Entrepreneurs Expert Institute.
In 1995 - 1998 he was first deputy chairman of the Central Bank of Russia. At the same time he was the chairman of the Audit Commission under the President of Russia, and first deputy chairman of the Supervisory Board of Sberbank of Russia (until 1999).
In January 1999 he became project manager in the Expert Institute.
In 2000 - 2004 he was deputy general director and managing director of Interros Holding Company
Since 2004 he has been president of Antanta Capital.
From April 2006 to April 2008 Aleksashenko was managing director and head of Moscow office of the investment bank Merrill Lynch.
Since December 2008 he has been director on macroeconomic research of the State University — Higher School of Economic.
Since October 2008 he has been member of the board of directors in Aeroflot - Russian Airlines and chairman of the Committee on Strategy.
Since September 2009 he has been member of the Scientific Council of Moscow Carnegie Center
He is married. He has three children.
Source: Wikipedia
Dossier
In 1990 Aleksashenko participated in the development of the famous 500 days programme that was supposed to change everything for the better... However, the county's residents did not see the promised changes to the better. But Aleksashenko did. After he was recognized as a liberal, his career went straight up the hill. They say, it was largely thanks to the connections he had obtained during the programme development. Among the subsequent jobs in the 1990's there are those in the Finance Ministry and in the Central Bank, both high-profile ones. The two institutions were the gravy trains of the 1990s.
When he left those positions, Sergey decided to use his extensive economic experience to do business. But he ran into a problem. Employers wanted efficiency and professionalism and were not ready to tolerate the exorbitant ambitions of the former official. At first Aleksashenko headed the mysterious fund Tsentr Razvitiya (Russian for "centre for development") which, in fact, existed only to spend the budget received from the sponsors. Then he suddenly began working for Interros, as a supervisor of the strategic development of the company. However, according to some information, in a couple of years he left the company, having messed up a number of important deals and damaged company-shareholder relations. Later Aleksashenko began working for the investment company Antanta Capital that belonged to the millionaire Arkady Gaydamak. The company was engaged in speculative trading of small companies' shares. The president was challenged with many ambitious projects, but no obvious achievements can be named during this period of Aleksashenko's career.
Source: Tvoy Den, 31 July 2009
In 1998, Prime Minister Yevgeny Primakov signed a resolution ordering to immediately initiate a criminal case against those responsible for the 1998 Russian financial crisis. More specifically, the resolution contained the following:"The investigation and operational activities exposed a number of heads of federal departments and agencies who were involved in T-bills auctions ... The investigation focused on specific illegal actions by former executives of the Bank of Russia. In particular, it was found that S.V. Aleksashenko, while being first deputy chairman of the Central Bank, had ruble and foreign currency accounts in several private banks, where he accumulated funds received from T-bills auctions. In 1998 only to his Avtobank ruble account N 42301810400011702985 he received 11 large payments. In 1997 it was 6 payments respectively, and in 1996 it was 12 payments totaling approximately 560 million non-denominated rubles ... Aleksashenko's foreign currency account, opened in the same bank, received more than 42 thousand U.S. dollars. In addition, on the foreign currency account at Mosbusinessbank he had yet another 50 thousand U.S. dollars.
Source: Novaya Gazeta, 18 November &1999
On 25 February 2009 Khamovnichesky Court of Moscow considered a civil law case at the suit by Sergey Dubinin and Sergey Aleksashenko to Andrei Illarionov and the autonomous non-profit organization Independent editors of Kontinent magazine seeking to defend their honour, dignity, and business reputation and to collect compensation for non-pecuniary damage.
The plaintiffs addressed the court in connection with Kontinent magazine issue No. 134 per 2007 that published an interview with Illarionov. In the interview Illarionov said: "The activity of Dubinin and his friends drew attention of the prosecutor's office. It was found that some employees of the Central Bank, including Dubinin and Aleksashenko, actively participated in buying T-bills and in foreign currency transactions on Chicago Stock Exchange ". It was these words for which Dubinin asked the court to collect compensation for moral harm from Illarionov. Aleksashenko asked to seek compensation for moral harm from the magazine itself. The court decided to recover from the editorial of Kontinent in favour of Aleksashenko ten thousand rubles as compensation for non-pecuniary damage.
Source: Echo Moskvy (blog), 11 July 2009
Even before the 2012 presidential elections Sergey Aleksashenko said that they are in fact illegitimate because the very law on presidential elections is unreasonable.
Source: Forbes., 2 March 2012