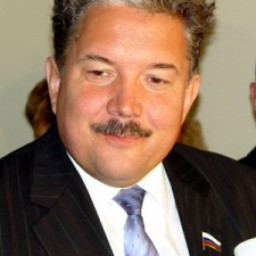 Biography:
Sergey Baburin was born on January, 31, 1959 in Semipalatinsk in Kazakhstan. In 1981 he graduated from the Law School of Omsk State University with a degree in Government and Law History. Several media reported that Baburin, a student at that time, wrote a letter to Leonid Brezhnev, Secretary General of the CPSU Central Committee, stating the necessity of rehabilitation of Nikolai Bukharin, Grigory Zinoviev, and Gregory Sokolnikov, whose actual surname was Brilliant.
In 1981-1983 he served in the Armed Forces of the USSR spending the last year of service in the limited contingent of Soviet troops in Afghanistan.
In 1986 he completed his postgraduate studies at Leningrad State University and in 1987 defended his Ph.D. thesis on "Political and legal doctrines of Georg Forster". After graduation, he stayed on as deputy dean of law school.
Since 1988 he was dean of law school.
In 1990 he was elected a people's deputy from the Soviet territorial constituency № 539 (Omsk). At the I Congress of People's Deputies he was elected member of the Supreme Soviet of the RSFSR.
In 1991 he was nominated for presidency of the Supreme Soviet of the RSFSR.
In 1991 he founded the Russian National Union.
In April 1992 at the VI Congress of People's Deputies of Russia Baburin became one of the heads the opposition bloc of National Unity faction along with S. Isakov, M.G. Astafiev, N.A. Pavlov and others.
In October 1992 he was elected co-president of the National Salvation Front.
In December 1993 he was elected to the State Duma of the first convocation from the Central constituency № 130 of the Omsk region. In the State Duma he established a deputy group Russian way.
On July, 18, 1995 he became Member of the electoral bloc Power to the People.
In 1995 he was elected to the State Duma of the second convocation.
In February 1996 he was elected deputy chairman of the State Duma.
In June 1996 he was elected deputy chairman of the Parliamentary Assembly of Belarus and Russia.
In 1997 he became co-chairman of the union of individual members of the State Duma Anti-NATO and chairman of the Anti-NATO State Duma Commission.
In 1999 he ran for the State Duma of the third convocation from Russian National Union faction.
Since January 2000 he has been a professor at Law School of Omsk State University.
Since 2001 he has been chairman of the National Revival Party People's Will.
Since August 2002 he was rector of the Russian State University of Trade and Economics.
Since March 2004 he was deputy chairman of the State Duma.
Since December 2007 after the State Duma elections in which his party was not allowed to participate by the election commissions of the Russian Federation, he returned to the position of rector of the Russian State University of Trade and Economics.
Awards
The Order of Honour and Glory, II degree (Abkhazia, 2005)
The Order of Honour and Glory, III degree (Abkhazia, 2003)
Honourary citizen of Abkhazia (2008)
Honoured Scientist of Russian Federation (2010)
He is Orthodox. He chose to baptize in 1997, because he was not sure that he had been baptized in childhood. He said he particularly honours Sergius of Radonezh, whom he regards as his patron saint. In 1998 he defended his doctoral thesis and became Doctor of Laws. He participated in the Congress of the patriotic forces the Russian frontier. In 1999 recorded a musical album "Lullaby for a son."
He is married to Tatiana Nikolayevna Baburina who graduated from Omsk State University and has a Ph.D. in physics and mathematics. She was baptized in summer 1997; actress Catherine Vasilieva is her godmother. The couple has four sons: Konstantin (born in Leningrad in 1984), Eugenie (born in Omsk in 1990), Yaroslav (born in Moscow in 1991), and Vladimir (born in Moscow in 1998).
Source: Wikipedia
Dossier:
In December 1991 Baburin was the only deputy of the Supreme Soviet of the RSFSR, who opposed the ratification of Belavezha Accords. In February 1996 Baburin offered the Duma to adopt a resolution on the preservation of legal validity for Russia of the17 March 1991 USSR referendum on the non-dissolution of the Union of Soviet Socialist Republics.
Source: ITAR-TASS, 20 February 1996
During the crisis in autumn 1993 in Moscow Baburin was inside the blocked House of Soviets until October 4. According to media reports, he fought with riot police. After that, he was under arrest for some time.
Source: Sreda, 10 November 1999
On January, 21, 2004 Sergey Baburin, Dmitry Rogozin and Yuri Skokov signed a special statement in which they officially refused to endorse Sergey Glazyev as presidential candidate. The co-chairmen said that "the bloc's supreme council did not take the decision to support self-nominated Sergey Glazyev, it did not give consent to the use of symbols of Rodina bloc and to the participation of regional offices that are members of the bloc of parties, in collection of signatures during the presidential campaign".
Source: Kommersant, 11 February 2004
On March, 3, 2004 Sergey Glazyev was removed from his post by a vote of Rodina faction leaders. A total of 23 out of 38 members of the faction voted for the decision. According to Glazyev, the voting took place under pressure from members of the presidential administration staff Vladislav Surkov and Aleksander Kosopkin. Glazyev says that Baburin in return was promised the post of deputy chairman of the Duma and Dmitry Rogozin was promised the position as head of the faction.
Source: RIA Novosti, 30 November 2004
On November, 30, 2004 it was announced that Rodina party headed by Dmitry Rogozin and People's Will party had agreed to merge into a single political structure based on Rodina party.
Source: RIA Novosti, 30 November 2004
On February, 2, 2005 Baburin signed an agreement on cooperation and partnership with the coalition Patriots of Russia headed by Gennady Semigin, State Duma deputy. On February, 25, 2005, he announced the impossibility of merging with Rogozin's Rodina. On March, 10, 2005 coalition of Patriots of Russia headed by Semigin gave a presentation of people's government of Russia formed by the coalition. Its chairman was Semigin and Baburin was appointed minister for CIS affairs.
Source: Interfax, 10 March 2005
On December, 13, 2006 Gennady Semigin joined Baburin's Duma faction People's Patriotic Union Rodina (People's Will - SEPR). On December, 15, 2006 Semigin was elected leader of the faction. The meeting, during which the decision was taken, was held in Baburin's absence and was proposed by his deputy, Sergey Glotov. Baburin found out that he was no the leader of the faction after a decision had been made.
Source: Kommersant, 18 January 2007
In early May 2011, shortly before the start of the Duma elections campaign, Prime Minister Vladimir Putin announced the establishment of the All-Russia People's Front, which included not only United Russia party members. In response to this on May, 12, 2011 Baburin on behalf of the Russian National Union signed a declaration on the establishment of Imperial Union of Russia, which also includes the Union of Cossacks of Russia and some other public organizations.
Source: Union of Cossacks of Russia, 12 May 2011