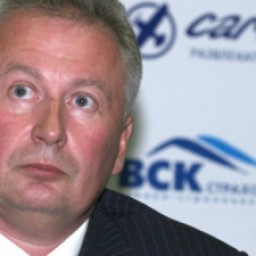 Biography:
Sergey Tsikalyuk was born on March 1, 1959 on the island of Sakhalin. He graduated from a Military Technical School and Military Academy. He got his financial education Plekhanov Russian University of EconoVSKs.
In 1976-1992 he served in the Armed Forces
Since 1992 he was CEO of the Military Insurance Company (VSK, from Russian "Voyenno-strakhovaya kompaniya" for Military Insurance Company).
From May 2007 he has been chairman of the board of directors of VSK.
Awards:
Order of Merit, IV degree (1999)
Medal of Honour (2007)
Medal for Combat Service
Medal for Labour Distinction.
In 1996 experts from the Russian Biographical Institute recognized Tsikalyuk as "Person of the Year" in nomination "For charity in social support of servicemen and veterans of the Armed Forces."
According to Forbes magazine, in 2011 Tsikalyuk ranked 127th in the list of 200 richest people in Russia, his fortune reaching $ 800 million.
Source: Expert
Dossier:
Military Insurance Company (VSK) was formed in early 1992. It was then headed by Sergey Tsikalyuk, a little-known officer of the General Political Department of the Ministry of Defense. In an interview he said the following: "Our work [...] began with Sberbank. In 1993 we proposed a system of centralized payments on obligatory state insurance, from which, in fact, our company has grown (...) That was when Andrey Ilyich Kazmin's team joined the bank."
Cooperation with the team of Kazmin led to a situation when in 2006 nearly half of the collected insurance premium (5.8 out of 13 billion rubles) in the VSK Insurance House accounted for insurance of risks for banks and bank customers.
Source: Bankovskoye Obozreniye, 01 February 2007
Some observers linked the success of VSK to the activities of Sberbank first deputy chairman, Alla Aleshkina. According to media reports, back in 1999 Tsikalyuk gave tours to luxury five-star hotels on Cyprus to Aleshkina's daughter.
Source: Moskovsky Komsomolets, 22 December 1999
In 2007 VSK Insurance House, which is considered to be one of the most closed financial groups in Russia, held a big press conference. Among other things, the company announced its plans concerning its development and the possible sale of 25% in a life insurance subsidiary of VSK to investors.
Greatest impact was produced by the information about the actual owns the company. According to Sergey Tsikalyuk, VSK board chairman, it is he and a number of managers of the insurance company are major shareholders of the insurer. Sergey Tsikalyuk told a journalist of one of the government media agencies that he owned a "big package" of VSK shares. According to one source, it is 50 per cent plus 1 share. Another sourse claims Tsikalyuk's share to reach oalmost 90%.
At the same time it was reported that among the beneficiaries owning a large stake in the insurer, there are two top-managers of Sberbank, namely Andrey Kazmin, the then President and Chairman of the board of Sberbank of Russia, and his deputy, Alla Aleshkina, whose names were concealed behind a thick curtain of foreign offshore companies.
Source: Vsluh.Ru, 03 September 2007
In 2008 VSK Insurance House signed a contract with Unicredit Aton to provide advice on attracting minority investor or IPO. The experience of other insurers, who planned IPO, resulted in selling shares to the strategic investor. According to analysts, VSK will face the same scenario. But most experts doubted that VSK would go for IPO. They suggested that this good intention of VSK would end in selling the company.
Source: Kommersant, 16 July 2008
In 2009 a new scandal hit the insurance market. Its main participants were VSK and Sberbank. VSK won the tender for insuring Sberbank property by offering price 47 times lower than the year before. Why was it necessary to take such a crazy dumping? It is very simple. Ministry of Defense chose not to cooperate with VSK and it came to the exhausting litigation. Aleshkina and Kazmin left Sberbank. Annual bonuses dropped sharply. And the company still had to fight for clients. It employed riskier methods, including dumping prices. It stirred up all the market participants.
According to the media, in 2010 VSK management shown great interest in insuring property of another large banking institution, Rosselkhozbank. It was in the top ten and had branches in all regions of the country. The company sent Ivan Kosarev to prepare the ground in the bank for VSK . The first thing he did was making calls to the branches and giving oral instructions, which essentially was the same, urging every branch to use the services of VSK.
Information spread instantly across the market. Meanwhile, Yuri Trushin, the head of the Rosselkhozbank, had a very decent reputation. But the reputation of the potential insurance partners was quite an opaque one. And the situation of the insurer was also not easy. It was not by chance that Sergey Tsikalyuk, head of VSK board of directors, was so concerned with the sale of the company. First he offered to buy it for a billion dollars, and then lowered the price to $ 800 million. Although experts estimated the company to be worth half the price.
Source: Vek, 18 February 2010
On March 31, 2011 new VSK OJSC shareholders list was formed from the list of affiliates of the company. Sergey Tsikalyuk, the majority owner of VSK, personally joined the company's shareholders a package of 0.00059%. The rest was registered with Azbuka+ LTD, established in 2005. Authorized capital was 1 million rubles. The contribution by Sergey Tsikalyuk was 990 thousand rubles, and Nelly Tsikalyuk contributed 10 thousand rubles. Azbuka+ CEO was Sergey Almazov, who in 2007-2010 was CEO of VSK.
Source: ASN news, 05 April 2011