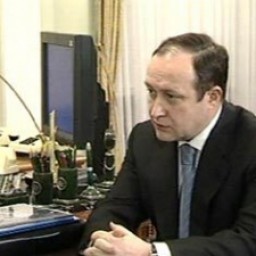 Biography
Sergei Frank (born 13 August 1960, Novosibirsk) graduated with an honours degree in Marine Engineering from the Far Eastern Navy Colleague in 1983.
1983-1985 komsomol functionary at his alma mater
In 1989 Frank graduated from the Higher Commercial School under the All-Soviet Academy for Foreign Trade.
1989-1995 head of the foreign economic ties service, then deputy director general of the Far Eastern Marine Steamship Co.
In 1995 Frank earned a degree in Law by correspondence course from the law faculty of the Far Eastern State University. The same year he was appointed deputy director of the Marine Transport Department of the RF Ministry of Transport.
1996-1997 acting deputy transport minister
On 2 March 1998, the president appointed Frank as RF transport minister, with the decree no. 213. He remained in the cabinet under six prime ministers. Frank was removed along with the president-sacked Kasyanov's government.
27 April 2004 advisor to the RF prime minister Mikhail Fradkov
October 2004 director general of Sovcomflot, Russian government-owned fleet operator
Sergei Frank is married. His son Gleb is a deputy director general of Gazprombank-Invest. Gleb married Gennady Timchenko's daughter Kseniya. Their marriage strengthened alliance between two influential families in Russia.
Awards and titles
Order of Merit for the Fatherland, 4th Class (2008)
Order for Maritime Merit (2010)
Frank was honoured with the title honoured transport worker (2009)
Sources: Russian Wikipedia, Novaya Gazeta, 6 August 2008
Dossier
In 1995, deputy director general of the Far Eastern Marine Steamship Co. Sergei Frank joined the RF transport ministry. He did not have a flat in the capital and his salary was not enough to live in Moscow. His post on the supervisory board of the Marine Stock Bank helped him out. Frank joined the board as early as 1994, but the bank did not pay attention to a minor official of the steamship company until the Russian government employed him. After that the bank showered Frank with gifts. For 8 months Frank took out loans, which the bank accepted as deposits with higher interest. This brought him additional revenue of $3,000 a month. The bank gave him a personal car with the driver, paid for his mobile phone bills, renovated and furnished his office. The bank helped Frank to buy a newly furnished 3 bedrooms flat at a discount price, which was financially disadvantageous for the bank. Before the deal, the Marine Stock Bank gave him an interest-free loan of $78,000.
Source: Komromat.ru, 31 May 2005
Frank's bright start to life in Moscow could not take place without help of Nikolai Tsakh, head of the Marine Department at the transport ministry and later a transport minister.
In December 1996 Boris Berezovsky and deputy director general of Aeroflot Nikolai Glushkov asked minister Tsakh to sign a decree to move all revenues from foreign offices of Aeroflot to the accounts of a Swiss front company called Andava. Glushkov wanted to obtain a license from Central Bank, along with the transport miniter's approval of Aeroflot director Shaposhnikov's decree about Andava. Tsakh refused to give his approval. Berezovsky and Glushkov waited until Tsakh was on business and approached Frank, who acted as a minister in Tsakh's absence. Frank signed the document, needed by Berezovsky for his scam. Soon, Berezovsky used his connections in the Kremlin to remove Tsakh and to put Frank in his office. As a result of the reshuffle, Berezovsky's protégé Frank allowed Berezovsky to sell Russian fleet of trawlers at knockdown price and to profit from handling lease for Russian port terminals.
Source: Sovershenno Sekretno, December 2001
In spring 1997, the RF Central Bank obtained information about ministerial employee Sergei Frank's banking activities that violated the state service code. The regulator demanded that he leave the board of the bank. Frank obeyed, but did not put up with the situation. Soon a foreign front company, controlled by Frank, bought the shares in the bank. According to the estimation, the Frank's company received $290,000 from the bank, while shareholders - state-run transport companies, operated by the Ministry of Transport - did not receive dividends. Moreover, with the knowledge of Frank, the bank was chosen to keep Morinraschet's OVGVZ bonds, $10.5 million worth. Only in summer 2001, after the interference of the State Duma Commission for Corruption Fighting, the prosecutors probed into Frank. He was not punished, because time allowed for claims expired.
Source: personize.ru/Sergei Frank
In 2000, minister of transport Sergei Frank advocated the idea of merger of three major steamship companies of Russia: Sovcomflot, Novoship and Far Eastern Marine Steamship Co. (PMP). Frank's zeal could be easily explained: he expected to get a position of the director general at the new super-company. His dreams were not fulfilled. Problems occurred with the minority shareholders. Sovcomflot was fully owned by state, whereas PMP was a private company. The state also owned a controlling stake in Novoship. Having excluded PMP, Frank again raised the issue of Sovcomflot and Novoship merger at the ministerial meeting in March 2002. But again his project faced insuperable obstacles. In 2004, after resignation as a minister Sergei Frank reverted to his dream. Former minister campaigned for merger of Sovcomflot and Novoship, planning to head the holding company. But the presidential staff was against the idea, and Sergei Frank decided to be more cautious. He helped PM Fradkov's son to get the position of deputy director of the 4th largest steamship company in Russia - Far Eastern Marine Steamship company. Frank himself once worked for the company a long time ago. As gratitude Mikhail Fradkov issued a personal decree, and appointed Frank as head of Sovcomflot. Frank decided takeover Novoship. Using Sovcomflot's vast resources, he tried to get control of Novoship. First step towards achieving the goal was made in March, when Sergei Frank offered Akropol bank to buy the bank's 14% stake in the company. A source said that Frank offered $160 million for the stake. Sovcomflot is a rich company, which brings huge profits. Having such bonanza, Sergei Frank could easily make such offers.
Source: Kompromat.ru, 15 April 2005
Late in 2005, the largest deal to buy three tankers for Sovcomflot fell under scrutiny. 11 members of the upper chamber of the Russian parliament asked prosecutors from the Prosecutor General's Office to probe into Sovcomflot's $424 million purchase of three tankers. The MPs recalled that a year before, a company called Aker proposed to sell the same vessels to Sovcomflot half as cheap again. They claimed that Sovcomflot paid double price and overpaid $140 million for the supplier.
By the time, Sovcomflot was the largest Russian sea fleet operator with clear profit of $159,6 million per year. The company was fully controlled by state.
Through a network of offshore companies, Sokvkomflot manages 48 vessels with a total deadweight tonnage of 3,6 million tons. Investigators failed to demonstrate any wrongdoing from Sovcomflot's side.
Source: Vedomosti, 22 December 2005
In 2008 the son of General Director of Sovcomflot Sergei Frank, Gleb by name, was engaged to the daughter of Gennady Timchenko, co-owner of Gunvor Group, an old friend of Putin's. The experts saw the possible marriage as a deal to devide spheres of interests between two companies, and to allow Gunvor to take over Novoship, which was in Timchenko's sphere of interests.
Source: Novaya gazeta, 6 August 2008
In August 2008, Sovcomflot boss Sergei Frank said that he was revamping the state-owned giant's entire strategy to offset the worsening prospects, facing conventional tanker shipping. The chief executive of the world's largest tanker operator by fleet size confirmed that the new game plan included a switch in investment emphasis, away from crude and products carriers towards offshore oil and liquefied natural gas instead. Crude and products tankers generate 80% of Sovcomflot revenues, as opposed to 20% for LNG and offshore. But Mr Frank envisaged a 50/50 split by 2016. The gist of Frank's proposal was to stop carrying oil products and to switch to exporting raw materials from Russia.
Source: InoSMI, 4 August 2011, Lloyd's List, Monday 1 August 2011