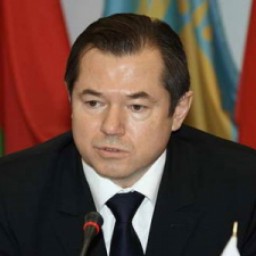 Biography:
Sergey Glazyev (born January 1,1961, in Zaporozhye, Ukraine) graduated from the faculty of economics of Lomonosov Moscow State University in 1983. He did his postgraduate research in the Central Economic Mathematical Institute of the Soviet Academy of Sciences. He became a PhD in economics in 1986.
1986-1991 a senior researcher and head of the laboratory for systems analysis of the Central Economic Mathematical Institute
1989 he did his postdoctoral research and defended thesis for the second time, becoming the youngest Soviet «doctor of Economics» (the highest academic degree confered on outstanding researchers). In mid-80s Glazyev joined informal group of young economists, headed by Anatoly Chubais, future deputy prime-minister and head of RAO UES of Russia, and Petr Aven, future president of Alfa-Bank.
December 1991 deputy chairman of the Committee for Foreign Economic Relations (headed by Aven)
January 1992 minister of foreign relations
September 1993 he resigned in protest against Yeltsin's decision to dissolve the parliament. He returned to work as a researcher in the Academy.
December 1993 he is elected a deputy of the State Duma from the party list of Democratic Party of Russian Federation, headed by Nikolai Travkin. He has never been a member of the party.
February 1994 he is elected the head of parliamentary committee for economic policy.
October 1994 he joined the All-Russian Congress of Russian Communities, formed by Dmitry Rogozin. In 2003 he chaired the congress and was its head until December 2006.
1995-1996 consultant of the Accounts Chamber of the Russian Federation
1996 he supported General Aleksandr Lebed in his presidential run and wrote economic program for him.
1996-1999 he headed the analytical service of the Federation Assembly (upper house of the Russian parliament)
December 1999 he was elected to the State Duma from the party list of the Communist Party of the Russian Federation. He chaired the committee for economic policy and the development of enterprise.
April 2002 he lost his position in the committee due to redistribution of executive positions between factions.
September 2002 he ran for the Krasnoyarsk Region governor in the election, which were held after death of incumbent governor Lebed in hellicopter crash. He came third with 21.45% of votes, having lost to Aleksandr Uss, the chairman of Krasnoyarsk legislative council, and Aleksandr Khloponin, head of the Taymyr Region.
September 2003 He co-founded together with Dmitry Rogozin and Sergey Baburin, the head of the People's Will party, electoral bloc called Rodina.
December 2003 leader of Rodina faction in the State Duma
December 2003 the party board approved Glazyev's nomination for presidency as an independent candidate. Before that Rodina supported Viktor Gerashenko, former head of the Central Bank, but the electoral commission refused to place him on the ballot.
8 February 2004 he was registered as a candidate for presidential office. In the elections of 14 March he won 4.18% of votes, third place after Vladimir Putin and communist candidate Nikolai Kharitonov.
April 2007 he headed the Institute for new economics of the State University of Management.
2008 deputy general secretary of Euroasian Economic Community
February 2009 executive secretary of the Customs Union of Russia, Belorussia and Kazakhstan.
Glazyev has more than 150 papers published on macroeconomics.
Awards:
Nikolai Kondratiev Medal for research of long waves in economic development. The medal is one of most prestigious Russian awards for the research in the field of economics.
Glazyev became corresponding member of the Russian Academy of Sciences in 2000 and academician in 2008.
He is married and has 4 children (officially)
Source: Wikipedia
Dossier:
In 1991-1993 Glazyev worked in Gaidar's team as a deputy minister and a minister for foreign relations. He became well networked and got acquainted with future oligarchs - Boris Berezovsky, Mikhail Khodorkovsky, Vladimir Potanin, Petr Aven and others. He is rumoured to have earned his first million at the time. But when Gaidar faced problems, Glazyev was first to desert the sinking ship. He joined Nikolai Travkin's Democratic Party of Russia.
Source: Pravda.ru, 22 January 2004
In 1993 it was Sergey Glazyev, the minister of foreign economic ties, who brought together Onexim bank and Norilsk Nickel. The bank put $1.5b deals of Norilsk Nickel across. The bankers easily allocated 100m loans, shut their eyes to non-payments, opened offshores and paid for Hawaii holidays of newly fledged memebers of the board. The strategy worked wonders - very soon Onexim bank bought Norilsk Nickel for nothing (the bank paid $170m for the asset worth $2-3b). But wondrous deal was struck after Glazyev resigned.
Source: Kompromat.ru, 12 March 2004
When in 1994 Glazyev became a leader of the Congress of Russian Communities, he used the organisation to raise funds for his own campaign. He was ready to head the congress and to lead it but he asked for good salary. But the congress was in desperate need of money itself - the funds were so insufficient, that candidate Glazyev could not afford opening his office to meet voters. All in all, Glazyev did not get serious money.
In 2003 Boris Berezovsky got him involved in his own project - an umbrella party which united small group of nationalists and left-wingers. Berezovsky wanted this party to cooperate with the Communist Party. The united left opposition, Berezovsky planned, should win the elections. He gave money to Glazyev.
Glazyev's task was as follows: to hold a uniting conference of all marginal left-wing and nationalistic parties, to form a rulling body and to sign multilateral agreement of cooperation with «everyone», then together with the Communists he had to challenge the United Russia.
Glazyev held the uniting conference, but a month later when Berezovsky planned. The reason was obvious - Berezovsky was afraid of giving money directly to Glazyev and asked Semigin to be a go-betweener. Semigin simply pocketed the first million of dollars aimed for political games and off he went.
Source: Stringer, 04 March 2004
In December 2003 Rodina block gathered 9.25% of votes in the Duma elections, winning 53.43% in Podolsky constituency in the Moscow Region. Rodina's full-fledged election campaign, the analysts say, was orchestrated by PR-agency of Marat Gelman - a «political technologist», working with the Kremlin, and the state run ORT channel.
Source: Kommersant-Vlast, 15 December 2003
In 2004 Glazyev was reported to have a child from his employee Anna Gorbatova. He was also rumoured to provide Lyudmila Sherova with a flat. Some say there were strong reasons to help his own political consultant.
Source: Kompromat.Ru, 09 February 2004
In March 2004 Glazyev was voted off as the leader of Rodina faction. 23 members out of 38 voted against him. Glazyev claimed they were under pressure by Vladislav Surkov and Aleksandr Kosopkin, members of the Staff of the President of Russia. Dmitry Rogozin was elected a new leader of the faction.
Source: Argumenti i Facti, 05 March 2004
In 2005 ardent oligarch-fighter and leader of the movement called "For decent life" Sergey Glazyev plunged into luxury living. He bought an exclusive penthouse flat in the elite residential quarters called Aliye Parusa (Crimson Sails). Glazyev got this cosy nook for free - Bank Austria paid for the apartments. Nelly, another Glazyev's wife, was first to move in the flat with a newly born baby. Soon deputy Glazyev moved to the new flat.
The flat is 400 square metres and worth over $1m. It has 2 flours and looks at the Moskva River, Silver Woods and the Kremlin.
Source: Zhizn, 13 March 2005
On July 11, 2006 Glazyev took part in the conference of the Other Russia, organised by different anti-Putin groups. The members of the conference were: head of United Civil Front and chess grandmaster Garry Kasparov, writer Eduard Limonov, head of the Republican party and State Duma deputy Vladimir Ryzhkov, head of People's Democratic Union, former prime-minister Mikhail Kasyanov and head of Working Russia Viktor Anpilov. The next day Glazyev was attacked and suffered brain concussion.
Source: Gazeta.Ru, 12 July 2006
On March 9, 2007, Glazyev announced he was going to retire from politics and go on with his work in the Academy of Sciences, saying that the elections do not influence the state policy, because they were controlled by the Staff of the President. He spoke of the effect of intellectual influence on the decision-makers and said he was going to give scholarly-based solutions for key social and economic issues. In April he headed the Institute for new economic policy of the State University of Management.
Source: Kommersant 9 March 2007
In December 2008 prime-ministers of Russia, Belorussia and Kazakhstan appointed Glazyev as the executive secretary of the Customs commission of the Customs Union within the Eurasian Economic Community.
Source: RIA Novosti, 26 August 2009