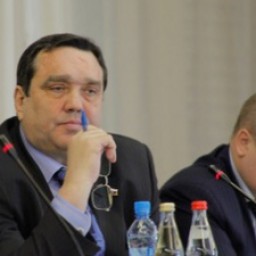 Bio
Sergey Ivanov was born on 19 April 1952 in Leningrad. In 1988 he graduated from Stavropol Polytechnic Institute with a major in economics and food production management. In 2004 he graduated from North Caucasian Academy of Civil Service. In 2005 Ivanov graduated from St Petersburg University of MVD (the Ministry of Interior of the Russian Federation). His first job was that of a car mechanic at a transport and forwarding company in Mineralnye Vody in Stavropol region.
From 1972 to1974 he worked as a sales assistant in a Kurortpromtorg store in Essentuki in Stavropol region.
In 1975 he was appointed store manager.
In 1979 -1988 he was senior foreman, and later head of production department at Essentuki city utilities and housing service.
In 1988 he was appointed deputy chairman of Essentuki Kurortpromtorg refueling stations.
In 1990 - 1993 Ivanov was shop chief, and later he was promoted to deputy CEO of a Pyatigorsk factory specializing in maintenance and manufacturing of knitwear.
In 1993-2001 he was CEO of Zhivaya Voda LLC.
In January 2001 Sergey Ivanov became a senator in the Federation Council, where he represented the Legislative Assembly of Kirov region. He was a member of the Commission for Cooperation with the Accounts Chamber of the Russian Federation and of the Federation Council Committee on Financial Markets and Monetary Circulation.
In May 2006 he became a senator representing Magadan regional Duma.
Source: mydeputy.ru
Dossier
In 1996 Sergey Ivanov, senator representing Magadan region, was among those mentioned in the criminal case over fraud in Stavropol region.
Source: Novaya Gazeta, 26 March 2010
In 2006 when asked to comment on the initiative concerning direct elections to the Council of Federation, Ivanov said that "Federation Council members represent regional authorities, not the people".
Source: Parlcom, 06 December 2006
In 2009 Investigative Committee under the Prosecutor's Office of the Russian Federation in Moscow region opened a criminal case against Magadan regional Duma MP Georgy Shamiryan over large-scale fraud. According to investigators, the regional Duma deputy for a toll of 45 million rubles promised a Moscow banker to help him become Federation Council member representing Magadan region.
Russian Federation Interior Ministry Economic Security Department claims that in summer 2009 a Moscow bank employee addressed the agency saying Magadan regional Duma MP Georgy Shamiryan offered him to sponsor his appointment as governor of the region. Allegedly, Shamiryan had already "cleared the appointment through with the Kremlin" and "deposited money to relevant accounts", but he lacked another 1.5 million dollars for "the issue to be completely settled". In return, according to the investigators, the MP offered the banker an appointment to the Council of Federation as representative of Magadan region. The seat could be vacant after 2010 when Senator Sergey Ivanov's term ended.
Sergey Ivanov, whose seat Shamiryan was allegedly trying to sell, was not available for comments. Federation Council Speaker's official spokesman presented a statement by Sergey Mironov saying that previously there also had been attempts to buy appointments to the Council but that law enforcement agencies had stopped such attempts.
Source: Kommersant, 18 December 09
Ivanov stated his income in 2010 tax declarations at 25.6 million rubles. He owns a 24.8 sq. metres garage, a 622.7 non-residential building, a Mercedes-Benz S500 4 matic, a Land Cruiser 100, a Land Cruiser 105, a Land Cruiser 200, a Dodge Ram 2500 truck, and a BV206D6N cargo vehicle.
Source: the Council of Federation web-site