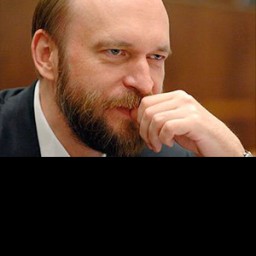 Biography:
Born February 4, 1963, in Kostroma.
In 1994 he graduated from Moscow University of Methodology of Knowledge; then Leningrad State University.
Master's thesis theme was «Methods and models of management of bank investment policy» (1994), Dr.Sci.Tech.
From 1985 till 1990 he worked in Industrial Construction Bank of USSR, becoming the trustee of a regional administration.
In 1990—1992 was the founder and the trustee of Northern trading bank (NTB).
In 1992 got acquainted with the businessman from Bashkiria Sergey Veremeenko who accepted his offer to hold a post of managing director in Mezhprombank created by Pugachev on the basis of Moscow branch of NTB.
Since 1992 till December 2001 he was the chairman of board of directors in Mezhprombank where, under messages of mass-media, Naina Yeltsina and daughters of the President Tatyana Dyachenko and Elena Okulova had personal accounts.
In December, 1995 stood for deputies of the State Duma of the Russian Federation by federal list of selective association of Party of the Russian unity and Consent (PRES) of Sergey Shakhray; association did not achieve selective barrier (5 %).
In November, 2000 he was elected as a member of administrative office of Russian union of industrialists and intrepreneurs.
In February, 2001 through ZAO "Ostem" (Mezhprombank's affiliated company) he got control over 56 % of shares of TV channel "Moskovia" (Moscow regional channel broadcasting on TVC frequencies).
In December of 2001 Mezhprombank was transformed from OOO (Open Company) to ZAO (Joint-Stock Company).
On December, 26th, 2001 he was elected as the representative from Tuva government in the Federation Council of the Russian Federation.
On January, 23rd, 2002 he officially left a post of chairman of board of directors in Mezhprombank.
Through United Industrial Corporation (ОPК) he supervises majority packages in the enterprises «Northern shipyard» and «Baltic factory». The Russian version of magazine Forbes for May, 2008 placed him to the list of «Top hundred» of the richest Russians at number 50 with fortune estimated in 2 billion US dollars.
Source: «Wikipedia»
Dossier:
In 2009 the impartial facts from the early biography of Pugachev became known for journalists.
It was informed that on April, 18th, 1984 in Leningrad on 2nd line of Vasilievsky island the 21-year-old forwarding agent of hotel "Pribaltiyskaya" in Petersburg Sergey Pugachev met a certain Egorov and borrowed 5000 roubles - for those times it was rather big amount. At a meeting there was also somebody Gavrilov who was going to sell a country house and the old car to Pugachev's father. Not even to sell – but to exchange for the new car which Pugachev's father should buy using his personal relations (at that time cars were deficiency).
Pugachev-junior borrowed ill-starred 5000 roubles at Egorov just to transfer it to his father for the purchase of the new car. In general, Gavrilov was terribly interested in an event. Later under similar circumstances and again in the presence of Gavrilov Pugachev borrowed at Egorov 550 roubles more.
2 years later the judge of Vasileostrovsky district court Rumyantseva regarded actions of Pugachev as swindle. The future senator kind of took advantage of Egorov's trust, foreknowing that the debt would not be returned. The judge explained her position with three circumstances: Pugachev showed Egorov a pass sheet of his relative, ostensibly having given out it for his own one; he was then discharged from job, having lost an income source; and, at last, he did not live at home that's why Egorov could not find him.
As it appears from a court sentence, something went wrong with the purchase of the new car by Pugachev-senior; acquisition of the house at Gavrilov, accordingly, was broken. The father gave the future senator 5000 rubles borrowed at Egorov. But Sergey Pugachev, as appears from his evidences, lost this money, because of that he could not pay off with Egorov in time.
Egorov applied to police that led Pugachev to the court. In May, 1986 he was given 3 years of imprisonment conditionally for the large scale fraud.
14 years passed. Sergey Pugachev became the big and influential person - chairman of board of directors in Mezhprombank. And in December, 2000 the presidium of the St.-Petersburg city court cancelled a sentence concerning him dated 1986. Criminal case of 25-year-old prescription was stopped in connection with absence of crime in Sergey Pugachev's actions. It happened under protest of the public prosecutor of Petersburg of that time Ivan Sydoruk.
Source: «Vash Tainy Sovetnik» from 3/30/2009
Pugachev got acquainted with Vladimir Putin already in the early nineties, and they approached thanks to the general interest to Orthodoxy. Pugachev acquainted Putin with the confessor, the prior of Sretensky monastery archimandrite Tikhon to whom also the president confesses now. Moreover, according to some data, at a monastery restored for money of Mezhprombank certain Sretensky brotherhood was organized which includes not only Putin and Pugachev but other men of faith as well: head of FSB Nikolay Patrushev and his assistant Jury Zaostrovtsev, Victor Ivanov.
"Third channel" (former "Moskovia") controlled by Pugachev broadcasting several hours per day on frequency of TVC is actually the main propaganda tool of national security.
Source: Magazine "Power" № 47 (550) from 12/1/2003
Mezhprombank not only traditionally served accounts of Russian Orthodox Church, but also supported ROC in its projects. On hearings, hundred millions "tobacco" dollars passed through Mezhprombank. In the mid-nineties the Department of the external church intercourses received the permit for duty-free import of cigarettes "with the subsequent partial realization". It is said that tens thousand tons were imported this way: every sixth of sold cigarettes came by church line.
Source: Magazine "Money" № 31 (386) from 8/14/2002
Since 2001 Sergey Pugachev regularly appears in the centre of the commercial scandals which were coming into the view of large mass-media. One of the first such scandals was the case of ZAO "Transbunker", one of three petro transshipment complexes of the Far East supervised by Sergey Pugachev.
The conflict began in 1999. Then Cyprian-German company HSH Trading & Shipping close to "Alphabet" found out that black oil and diesel fuel in cost of $4 million purchased by it at Achinsk and Komsomol oil refinery (belong to "Rosneft") disappeared during the transfer in "Transbunker". It was soon found out that mineral oil was sent to Cyprus — to certain company Limmoil. Lawyers of "Alphabet" discovered that Limmoil belongs to the Cyprian company EBRS controlled by management team of "Transbunker": CEO Sergey Pugachev, CFO Igor Sidorov and chairman of board of directors Joseph Sandler. HSH and "Alphabet" applied to State Directorate for Combating Economic Crimes with the request to investigate what actually happens in "Transbunker". And the Office of Public Prosecutor initiated criminal case upon contraband — it was found out those tankers left to Limmoil under counterfeit consignments.
Sergey Pugachev explained the conflict with HSH and "Alphabet" as his opponents wished to grasp "Transbunker".
Source: Newspaper "Kommersant" № 45 (2175) from 3/15/2001
After Putin's election as the president of the Russian Federation Pugachev was written that he has been always considered as one of the most influential figures in the Russian business elite, and Mezhprombank supervised by him was known for the close connections with the Kremlin administration. It is enough to tell that the bank financed the Administrative office of the President.
Bank remained confidential relations with the Kremlin also after Vladimir Putin come to power. One of the reasons is that he proved his loyalty to the new power having actually stopped joint business with the nearest environment of ex-president Boris Yeltsin.
Source: Newspaper "Kommersant" № 11 (2380) from 1/24/2002
Journalists became seriously interested in Pugachev in December, 2001. During this period the conflict between Prime Minister Mikhail Kasyanov and the president of the Russian Federation Vladimir Putin just began. Also then possible resignation of the head of presidential administration Alexander Voloshin was discussed.
In connection with these intrigues journalists paid attention that for the first time such information passed on the third television channel belonging to structures affiliated to Sergey Pugachev's Mezhprombank. He was ranged to the allies of Petersburg security officer's team of Victor Ivanov and Igor Sechin which then actively achieved strengthening of their administrative positions.
Sources: Magazine "Power" № 48 (450) from 12/4/2001, newspaper «Kommersant» № 175 (2778) from 9/26/2003
In connection with election of Pugachev as the member of Federation Council in a press there were messages about his leaving from bank business. Moreover, in press-service of Mezhprombank it was officially declared that Sergey Pugachev did not own more than 5 % of actions neither in bank, nor in affiliated structures.
Source: newspaper «Kommersant» № 11 (2380) from 1/24/2002
Soon Sergey Pugachev was recollected in connection with large scandal in "Gazprom" empire. The scandal reason was that under the claim of the minority shareholder of AO "Gazprom" the transaction on acquisition of 4,83 % of shares by AO "Stroytransgas" in 1995 was terminated. Thus the team of the ex-head of "Gazprom" Rem Vyakhirev lost original "bonus" for management of gas monopoly — "Stroytransgas" was supervised by their children.
Just before the trial in some electronic mass-media there were messages that return of papers from "Stroytransgas" was lobbied by ex-head of Mezhprombank Sergey Pugachev. The situation developed on the eve of shareholders meeting of "Gazprom".
Source: newspaper «Kommersant» № 86 (2455) from 5/23/2002
In June, 2002 newspaper Le Mond informed that French police conducted investigation of bank operations of Sergey Pugachev.
Sources of journalists believed that police of France and Monaco became interested in "Kremlin" banker after scandal with the Swiss accounts of ex-head of the department of Presidential affairs and the state secretary of the Union of Russia and Belarus Pavel Borodin. In the West the interest to "Russian mafia" caused by "Borodin's case" led to special action "Web" carried out by Italian police. In France, Monaco, Switzerland and Germany 50 persons on suspicion in "Russian mafia's money greenwashing were arrested; during operation the property for the sum of 3 million euro was confiscated.
According to Le Mond Sergey Pugachev spent 54 million francs (8.2 million euro) for real estate purchase on Cote d'Azur in 1998-2000. Frenchmen considered that he owned chateau de Gero in Nice, two magnificent private residences in Saint-Jean Cap Ferrat and other real estate in Nice. According to management on economic expansion of finance department of the Principality of Monaco, he had bank accounts in this country registered both on his name and on Mezhprombank. Besides, on a version of the investigation, in May, 2001 he bought the company on rent of magnificent cars Star Limousine with offices in Nice, Cannes and Villefranche Sur Mer. New owners not only increased car park for 10 more limousines in cost of 1 million francs each, but also tried to supersede competitors in Cannes having suggested them to sell the enterprises.
As Le Mond considered, interest of the French authorities to mister Pugachev was connected with this company. The investigation began when the French committee on struggle against greenwashing Tracfin began to doubt in cleanliness of the money circulating between France and Monaco. Sergey Pugachev's Monaco accounts were among those from which Star Limousine received 12 million francs. Inspectors considered that these "transfers were not economically proved that suggested about greenwashing up".
The businessmen interrogated by journalists connected publications in the western press with an intrigue around "Slavneft". Its new management which having the serious conflict to Mikhail Gutseriev repeatedly publicly accused Mezhprombank and personally Sergey Pugachev of capture attempt.
Source: newspaper «Kommersant» № 103 (2472) from 6/19/2002
The unfolding scandal was gracefully finished by the president of Russia. After publications in Le Monde, Pugachev discussed with Vladimir Putin moving the Russian capital abroad. Thus Sergey Pugachev's personal savings were not interesting for the president. Vladimir Putin suggested Sergey Pugachev to prepare and discuss with RSPP organization process of repatriation of means being in offshore zones to the Russian economy.
Source: newspaper «Kommersant» № 104 (2473) from 6/20/2002
In 2002 after resignation of the president of the state company "Slavneft" Mikhail Gutseriev Mezhprombank tried to receive the control over "Slavneft". It seemed the informal owners of bank Sergey Pugachev and Sergey Veremeenko had the best card — support of power structures including the State Office of Public Prosecutor which initiated the criminal case against the president of "Slavneft" Jury Sukhanov appointed by the state.
However it was found out that "Sibneft" which interfered with a situation of mister Sukhanov, had also powerful trump: the support of Prime Minister Mikhail Kasyanov. As a result, the government insisting on powers of Mr. Sukhanov won.
Besides, journalists paid attention that the State Office of Public Prosecutor had claims to Gutseriev after the head of this department Vladimir Ustinov moved together with the colleagues to Ministry of Justice, having exchanged uniforms with Jury Chaika. And Sergey Pugachev was closely enough connected with Ustinov.
Sources: Magazine "Power" № 2 (505) from 1/20/2003, Magazine «Firm Secret» № 4 (187) from 2/5/2007
Approximately at the same time journalists paid attention to good informal relations of the president of "Rosneft" Sergey Bogdanchikov with the head of security of the president Victor Zolotov and Sergey Pugachev.
Source: Magazine " Dengi " № 27 (382) from 7/17/2002
And in an early autumn of 2002 journalists wrote that the chairman of board of "Gazprom" Alexey Miller met with general manager of Mezhprombank Sergey Veremeenko and Sergey Pugachev. Officially Mezhprombank suggested "Gazprom" to finance its investment program, and informally, apparently, a question of creation of a political alliance of "Gazprom" and the most influential bankers was discussed.
Thus journalists reminded that in 2002 Mezhprombank made several attempts to receive the control over any industry, but failed both and in coal and in the oil industries. The alliance with "Gazprom" could change this situation and correct reputation of the oligarch. And support in the Kremlin where Sergey Pugachev was accepted was necessary to Alexey Miller. Moreover soon in the government the project of liberalization of the gas market of the Russian Federation should be discussed, and Miller's offers on gas reform actively were not liked by the large Russian petrocompanies which did not leave hopes for more loyal person to head Gazprom.
Source: Magazine "Dengi" № 35 (390) from 9/10/2002
Assumptions that Pugachev was one of the persons trying to sow discord within well-disposed ranks of a management of "Alfa group" were come out. Ostensibly he in any way did not wish to share financial streams of "Gazprom" with "Alfa".
Source: Magazine " Dengi " № 36 (391) from 9/17/2002
In August, 2002 at extraordinary meeting of shareholders of OAO «Northwest shipping company» with support of the Ministry of Property five of nine places in board of directors were received by representatives of group SOTI supervising 7 % of shares. This board of directors appointed head of SOTI Andrey Guskov as general director who has left shipping company because of the conflict with approached to Boris Yeltsin's environment businessman Boris Kuzyk in the spring.
In October, 2002 Kuzyk sold OOO «New programs and concepts» belonging to him to Sergey Pugachev's Mezhprombank.
The new owner was not too soft with minorities: employees of private security company "Intersecurity" "belonging to the bank (together with emploeess of its Petersburg partner — "Mentality-Neva") occupied office of shipping company and forbid director Guskov and other top-managers to come to the building.
Source: newspaper «Kommersant» № 208/P (2577) from 11/18/2002
In February, 2003 Sergey Pugachev drew mass media's attention in connection with hearings about possible appointment of the assistant to head Victor Ivanov to the post of the head of presidential administration. It was supposed that then personnel selection of the Kremlin would be supervised by deputy directors of FSB Jury Zaostrovtsev. And also it was written about hearings that Jury Zaostrovtsev could head the Ministry of Taxes and Tax Collection.
Ostensibly Sergey Pugachev was extremely interested in that in connection with the conflict to oligarch Murtaza Rakhimov.
Source: Magazine "Money" № 4 (409) from 2/3/2003
In the summer of 2003 it became known that the strategic investor of OOO "Rostovugol" – holding «Russian coal» founded by Mezhprombank and "Rosneft" stopped financing of this coal company. Representatives of Mezhprombank declared that the bank was not assured of a reflexivity of the means enclosed in "Rostovugol".
In turn the general director of "Rostovugol" Sergey Posylny declared that reasons of Mezhprombank for refuse of participation in the project "Rostovugol" obviously have far-fetched character. Assumptions were come out that the situation arose in connection with the conflict between Sergey Pugachev and those members of the government of the Russian Federation who supervised during this period time coal branch.
Source: Kommersant (Rostov) № 102 (2705) from 6/17/2003
In February, 2004 Pugachev won trial against the director of Fund of an effective policy, the adviser of Presidential Administration Gleb Pavlovsky. That should pay off him10 million roubles. The essence of claim of Pugachev to Pavlovsky was that Pavlovsky prepared an analytical note "About negative consequences of 'summer approach' of minority oppositional to the course of the president of the Russian Federation" which was placed on sites of a political expert network "Kreml.org" and "Russian magazine", and also discussed in "Independent newspaper", "Vedomosti" and on air of radio station "Echo of Moscow". In the note the political scientist ascertained that Pugachev together with assistants to the head of the Office of the President Igor Sechin and Victor Ivanov with support of power structures and managements of Russian orthodox church passed to active actions on a reorganization of the Russian economy and a policy (in some mass-media these actions were named as "plot of Petersburg security officers"). Pugachev considered that "obviously offensive, slanderous, false and far-fetched data" concerning him were spreaded.
Source: newspaper «Kommersant» № 28 (2867) from 2/17/2004
In the meantime positions of Pugachev in the Petersburg business space became stronger. In particular, in August, 2005 the group of companies IST declared sale of 88 % of shares of the St.-Petersburg Baltic factory of controlled by Pugachev to United industrial corporation (OPK). OPK then also owned Petersburg ship-building enterprise — "Northern shipyard". It was predicted that association of these factories of OPK would lead to creation of holding which would becomes the basic executor of government contract regarding surface shipbuilding, the main applicant for export contracts in this sphere and the largest participant of the market of commercial shipbuilding in Russia.
The head of Federal agency on the industry of the Russian Federation Boris Aleshin traditionally supporting Pugachev declared that the state was one of the initiators of this transaction.
Source: newspaper «Kommersant» № 150 (3234) from 8/13/2005
It is curious that official data on possession of Pugachev of Mezhprombank appeared in a press only in 2005 and caused serious interest of the business press.
Within the actions devoted to release of eurobonds of Mezhprombank the organizer of loan Dresdner Kleinwort Wasserstein (DrKW) declared that 72 % of shares of the bank belong to the senator and businessman Sergey Pugachev.
Source: newspaper «Kommersant» № 208/P (3292) from 11/7/2005
But in March, 2006 there were first data which can be treated so as if Sergey Pugachev began to lose the political positions. In particular, it was informed that the vice-premier and Minister of Defense Sergey Ivanov confirmed conclusions of the commission created by him in February and defining the executor of the contract on building of three frigates for Naval Forces of India. Kaliningrad factory "Amber" supervised by the state, instead of belonging Mezhprombank Petersburg "Northern shipyard" became the head executor of the contract in cost of almost $1,6 billion.
The decision of mister Ivanov put an end to struggle lasting for some months between "Northern shipyard" and "Amber" for the right to become the head executor of the contract on construction of three frigates of the project 11356 for the Indian Naval Forces.
"Northern shipyard" was traditionally supported only by Rosprom led by its head Boris Aleshin.
Source: newspaper «Kommersant» № 41 (3372) from 3/10/2006
After that it became known that Mezhprombank of Sergey Pugachev intended to reform cardinally ship-building actives belonging to it in St.-Petersburg. Plans of the proprietor were revolutionary: Mezhprombank intended to close the Baltic factory, having given its territory under building of habitation and business centers, and to concentrate ship-building manufacture at Northern shipyard. The total cost of the project — from above 22 billion rbl. Mezhprombank planned to realize the project including at the expense of investment fund.
And again there were data which could be treated as cooling of the Kremlin to Pugachev. For example, in the Ministry of Finance they let him know that the project of Mezhprombank was not faultless from financial point of view.
Source: newspaper «Kommersant» № 147 (3478) from 8/11/2006
In 2008 Pugachev again faced problems with state authorities regarding realisation of the commercial project. It was a question of planned reorganization of ship-building actives of United industrial corporation (OPK). OPK applied to the Bank of development with the request to give out $800 million for modernization of "Northern shipyard". VTB was still interested in financing of transfer into shipyard of capacities of the Baltic factory and building of the released territory; it already promised OPK $550 million. But Federal antimonopoly service (FAS) refused to authorize a reshaping of Baltic factory.
Experts predicted that in the future the project could face counteraction from other regional players. In particular in this connection they recollected about that structures of bank "Russia" and "Summa Capital" compete with OPK at realization of the similar project in Primorsk area.
Source: newspaper «Kommersant» № 93 (3910) from 5/31/2008
In the end of 2008 it became known that Sergey Pugachev through the fund Sablon Investissement got 20 % of French newspaper France Soir and could increase the share to control, Le Figaro confirms. In an environment of mister Pugachev this information was denied. In October, 2007 the Luxembourg company LuxAdvor belonging to Sergey Pugachev redeemed at Monaco businessman Michel Pastor of 100 % of French network Hediard. The sum of transaction, as sources close to mister Pugachev confirmed, exceeded ?1 billion.
Source: newspaper «Kommersant» № 206 (4023) from 11/13/2008
In the end of 2008 it became known about problems of head of department of Presidential affairs Vladimir Kozhin concerning realisation of the ambitious project of on building up the luxury hotel on Red Square for $360 million. Company "OPK Development", developer division of Sergey Pugachev's United industrial corporation (OPK) was engaged in realization of this project.
Some sources in Presidential Administration which are located in the 14th building in Kremlin together with Security told to journalists that a complex of buildings at Red Square, 5 that earlier belonged to Minister of Defense could be transferred to Federal Protection Service (FSO). According to one of them, this idea appeared after FSO did not receive the former building of the Constitutional court (Ilyinka, 21). When the court moved to St.-Petersburg it was supposed to transfer divisions of FSO from the 14th building of the Kremlin which was under reconstruction. However, just before the moving the management of FSO was notified that residence on Ilyinka repaired by FSO was going to be transferred to Ministry of Public Health and Social Development and was suggested to consider possibility of moving to a building on Red Square. According to the source, the basic decision was "at presidential level".
Source: newspaper «Kommersant» № 224 (4041) from 12/9/2008
In the beginning of 2009 it became known about continuation of the story regarding Pugachev's interest to French mass-media market. The court on trading affairs of the French city Lille resolved to fund Sablon International belonging to Sergey Pugachev to increase the share in the French tabloid France Soir up to 85 % (now the fund possesses 19,9 % of shares). Earlier another Russian businessman, Arcady Gaidamak applied for the edition, however then the court of Lille preferred to entrust rescue of the unprofitable newspaper to local investors.
Sablon International was headed then by Sergey Pugachev's son Alexander.
Management of France Soir informed that employees of the newspaper almost unanimously supported the transaction; the remained 15 % of shares would be kept by the present owner of France Soir Jean-Pierre Brunois.
In connection with this transaction the opinion that hardly in this deal Sergey Pugachev has business interests was published. The assumption was come out that the transaction could be connected with desire to strengthen the relation of Russia and France. Probably, in connection with adjustment of relations to Nicolas Sarkozy the decision to support the French newspaper was accepted.
Alexander Pugachev always kept in the background. He has the real estate nearby to Nice and, most likely, in Paris. By data of "Figaro", monsieur Alexander has two children, well educated, speaks French fluently and also he is polyglot. He also supervises the project of construction of elite houses in Moscow which are built up under drawings of the known French architect Jean-Michel Wilmotte.
Alexander Pugachev is 24 years old. He came to France as Russian citizen when he was 15 and studied at prestigious International university of Monaco. Now he has the French citizenship, and this circumstance was decisive in the story with "France Soir": if he had no French passport, Alexander Pugachev would not manage to reach the status of the owner and the first person in this company.
Sources: Magazine "Ogonek" № 2 (5080) from 5/25/2009, newspaper «Kommersant» № 7 (4062) from 1/17/2009
In April, 2009 Sergey Pugachev appeared in the centre of new scandal. Tagansky court of Moscow arrested the general director of advertising agency ADV TV Andrey Markov and his assistant Nikolay Ivanov accused of extortion of $1 million at Sergey Pugachev. For this sum advertisers promised to block the display of TV plots compromising the senator.
According to the investigation, in the beginning of April the assistant to the general director of advertising agency ADV TV Nikolay Ivanov called the press secretary of Mezhprombank Dmitry Morochenko and asked about a meeting. He explained that it was a question of a certain compromising evidences for senator Pugachev.
Heads of ADV TV informed mister Morochenko they knew that on «First channel», NTV, "Russia" and REN TV series of plots how Sergey Pugachev ostensibly used his position in Tuva Republic in the mercenary purposes were prepared. Thus Markov and Ivanov explained that they had possibility to block display of these plots. Advertisers demanded $1 million for this service. Dmitry Morochenko informed the assistant to the senator Oleg Grachev about that conversation; Grachev under personal instructions of the senator applied to police.
On April, 17th in the same conference room of the Mezhprombank the next meeting with advertisers in which Oleg Grachev also participated took place. Negotiations passed under the control of police officers. During negotiations mister Grachev refused to pay all sum of compensation at once. He asked Markov and Ivanov for acknowledgement of their possibilities to make so-called temporary block that is to delay display of plots on television channels for a month. Heads of ADV TV estimated this service in $150 thousand.
Money was received in the same meeting room of the bank on April, 20th by mister Markov. On an exit from a room he was detained by the officers of the criminal investigation department. Later policemen detained also Nikolay Ivanov. Next day accusation in large scale extortion was brought to Andrey Markov and Nikolay Ivanov.
In the end of 2009 the court recognized them as guilty and sentenced each to 5 years of imprisonment.
Sources: Kommersant (Novosibirsk) № 74 (4129) from 4/24/2009, newspaper «Kommersant» № 220 (4275) from 11/25/2009
A bit later Pugachev was recollected in connection with active struggle in Tuva for a post of the senator from republican parliament. The speaker of legislative chamber 44-year-old Vasiliy Oyun declared that he had a possibility to hold a post of a member in Federation Council. However, the power of senator Ludmila Narusova operating at that period expired in May, 2009 and she was not going to leave her post. And the head of Tuva government Sholban Kara-Ool, according to observers, was closer to nominee of his predecessor Sherig-Oola Oorzhak. In this connection opposition noticed that at the head of the Ministry of Emergency Measures Sergey Shoigu had intense relations with Narusova and Pugachev and Shoigu would like to change them, and Kara-ool only executed his will.
Source: Kommersant (Novosibirsk) № 75 (4130) from 4/25/2009
In August, 2009 it became known that OPK Biotech LLC controlled by Sergey Pugachev got American pharmaceutical company Biopure Corporation. The active which was under bankruptcy procedure cost $4.05 million to the Russian businessman. It was supposed that structure OPK would pay $0.85 million more for 50 % of shares of Biopure in the company which possesses the headquarters of pharmaceutical holding and scientific laboratories. Market of blood preparation made by Biopure in Russia and the Eastern Europe is not developed yet, but is more potential, analysts marked.
On August, 18th Biopure summed up auction within competitive manufacture on sale of actives belonging to it: the sum of transaction was $4.05 million (the rights and patents for the preparations which are let out by Biopure are included to this cost), thus for first half of 2009 the company dead loss made $4.1 million. According to the message, the court on affairs about bankruptcy (court of East district of Massachusetts State) already approved the transaction.
Biopure Corporation specializes on workings out and manufacture of preparations which improve access of oxygen to body tissues, the basic brands — Hemopure and Oxyglobin (hemoglobin for human and veterinary use accordingly). Income for the first half of 2009 (ended on April, 30th) — $1,5 million
Source: newspaper «Kommersant» № 156 (4211) from 8/26/2009