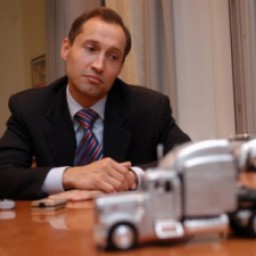 Biography:
Sergey Snopok (born July 13, 1966, Borisov, the Minsk Region, Belorussia) graduated from S.M. Mironov Higher Army Command College (1987). He retired as a senior Lieutenant in 1990. In 1994 he graduated from St Petersburg University of Economics and Finance.
Since 1992 he has worked for Phaeton Holding, first - as a general accountant, then - as a finance director and deputy director general.
Since 2002 he has chared the board of directors of Phaeton and holds a position of director general.
Source: Delovoy Peterburg
Dossier:
In December 1991 Sergey Snopok and Vladimir Khilchenko established legal-advise firm called Phaeton LLC. Soon the company bought a couple of privatised petrol stations. By the beginning of the 2000s the company grew into a powerful holding, which unites over 20 enterprises. Vladimir Khilchenko was responsible for building new stations, Sergey Snopok - for fuel supply.
At the beginning of the 2000s Vladimir Khilchenko made controversial attempts to sell the chain of petrol stations first to Yukos, then - to Slavneft. The deal was wrecked by the tax police. The rumour has it that the police acted in the interests of the Tambov criminal group. In 2004 Vladimir Khilchenko and Sergey Snopok devided business: Sergey Snopok got Phaeton, Vladimir Khilchenko got Sozveszdiye holding company (development, wholesaling, transportation etc).
Source: Ruspres, 3 March 2007
Since very beginning, Phaeton has been under protection of the mob of Mikhail Mirilashvili (Misha from Kutaisi). When Mirilashvili was put behind the bars, another mobster Andrey Volov (Little Andrey), former comsomol activist from the Krasnogvardeysky district of St Petersburg, ran protection racket for the company.
In July 1999 Volkov was arrested and sentenced almost to life imprisonment. Vladimir Khilchenko and Sergey Snopok did not find protection and had serious problems in 2004.
Source: Nasha Versiya SPb, 7 November 2006
In 2008 Phaeton holding proposed to equip some cars in St Petersburg's underground with easy chairs, mini bars and coffee machines. Such cars for VIPs would have been equipped with turnslites. The price for travel would have been from 100 to 1000 euros per month.
Sourse: Delovoy Peterburg, 8 May 2008
The beginning of 2008 saw first show of Phaeton's financial instability. The company declined an offer to buy a chain of Czeck petrol station, saying it lacked funds. In May 2009 the company stopped paying out the credits. VTB bank was first to file RuR670m ($23m) non-payment suit. Other banks followed the example. Phaeton owed RuR133m ($4.6m) to UniCredit, RuR152m ($5.3m) to Russia bank, RuR94m ($3.3m) to Uralsib, $2m to Globex, RuR121m ($4.2m) to Svyaz-bank. Soon Phaeton took counter-action. The company, that runs 13 petrol stations in St Petersburg and the Leningrad Region, brought in an Arbitration Court bankruptcy motion. At the same time the motions for non-payment were brought in against Phaeton by two companies, little known before, Oktan and Promtrans.
The court applied the same principle both to unknown companies and federal banks. The Arbitration Court obliged Phaeton-Aero pay Oktan and Promtrans 2.7b roubles ($93m) in damages. Major banks asked the police to interfere. St Petersburg police (the GUVD for St Petersburg and Leningrad Region) opened a criminal investigation into non-payment of duties. The police seized the company's books and the evidence confirmed investigators' darkest suspicions. Oktan and Promtrans were affiliated with Phaeton. Phaeton-Aero, Oktan and Promtrans had one owner Andrey Nosovich. He founded Promtrans and was a head of a security company called Paritet which was part of Phaeton holding. Oktan, the other Phaeton's creditor, was full subsidiary of Phaeton-Aero.
Source: Kompromat.Ru, 16 December 2009
Phaeton-Aero initiated its own bankruptcy in May 2009. In May 2010 a meeting of creditors established banktrapcy administration. The move was approved by an arbitration court, which gave 1.5 year for the company's financial recovery.
Following Phaeton-Aero, a number of other companies from the holding initiated bankruptcy proceedings. In August 2010 the court allowed VTB to supervise the activities of the holding. In November 2010 the supervision was established over Phaeton development group in accordance with the company's own wish. At the same time, Phaeton - chain no.1 fuel operator started its bancruptcy. Their duties consisted mainly of the bails, the companies put up to secure loans of Phaeton-Aero.
Source: Biznes na prodazhu, 17 January 2011
In 2010 brothers Snopok guaranteed fully the Sberbank's loan to the company. The bank made a concession and passed the right to claim RuR1.2b roubles ($43m) duty to Phaeton-chain no.1, subsidiary of Phaeton LLC. The company guaranteed clearance of the debt until November 2010. Other banks did not make concessions to Snopok's companies and filed suits against it. Phaeton-aero fuel company was the first company to go bankrupt.
The agreement with Sberbank allowed the brothers to influence decisions of a meeting of creditors. They established bankruptcy administration, despite the wish of the banks to sell off the assets and liquidation of the company. But after the suit filed by Sberbank,external controller began the bankruptcy proceedings.
Source: Delovoy Peterburg, 24 January 2011
In January 2011, Elena Snopok filed a lawsuit against both her husband, the director general of Phoeton Company Mikhail Snopok and Sberbank in St Petersburg's Vasileostrovsky Court. Snopok asks court to nullify personal guarantee of her husband, who secured 1.2b ($43m) roubles loan of Sberbank. Her appeal came short after Sberbank filed 8 motions in the same court against Phaeton and his owners Sergey Snopok (99%) and Mikhail Snopok (1%) for non-payment of duties.
Sergey Snopok, core owner of Phaeton holding, said that Phaeton-Aero refusal to pay off debts has nothing to do with the suits of Sberbank.
Source: Delovoy Peterburg, 1 February 2011