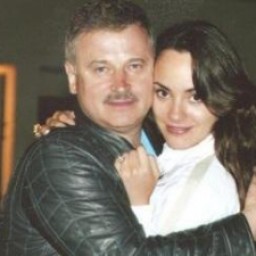 Biography
Sergey Veremeyenko was born in 1955 in Ufa. In 1978 he graduated from Ufa Petroleum Institute, where he also did his post-graduate studies. He has a PhD in science.
Since 1981 he worked as an engineer, later a senior engineer and head of an applied research laboratory at Ufa Petroleum Institute under RSFSR and USSR Gosnefteproduct. At the same time in 1983--1989 he was deputy head of an academic department.
In1989--1991 he was deputy head of West-Siberian engineering centre
In 1991--1992 he headed Moscow branch of STB-bank
Since 1992 he has chaired the board of trustees of International Industrial Bank (Mezhprombank). He is on the board of directors of Asian Banks Association, panel member of Russian national committee on economic cooperation in the Pacific, member of the Council on security in the Asian-Pacific area, head of the International Institute of investment projects, and board chairman of International Industrial Concern. He is an academician of the Academy of Construction Investments and Economics, International and Russian Engineering Academy. He has published over 200 scientific papers and is the winner of the Lenin Komsomol Prize in Science in 1987.
He is married and has three daughters.
Source: Mir slovarey
Dossier
In 1989, Ufa businessman Sergey Veremeyenko met Sergey Pugachev, who lived in Leningrad and worked for USSR Promstroybank. Veremeyenko's cooperative Phoenix produced labels, and Pugachev helped to market them. "The business was not his, but we had friendly relations and he helped me as a friend ", recalls Veremeyenko.
But in 1991 Pugachev engaged in business of his own. He established Northern Commercial Bank (STB) under the patronage of St. Petersburg mayor's office, where at that time Vladimir Putin, the future president, began his way up. Pugachev instructed his Ufa friend to set up a branch in Moscow. A year later, the Moscow branch evolved into International Industrial Bank (Mezhprombank). Veremeyenko headed the newly created bank, and Northern Commercial Bank was sold. In 1995, STB went bankrupt.
Mezhprombank was not like any other "oligarchic" bank. In contrast to SBS-Agro, Incombank or Rossiysky Credit, the bank of Pugachev and Veremeyenko did not hunt for minor investors and customers. Instead, back in 1995, it released credit cards for President Yeltsin's wife and daughters.
In December 1998, when both politics and economics were in ruins, and Russian businessmen were hiding their money overseas, Mezhprombank made an extraordinary move and increased its authorized capital to 10 billion rubles. A year later, shareholders invested another 15 billion rubles, so that as of 1 January 2000 Mezhprombank authorized capital amounted to 25 billion rubles, slightly less than $ 1 billion by the then exchange rate. One may call it a record for the banking system at that time.
Source: Russian Forbes, August 2004
According to media reports, in 2003 Veremeyenko had every chance to win the second round of the head of the republic elections in Bashkortostan. But the Kremlin supported Murtaza Rakhimov, which proved crucial. Vladimir Putin met with him and assured him of the successful outcome of the second round, promising to give "guidance". After a while licenses of two of the region's media agencies supporting Veremeyenko were suspended for violations of campaign rules. Then the other rival of Rakhimov dissolved all headquarters in Ufa.
Source: Vedomosti, 23 December 2003
In summer 2004 mass media reported that the long-term business partners and Mezhprombank co-owners decided to "separate". The discord was caused by the 2003 Bashkortostan elections in which Veremeyenko ran for president of the republic, intending to compete with the permanent head of the republic, Murtaza Rakhimov. Pugachev, according to mass media, was instructed by Putin to ask his business partner to withdraw, but Veremeyenko would not listen.
The process of separation of the two Mezhprombank founders lasted several months. In May 2004 Veremeyenko and his wife finally were no longer among the owners of the bank. The business partners also divided their industrial assets. Veremeyenko and businessman Vadim Varshavsky received Russian Coal that owned mines in Kemerovo region, Khakassia and Krasnoyarsk region, two small steel plants, and a third, planned to be constructed in Rostov region.
Source: Nezavisimaya Gazeta, 2 July 2004
In the village of Isakovo in Solnechnogorsk district of Moscow region Veremeyenko has a collection of icons of the Blessed Virgin. "If some ten years ago I was told that I would be religious and that I would engage in the construction of a temple and the creation of a museum of icons, I would not have believed", says Sergey Veremeyenko.
Source: Tserkovny Vestnik No. 12 (313), June 2005
He divorced his first wife Alla and gave her Ogni Ufy posh nightclub as compensation. Then he won the hand of 23-year-old Marina Smetanina. However, she apparently was not young enough and beautiful enough for him. So he became member of the jury in a beauty contest The Snow Queen, held in the same nightclub he had given to his first ex-wife. Allegedly, it was there that he first met 17-year-old Sophia Arzhakovskaya, artist of the Bashkir State Opera and Ballet. It is possible that, when he saw Sofia perform a sexy oriental dance, Veremeyenko decided that she was exactly what he needed to be perfectly happy.
Source: MK in St. Petersburg, 10 May 2006
In 2006 Mrs. World beauty contest held in St. Petersburg resulted in a scandal. When Mrs. Costa Rica announced as the winner was taken away the crown which was then given to the Russian participant, most of her rivals publicly cut their honourary ribbons and threw them on the floor of the main St Petersburg concert hall BKZ Oktyabrsky. The privileged position of Mrs Arzhakovskaya, the young wife of Sergey Veremeyenko, was visible to the naked eye. She had two bodyguards and a personal dressing room. Sophia's husband also kept an eye on her. But suddenly Andrea Bermudez Romero from Costa Rica was announced the winner. She got a crown and a ribbon saying "Mrs. World".
The contest organizer David Marmell rushed to the stage demanding to temporarily stop the camera. Then followed an order from the loudspeakers "Security, close the doors! Do not let the audience out! There was a mistake; we need to reshoot the final! The winner is Russia!" The ribbon and the crown were taken away from Romero. Most of the participants went to the dressing room to help her clam down. Instead of 34 participants only a dozen appeared on the stage for the re-take of the final. The crown was put on Arzhakovskaya's head, the audience booing and the contestants shouting in indignation.
Source: BBC, 1 May 2006
On Sunday Russian Modern Pentathlon Federation held a report and election conference during which Vyacheslav Aminov was elected president by a majority of votes. His rival for the position was a former president of FSPR, businessman Sergey Veremeyenko. However, he did not show up for the report and election conference, and almost unanimous support for Aminov led to the decision not to hold a vote on the candidacy of Vermeyenko.
Source: RIA Novosti, 4 October 2009
In 2011 richest entrepreneurs list Veremeyenko ranked 445th, his fortune at 5.5 billion rubles. He went 42 positions up in a year.
Source: Finance, 14 February 2011
In 2012 Tsentrkombank introduced a new deposit programme, Stabilny Protsent. As of 1 February 2012, the net assets of the bank reached 13.99 billion rubles, making it 187th in Russia in terms of the amount of net assets. The bank's capital, calculated in accordance with the requirements of CBR, totaled to 4.17 billion, its credit portfolio to 9.47 billion, and liabilities to the population to 3.15 billion rubles. The bank's web-site states as shareholders Polyana LLC, agricultural company Istria-Group, Oleandr, Finansovye Aktivy, and Irina Veremeyenko, but market experts point to millionaire Sergey Veremeyenko as the key owner.
Source: Banki.ru, 28 February 2012