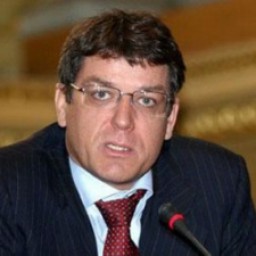 Biography
Stephen was born in 1960 in Taranaki, New Zealand. In 1981 he received a bachelor's degree in economics from Massey University. In 1983 he became a master of economics after studying at Auckland.
During the period between 1983 and 1992 Jennings worked at Credit Suisse First Boston in New Zealand and in New Zealand's Treasury. He also consulted the governments of New Zealand and Australia on the issues of privatization.
Since 1992 he has worked in Russia.
1992-1995 joint head of the Moscow office of CSFB
In 1995 he founded Renaissance Capital, and was involved in building the firm's investment banking and securities sales and trading businesses. He served as head of investment banking, head of sales, chief operating officer, and president of the firm. Now he is CEO of Renaissance Capital.
Source: Lyudi.Ru, Renaissancegroup.Com
Dossier
According to Kommersant daily, in 2005 former Renaissance Capital chairman Oleg Kiselev was accused of attempting to defraud commodities group Mikhailovsky GOK. Two USB (Universal Saving Bank) directors, including the then chief executive, were convicted. The scandal was linked to Kisilev's other business interests and did not involve RenCap. The charges against him were later dropped.
Source: Kommersant, 14 July 2006
In 2006, Jennings left his wife Tina after 11 years of marriage and filed for divorce and custody, seeking to keep their three children. Tina could have expected half of his husband's stake in RenCap, worth over $500 million, or they could have agreed on smaller payout. Anyway, after months of legal dispute, the couple did not divorce. On 4 October 2006, Mr Jennings told the Moscow's Presnensky Court that he dropped the suits.
Canadian-born Tina Podplatnik was a daughter the Slovenian immigrants. She was educated at Oxford, where she studied Russian history. Tina and Stephen met at the London office of investment bank CSFB in the early 1990s. After Stephen was appointed as head of the CSBS Moscow office, the couple moved to the Russian capital.
When in 1995 Boris Jordan and Stephen Jennings established Renaissance Capital, Tina left CSFB and began editing a weekly newsletter for English-speaking investors. Stephen kept giving his future wife valuable advise and driving her home after a long working day that would finish well after midnight.
27-year-old Tina and 35-year-old Stephen married on the Saint Valentine Day, on 14 February 1996. A year after, their daughter was born, and after one more year Tina gave birth to a son. Tina worked as an analyst for Reiffeisenbank, whereas Stephen remained the only founder of Renaissance Capital who had not left the company. In 1999, the couple moved to a luxurious apartment in Malaya Bronnaya Street. Tina decorated their house with the pictures of Russian artists of the begging of the 20th century. She had fallen into Russian art long before, and in 2005 she became first representative of the Sotheby's auction house in Moscow. Tina herself chose pictures for the family collection, but once her husband bought a masterpiece and gave her as a present for giving birth for their third child. In November 2001, Mr Jennings bought Zinaida Serebryakova's Nude against White Background (1927) for $310 at the Sotheby's. Since that time, everything was in confusion in the house of the Jennings.
In September, Mr Jenning reported robbery of his house. Stephen Jennings claimed that Tina's proxies took away a number of pictures from the collection, including Serebrayakova's Nude, after the quarrel in their house. In spring 2005, Stephen left his family, based himself in a new country house and filed for the divorce. Some of the best Moscow lawyers, including Samvel Karakhanyan, president of Barshchevsky and Partners, and Natalya Barshchevskaya, daughter of Mikhail Barshchevsky, represented his interests. Tina hired famous Moscow lawyer Alexander Dobrovinsky.
On 18 August 2005, during the trial Tina's lawyer told court that on 10 August she had flown to Slovenia to visit his sick father, promising to come back before the beginning of a new school year in September. The judge postponed hearings until 5 September. According to the source close to the Jennings, the settlement negotiations continued backstage. However, Tina did not come back to Russia in September. The court dismissed Stephen Jennings' motion to oblige his wife to come back to Russia and refused to consider the case in her absence. The court's decision meant that the case would not be considered in the nearest future. Jennings dropped the lawsuit.
Source: Russian Forbes, November 2006
Hermitage Capital Management, the hedge fund run by Bill Browder that was once Russia's largest foreign portfolio manager, uncovered the detail after corporate raiders allegedly stole three of its subsidiary companies - Rilend, Parfenion and Makhaon - to orchestrate a fraudulent $230m tax rebate.
Hermitage discovered that $230m had been deposited in December last year by Rilend, Parfenion and Makhaon in two small banks, even though the three companies had no assets when they were allegedly "stolen", suggesting the alleged tax fraud had been successful.
One bank was Universal Savings Bank, whose deposit base was less than $20m before Rilend and Parfenion placed $91m with it.
Three USB board members and one large shareholder, none of whom can be named for legal reasons, were also majority owners of four investment vehicles - Rodon Securities, Gekata Securities, Patara Securities and Gefest Securities. Joint owners of the four vehicles were two holding companies, Wheatley and Caldierra.
Mr Olphert is one of four directors on both Wheatley and Caldierra. Prior to the relationship with Rodon, Gekata, Patara and Gefest, RenCap chief executive and founder Stephen Jennings was a director of Wheatley and Caldierra.
The four investment vehicles are understood to have been set up on behalf of RenCap's international clients to circumvent Russian laws that prevented foreigners majority-owning Gazprom shares, before the law was changed in 2006. The four unnamed USB directors were effectively silent partners.
Source: Telegraph.co.uk, 29 July 2008
In 2009, Hermitage's lawyers asked U.S. District Court, Southern District of New York, to compel the release of records held by U.S. banks and a New York-based broker-dealer, RenCap Securities, which Hermitage says was a "key repository of evidence" documenting the alleged fraud. The filing was made under a federal statute, which allows a non-U.S. litigant to apply to a U.S. court to obtain evidence for use in legal proceedings in a foreign country.
In its motion, Hermitage claimed that in November 2009, a day after a lawyer of Hermitage Capital informed Russian authorities about his intention to begin legal action in connection with corporate raid that defrauded the fund of a number of companies, he received a telephone call from president of Renaissance Capital Igor Sagiryan, who offered to "discuss and fix the problem" in a head-to-head conversation. Sagiryan offered his help in bringing the stolen companies to bankruptcy, according to Hermitage's lawyers. Hermitage CEO Browder alleged he had also received a phone call from RenCap CEO Stephen Jennings, who advised him that he should listen to Sagiryan.
Source: Vedomosti, 31 July 2009
Renaissance Capital-affiliated companies may have been used to refund 2.9 million roubles ($106.9 million) from the taxes on profits. Until December 2005, Russian law restricted foreigners-owned stock in the country's largest company, Gazprom, to 20%. To circumvent the law and lower expenses in relation to buying shares in Russian companies, foreign investors, including Renaissance Capital, would establish front companies in Russia. According to the financial accounts of Rengaz Holdings Limited for the period between 2004 and 2005, audited by KPMG, the company was established in 2004 in Cayman Islands and was a subsidiary of RenCap. Though its Cyprus-based full subsidiary, Ravett Holdings Limited, Rengaz controlled a number of investment vehicles in Russia - Financial Investments, Selen Securities and Perseus Securities, which bought the shares of Gazprom. After Russian government lifted the restrictions on foreign ownership of Gazprom in 2006, Rengaz's Russian subsidiaries, Selen and Financial Securities, sold their shares in Gazprom to Ravett. The financial accounts for Rengaz Holdings, the former parent company of the two units, show that the subsidiaries owed $108.1 million in taxes on profits in 2006. Yet according to the financial accounts of the two subsidiaries themselves, provided by SPARK database, they paid only 21 million and 12 million roubles, respectively, or a total of just $1.2 million in taxes. The other of $106,5 millions was refunded from the state budget.
Source: Vedomosti, 10 December 2008
Mikhail Prokhorov's companies continue to consolidate their stake in the banking business of Renaissance Group. After buying a 50% stake in Renaissance Capital investment bank, they also have acquired a 30% stake in Renaissance Credit consumer finance vehicle. The participants of the market believe the shares of Renaissance Credit were sold to offset the debts of Renaissance Group that owed to the new owners of Renaissance Capital.
Source: Kommersant, 26 January 2012