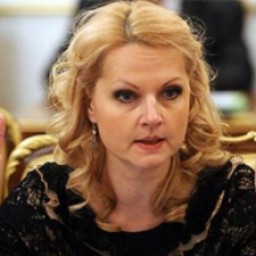 Biography:
Tatyana Golikova was born on February, 9, 1966 in Mytischi in Moscow region. She graduated Moscow Institute of National Economy named after Plekhanov, receiving a degree in Labour Economics in 1987.
In 1987-1990 she was junior researcher at the Department of Wages at the Research Institute of USSR Goskomtrud (abbreviation for "state labour committee").
In 1990-1992 she was 1 category economist and then chief economist at the general department of the State Budget of RSFSR Ministry of Finance
In 1992-1995 she was senior economist, chief economist and then head of fiscal policy and analysis department of the Budget Department of Russian Ministry of Finance.
In 1995-1996 she was deputy head of Budget Department and later chief of the general Department of consolidated budget of Russian Ministry of Finance.
In 1996-1998 she was deputy head of Budget Department of the Ministry of Finance of Russia.
In April - August 1998 Golikova was head of Budget Department of the Ministry of Finance of Russia and member of the Russian Ministry of Finance Board.
In 1998 -1999 she worked as head of Russian Ministry of Finance Department on fiscal policy and was member of the Russian Ministry of Finance Board.
In 1999 -2002 she was Deputy Minister of Finance of Russia.
In 2002 -2004 she was First Deputy Minister of Finance of Russia.
On September, 24, 2007 she was appointed Minister of Health and Social Development of Russia.
Since October, 20, 2007 she has been Deputy Chairman of the State anti-drug committee
Since January, 11, 2010 she has been member of the Governmental Commission for Economic Development and Integration
Awards:
Order of Merit for the Fatherland, IV degree (2008)
Medal of Honour (2006)
Order of Friendship (2006)
Medal of the Order of Merit for the Fatherland, I degree (2004)
Medal of the Order of Merit for the Fatherland, II degree (2001)
Honorary Certificate of the President of the Russian Federation (2011)
Honorary Certificate of Russian Government (2002)
Honorary Title of State Counselor of the Russian Federation, class 1 (2003)
In 2003 Golikova married Viktor Khristenko, Trade and Industry Minister.
Source:Wikipedia
Dossier:
In 2006 the government allocated 32 billion rubles for project Health. The project was carried out by the Ministry of Health. Under the plan, the first four high-tech centres should have been operational by 2008. Cadolto, a German company specializing in manufacturing prefabricated modules for medical centres, supplied equipment for the project. In 2007 200 million euros, that were at that time equal to approximately 7.2 billion rubles, were transferred to Cadolto's accounts. However, according to a Health Ministry report, in 2006-2007 funding allocated by the federal budget for the construction of medical centres reached 9.27 billion rubles. As of March, 23, 2009 the Ministry had spent already 18.7 billion rubles.
Such large-scale embezzlement during the implementation of national projects was spotted for the first time. Theft of the huge sum from the budget allocated according to official information for the construction of yet unfinished medical centres occurred when Tatyana Golikova was the Health Minister.
During the three years that followed the government decree on the medical centres construction, Golikova managed to report the completion of only one such centre in Penza. Moreover, the mentioned project was on the verge of collapse. In May 2009 city TV channels broadcast a scandalous report about the chief doctor of the Penza Centre for Cardiovascular Surgery addressing the Health Ministry with claims begging for funding. It turned out that the centre suspended all heart surgeries because the relevant ministry had not allocated additional finances.
After that Golikova said in an interview that "the implementation of the national project Health will be continued with emphasis on promoting a healthy lifestyle." She did not consider treating sick people a priority task.
Source: solomin, 18 June 2009
In January 2006 the media discussed Golikova, Deputy Minister of Finance, coming to a government meeting dressed in too transparent a blouse so that her underwear could be seen. Two years later the media published another picture of Golikova, Minister of Health and Social Development, in which her underwear was sticking out of the blouse that was not buttoned up all the way.
Source: Nezavisimaya Gazeta, 31 January 2006
At the meeting in May 2010 the Ministry of Health officials decided to use a drug called arbidol as single remedy against swine, avian and other kinds of influenza. This drug is in fact only an immune strengthener, not a vaccine. But a significant share of Health Ministry budget was allocated to purchase it. The main producer of arbidol and recipient of budgetary investment is Pharmstandard, a company headed by Viktor Kharitonin, a longtime family friend of Golikova-Khristenko.
Another company that enjoyed such marketing was Federal State Unitary Enterprise NPO Microgen, immunological drug manufacturer headed by Lev Grigoriev, a relative of Kharitonin.
Other drug manufacturers have repeatedly noticed that the process of government purchases of drugs has turned into continuous preferences for companies that are close to the family of ministers. In this case, preference was given to the privileged market participants bypassing competitive bids, which violated the laws on public procurement of medicines and competition.
Source: Sobesednik, 26 January 2010
The list of those sharply criticized by Golikova in 2010 was so long and included so many public figures that what happened was even named the new doctor's plot. Some of those doctors who disagreed with Golikova not just lose their jobs but also became defendants in criminal cases. Media quoted Golikova saying "I am fed up by these Roshals, academicians, professors... they just would not mind their own business and keep quiet!"
With the help of various internal intrigues involving libel, gossip, and threats of criminal cases initiating, the Minister Golikova and her confidants even managed to get even with Yuri Belenkov, head of Roszdrav, cardiologist and academician. Nikolai Yurgel was ousted from his post as head of Roszdravnadzor on framed-up grounds and in fact based only on Golikova's wishes. Media published Golikova's words on the issue: "We wiped Yurgel out! "
Source: Skandaly.Ru, 01 June 2010
In 2010 it became known that another health official close to the family of ministers was appointed head of the new ministerial body, state regulation of the drug market. The lucrative position was given to Marat Sakayev, deputy director of the department of pharmaceutical market and medical equipment of the Russian Federation Ministry of Health and Social Development.
Marat Sakayev is Golikova's son-in-law. His wife, Irina Vyacheslavovna,is a cousin of the minister. Irina Sakayeva is the first deputy CEO of Lev Grigoriev's NPO Microgen. Lev Grigoriev is a longtime friend and business partner of the two ministers. Sakayeva was one of the main developers of the new law "On circulation of medication."
Source: igolkin, 03 February 2010
In 2010, the results and conclusions made after the 7th Pirogov Congress of doctors were staggering for Health Ministry. According to the results of questioning publicized at the forum, out of 80,000 physicians of all subjects of the Russian Federation 93 percent believed that health care was in shackles; 87 percent evaluated the ongoing reform of the healthcare negatively; 73 percent tied up the disastrous state of healthcare with the inefficient activity of the Ministry headed by Golikova.
President Dmitry Medvedev demanded to deal with the numerous facts of corruption and theft in the procurement of expensive equipment to Russian hospitals. The audit by the Investigative Committee of Russia prompted initiation of dozens of criminal cases but the cases were mainly against regional officials. Not al all troubled, Golikova said that the ministry did not know the prices for medical equipment and medicines, and those to blame were the vendors, who hid this information from the officials.
In fact, the Health Ministry top officials could receive all information on all world markets for medical equipment and medicines within one working day if they wished to.
Source: Skandaly.Ru, 16 December 2010
On April, 13, 2011, when speaking at a Russian medical forum, Leonid Roshal sharply criticized the health care reform undertaken by the Minister Golikova. He noted that the Health Ministry had "not a single experienced health provider."
Roshal also criticized the concept of profitability in health care and the ministry's activities related to reducing the number of hospitals and medical stations with low patient flow, increasing expenses on GPs without additional funding for other specialists, on tightening time and cost control per patient, and integrating of ambulance services and clinics.
Source: Kommersant, 19 April 2011
In 2011, when commenting on Leonid Roshal's letter to Vladimir Putin, professor Yury Komarov, vice-president of Russian Medical Community, said that Golikova's Ministry employed no public health providers. Her subordinated officials did not know how to professionally manage and made no difference between health system and medical care.
Source: GZT.Ru, 19 April 2011
Golikova's name was often mentioned in connection with desomorphine or "crocodile", a drug that is made with iodine, gasoline, matches, and acid from cheap drugs containing codeine, such as codelac, terpincod, tetralgin, and pentalgin. All of these drugs are produces by Farmstandant JSC lobbied by Golikova.
In 2009 in Krasnoyarsk, where Yevgeny Roizman's non-governmental organization City Without Drugs has been a long-time success, there were attempted to prohibit non-prescription codeine containing. Pharmstandard filed a complaint with the Federal Antimonopoly Service and the attempt to ban the legal trade in raw materials for manufacturing of narcotics was stopped. In February 2011 Federal Drug Control Service presented a list of codeine containing drugs to the Ministry of Health. According to the document, starting with 1 May 2011 such drugs could be bought only on prescription. The Ministry of Health postponed the decision for six months.
"Health authorities organized legal trade in narcotics in the country ", said reverent father Anatoly (Berestov), one of the most prominent clergymen, who have been long struggling with drug addiction in the country.
Source: Novaya Gazeta, 24 April 2011