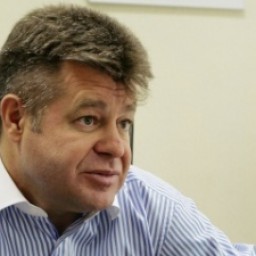 Bio
Zavadnikov was born on 30 April 1963 in the city of Krivoy Rog in Dnepropetrovsk region of Ukrainian SSR. In 1985 he graduated from the Far East Higher Engineering Naval School named after Admiral Nevelsky and became certified in water transport maintenance. His first job was that of a control engineer at Primorsk Shipping Corporation in the city of Nakhodka;
In 1989—1991 he was head of external affairs department at Dialog-Nakhodka joint venture.
In 1991—1992 he served as first deputy chairman of Nakhodka city Council of People's Deputies
In 1992—1994 he was financial director of Nakhodka Free Economic Zone administrative committee.
In 1994—1995 Zavadnikov was chairman of the board of directors in a Moscow company FinansIst.
In 1994—1996 he worked for a New-York company Auerbach Grayson & Co.
In 1996—1998 he served as deputy chairman of the Russian Federal Commission on Securities Market
In 1998—2001 Zavadnikov was deputy chairman of RAO UES of Russia board of trustees
In September 2001 he was elected to serve as Saratov regional Duma representative to the Council of Federation. In October 2002 regional Duma of the new convocation reaffirmed Zavadnikov as its representative.
In 2000 Zavadnikov was on the list of top 100 professional managers of Russia. He is considered to be the most qualified in practical application sphere among all RAO UES of Russia top executives. He is known as the author of the energy company restructuring plan based on the ideas of Chubais.
Zavadnikov is married and has a daughter.
Source: biografia.ru
Dossier
In Nakhodka the privatization of ports and factories had been completed by the end of 1992, which was much earlier than in other regions of Russia. By 1994 the relevant authorities had sold 235 municipal property units, and 68 enterprises at the federal, regional and local level had undergone incorporation. At the same time a significant underestimation of leading businesses fixed assets official value was revealed, but 1994 was a busy year leaving no time to deal with the mentioned understatement. The relevant authorities took to investigating cases of understatement only four years later, when Zavadnikov, "Chubais from Nakhodka", already worked for RAO UES under the auspices of the very Anatoly Chubais. Nakhodka prosecution initiated a criminal case on embezzlement of public funds in November 1998. Local security forces and finance experts conducted a probe into the economic activity of Nakhodka Free Economic Zone starting with 1991 and found that Zavadnikov and other heads of the administrative committee who had the right to sign financial documents, signed loan agreements "without sufficient guarantees of return". That way the resourceful officials and their accomplices deprived their native country of nearly 150 million rubles through scams. Russian Prosecutor General's Office continues its attempt of tracing 442 billion rubles invested by the budget in the early nineties in the development of Nakhodka Free Economic Zone. There is an opinion that the allocated funds were divided between Zavadnikov, the financial director, and a gang led by Andrey Vytiraylov, nicknamed Veps, who was closely linked to the leadership of the FEZ. As a result, Zavadnikov's most peculiar manner to dispose of other people's money, involved in a 75-million-ruble loan for Bank Nakhodka, outraged more resourceful competitors and the financial director was forced to resign.
Source: LADNO.ru 15 April 2003
Valentin Zavadnikov said that he would not vote for the abolition of flashers and special license plates on the vehicles used by officials. "Those who devised this bill were thinking not about security and the law, but rather about show business. If this law applies to all, except for a limited number of government officials, I am ready to support it. Otherwise it is a farce, and I do not want to be involved in it", he claimed.
Source: Interfax, 24 January 2007
Former classmate, and then the wife of Senator Zavadnikov, engaged in antiques trade to raise money to open a women's club. In an interview she described how she asked her husband 10 thousand dollars to set up a shop and sell "some small accessories, vintage items" with her friends. The money was not enough even to pay the rent, but fortunately her husband, then RAO UES of Russia member of the board of directors, had more. It is not known whether the women's club was open or not, but Zavadnikov's wife, a graduate of Vladivostok Polytechnic University, of MSU Psychology Faculty, and of Graduate School of Economics started selling luxury furniture in Art Deco style.
According to experts, revenues from Karakol furniture boutique in Lubyanskiy Proezd belonging to her and her friend Irina Ivanova amount to $ 2-5 million per year. In addition to the money, Svetlana Zavadnikova disposes of four apartments with a total area of ​​581 square metres, a 84 square metres house, three land plots with the total area of 36 hundred sq. metres, and four parking spots in garages. Apparently, it is her husband's cars, Mercedes Benz C500 and Porsche Cayenne, that are parked there. Generally, the business interests of Valentin Zavadnikov are much more extensive than those of his wife. The former top manager of RAO UES, the co-owner of Troika Dialog, and chairman of the Federation Council Committee for Industrial Policy, Zavadnikov owned at the end of 2009 20% of shares in Synergy, the second largest producer of alcohol in Russia. As of 21 July this package was worth about 3 billion rubles.
Source: OM Saratov, 23 July 2010
Zavadnikov's income for 2010 totaled to 2.4 million rubles. It is noteworthy that over the same time period his wife earned 7.1 million rubles. Zavadnikova owns three land plots ​​1200 square metres each and a 83.8 sq. metres house. The Senator owns a 119 square metres apartment. Another apartment with the total area of 140 square metres is in the joint property of the spouses. The husband also owns a Mercedes-Benz C 500 L and a Porsche Cayenne.
Source: Version-Saratov, 13 May 2011
The most famous Russian sailing team Synergy opened a new season on 2-6 March 2011 in San Diego Bay which hosted ORACLE RC44 CUP 2011. The chairman of the Federation Council Committee for Industrial Policy Valentin Zavadnikov was the team captain.
Source: eM-Ka Yacht Association, 24 April 2011
The Transpac 52 class yacht is a favorite hobby of Valentin Zavadnikova, Saratov region representative in the Federation Council. He is co-owner of Russian sailing team Synergy. In 2011 the team participated in the elite series and was the seventh, winning first place in four races and having other winning positions in ten more races.
Source: Info-Journal, 14 December 2011
Valentine Zavadnikov is notorious for his public statement claiming that he is "not going to protect the interests of Saratov residents" because the main task of a senator is to build relationships between law, government, and business.
Source: informacia.ru, 14 May 2011