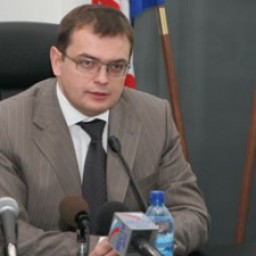 Biography
Valery Malcev was born on 8 October 1971. He graduated from aero enginges department of the Moscow Aviation Institute in 1994.
Since 1993 he has held a number of administrative positions in the Novoe Sodruzhestvo group.
1996-2001 - СJSC Novy Mylovar (Moscow), Director General
2001 - Aviastar-AM (aircraft manufacturer) (Ulyanovsk), Executive Director
2001-2001 - Novoe Sodruzhestvo industrial holding, Director General
Since 2005 - LLC Rostselmash combine factory, Director General
Source: Akademik
Dossier
A murky situation involving government`s stake of Rostselmash has resulted in dramatic increase of its price. Though a market for the Rostov сombines has shrunk after the first but the last profitable year 2002. Until Rosagroleasing`s orders came to the rescue, the factory had kept working to avoid shutdown. Only budget funds have helped Rostselmash get out of overstocking.
The Moscow Novoe Sodruzhestvo`s managers have spent three years to equip Nivas and Dons with imported air-conditioning systems and widen rear wheel spacing of the Niva model to the size of the front one. At this point the new owners` imagination has run dry. No new machine has been put in production so far.
After the manufacturing failure, the Novoe Sodruzhestvo managers decided to have revenge through a smear campaign. Rossiyskaya Gaseta published an obviously biased article, badmouthing the chairman of Agromashholding Yury Koropachinsky, whose industrial group produces Yenisey combines, defying competition with the Rostov machines. By this time Agromashholding had already put the modern Ruslans in production, and the Nivas had been harvesting when Novoe Sodruzhestvo`s Rostselmash general directors Sergey Lebedev and Valery Maltsev were children. We must add that names of Koropachinsky and Generalov play a significant role in the Russian buisiness, but Babkin and Maltsev are recognised solely at the oil and soap industry market.
Novoe Sodruzhestvo`s PR guys have blown the trumpet of 'successful' exhibition of their machines in Krasnoyarsk. This event resulted in the local administration`s decision to tear up an already concluded agreement with Rostselmash.
Source: KOMPROMATY.ru, 10 July 2003
In 2005, Rostselmash board of directors granted Valery Maltsev`s application for resignation as Director General of the company. Maltsev explained his wish to resign from the position by the fact that 'сombining duties of individual executive bodies of CJSC Rostselmash and LLC Rostselmash Combine Factory interferes with decision-making and leads to formal issues to be addressed by directorate'.
Source: Kommersant (Rostov), 4 June, 2005

In 2008, Rostselmash has fired 1300 workers, the factory has cut its working week from six to three days. The Director General ofRostselmash Valery Maltsev said that almost all departments` personnel have been dismissed on grounds of redundancy. He also stated that the next year investment program for renovating the factory has been reduced from the planned 1,2 billion roubles to 400 million roubles.
Source: Kommersant (Rostov) 4 December 2008
In 2012, the LLC Rostselmash combine factory Director General Valery Maltsev stated that WTO accession is unpromising for agricultural economy. Maltsev warns: 'The national industry will become unprofitable. It will damage about 50 percent of the market and further on. We export combines to 27 countries. After WTO accession, we won`t get any possibilities, there will be no 'needle's eye' open for us to increase export'.
Source: KM Online, 4 June 2012