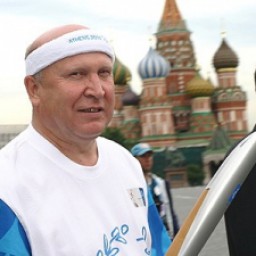 Biography:
Shantsev was born on June 29, 1947 in the village of Susanino in Kostroma region. Up to 7 years he was brought up by grandmother in the countryside, after which he moved to Moscow to live with his parents. He studied at school for 8 years and after finishing school № 743 he entered an Aviation Technical School. Later he graduated from the evening department of Moscow Institute of Radio Engineering, Electronics and Automation and the Academy of he was National Economy.
In 1971 he joined the Communist Party and from 1975 to 1991 he worked for the party, in particular he served as first secretary of a Party District Committee, secretary of the Moscow City Communist Party.
From August 1991he was financial manager of hockey club Dinamo and at the same time first deputy chairman of Communist Party Moscow Executive Committee.
In 1994 he was appointed member of the Moscow Government and Prefect of the Southern Administrative District of Moscow.
In June 1996 he was elected vice-mayor of Moscow; in July 1996 he was appointed first deputy Chairman of Moscow Government. During the election campaign there was an assassination attempt on Shantsev. As a result, he received 148 shrapnel wounds, and over 50% of the body surface area was burned.
In December 1999 he was reelected vice-mayor of Moscow. Until December 2003 he was head of the Economic Policy and Development Complex of Moscow.
In December 2003 after Yuri Luzhkov was elected Moscow Mayor, he was appointed vice-mayor of Moscow, head of the Moscow Scientific and Industrial Potential Development Complex, Interregional and Public Relations.
On August 8, 2005 on the proposal of Vladimir Putin the Legislative Assembly of Nizhny Novgorod region approved Shantsev as governor of Nizhny Novgorod region.
On August 8, 2010 he was appointed for a new term by Legislative Assembly of Nizhny Novgorod region upon the President of Russia proposal.
Awards:
Order of Merit for the Fatherland, IV degree (2005)
Medal of Honour (1996)
Order of Friendship (2007)
Medal for 850th Anniversary of Moscow
Medal for Labour Valour
Medal for Distinguished Labour
Medal for Valiant Labor to commemorate the 100th anniversary of the birth of Vladimir Ilyich Lenin
Medal for the Promotion of Emergency Matters (Ministry for Emergency Situations of Russia, 2010)
Distinguished Worker of Housing and Utilities Sector of the Russian Federation (1997)
Honourary Certificate of the President of the Russian Federation
Badge of Merit for Moscow (2005)
Honourary builder of Moscow
Order of Friendship (Laos)
Commander of the Order of Civil Merit (Spain, 2007)
Medal of Honour (Belarus, 2005)
The Order of Friendship (South Ossetia, 2009).
Shantsev wife, Tatiana Vladimirovna, whom he met in aviation school, worked as aviation engineer in the design bureau of Ilyushin and later held various positions in Moscow. She has worked in the Property Fund of Moscow, she was deputy chairman of the Moscow Regional Branch of the Federal Commission on Securities Market, the deputy head of the regional branch of the Federal Service for Financial Markets (FSFM) in the Central federal district, and then until January 2006 Deputy Head of the Federal Financial Markets Service regional office in Volga Federal District. In 2006 Tatiana Shantseva headed Nizhny Novgorod branch of the Moscow Bank for Reconstruction and Development (IBRD). The Shantsev's daughter, Svetlana, graduated from the Pedagogical University and worked as a physics teacher. Their son Aleksander studied to become a chef and a manager and worked in the restaurant chain Elki-Palki, and later became a co-owner (with Arkady Novikov) of Moscow restaurant Cantinetta Antinori.
Back in 2005 Shantsev reported that he was a millionaire, because he had 1.2 million rubles on his Vneshtorgbank account. According to reports, in 2010 he earned 5.43 million rubles. The governor owns real estate in Moscow and Moscow region. In joint ownership with his wife Shantsev has an apartment of 104.7 square metres and a parking spot in an underground garage in Moscow. He owned 2.2 thousand square metres of land in Moscow region and a 648 square metres country house. The Governor's vehicle park consisted of GAZ-233 001 and UAZ-315 148, and a snowmobile Lynx Yeti Pro V-800 Army. Tatiana Shantseva earned in 2010 4.82 million rubles. She owned a car Renault vel Satis PR V6A 15 and a Toyota Corolla.
Source: Wikipedia
Dossier:
On June 7, 1996 a terrorist act was aimed at Shantsev and his assistant Vladimir Ratodiy. As a result of a radio-controlled explosion Shantsev received burns on over 50% of the body surface and 148 shrapnel wounds. Along with the political version of the attempt aimed at preventing the team of Yuri Luzhkov from participating in elections, there were other versions. There was an allegation that Shantsev was in conflict with several criminal groups, as well as with a number of construction firms. Some media linked the attack on Shantsev with disappearance of significant sums of money from the accounts in the bankrupt Favorite bank.
Source: Grani.Ru, 19 December 2000
In 1999, despite an open conflict between Luzhkov and the Presidential Administration, Shantsev established relations with Prime Minister Vladimir Putin and met with Pavel Borodin, chief of Presidentil Staff.
Source: Companiya, 11 September 2000
In September 2001 Sergey Dorenko, the journalist, claimed that Shantsev tried to get Luzhkov's chair as mayor and led negotiations concerning this with the Administration of Russian President. The vice-mayor flatly denied these allegations. In 2002, during debate in the Constitutional Court which directly concerned the issue of Luzhkov being elected governor for a third and fourth term, campaign headquarters for Shantsev was set up in Moscow, although he denied his involvement in the organization.
Source: Vedomosti, 10 July 2002
In early August 2005 Sergey Kiriyenko, President's representative in Volga Federal District, officially offered Shantsev as candidate for the post of governor of Nizhny Novgorod region. At the same time Putin officially submitted the candidacy of Shantsev for consideration in the Legislative Assembly of Nizhny Novgorod region.
Source: Kommersant, 03 August 2005
In 2005, just after Shantsev became governor of Nizhny Novgorod Region, Nizhegorodkapstroy company was established to build houses for Nizhny Novgorod region old stock resettlement program. It was set up as a joint venture with SU-155 group, the owner of which was Mikhail Balakin, a longtime ally of Valery Shantsev when the two worked at the Moscow City Hall.Rregional government owned 25% of Nizhegorodkapstroy shares, and the accounts were in the local branch of the International Bank for Reconstruction and Development, which was headed by the governor's wife, Tatiana Shantsev.
Source: Nezavisimaya Gazeta, 02 March 2010
In September 2009 Nizhny Novgorod prosecutor's office demanded that Shantsev dealt with Leonid Sedov, the minister of agriculture, and Nikolai Shilnov, First Deputy Minister of Environment and Natural Resources, who violated the anti-corruption legislation. According to authorities, Sedov was the founder of eight companies, including one of the largest poultry farms in the area, Agroferma Ptitsefabrika Seymovskaya JSC, and Nikolai Shilnov established four.
In 2010, the Prosecutor's Office once again demanded that Shantsev punished high-ranking officials of the regional government for combining public service with business. According to prosecutors, Nikolai Sataev, the Minister of Industry and Innovation, was involved in the road company Kanavinsky Dorozhnoye Ekspluatatsuonnoye Predpriyatiye JSC, Valery Anglichaninov, Vice-Governor for Construction, was the founder of several construction companies including Vanag Ltd, North-West Investment and Construction Corporation CJSC, Promstroymaterialy CJSC, Terra Group, and Stroimontazh CJSC. And Vladimir Chelomin, Construction Minister, participated in the establishment of three construction companies including Monstr Ltd, Selstroy Lts, and Zumer Ltd.
Source: Kommersant, 20 May 2010
In 2011 Shantsev and his deputies visited the international exhibition of commercial real estate MIPIM in Cannes. The trip cost Nizhniy Novgorod delegation 13 million rubles. In 2010 Nizhny Novgorod taxpayers paid 15.8 million rubles for the trip to Cannes.
The auction for the governor's official banquets in Nizhny Novgorod in 2011 never took place. Regional authorities said the minimum price would be 9 million for the organization of five restaurant receptions to celebrate the May 9, November 4, New Year and forums Great River and United Russia. The maximum number of guests would be 800 people. Auction failed because there was only one application filed.
Source: Nezavisimaya Gazeta, 07 June 2011