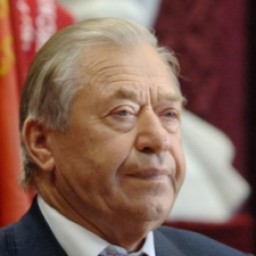 Biography:
Vasily Starodubtsev was born on 25 December, 1931 in the Volovchik village, Volovskoy district of the Lipetsk region into a family of peasants. He started working at the age of 16, at first he was just a worker at the collective farm and then he worked as a trailer operator and later became a foreman of a collective farm in the Lipetsk region. In 1959-1965 he studied at Voronezh Agricultural Institute, having acquired a profession of "learned agronomist and economist." In 1966 he graduated from the All-Union Agricultural Institute of Distance Education.
In 1949-1951 Starodubtsev was a loading workman, farm charge hand and goods manager at the Osobstroy building and construction department No.22 in Zhukovsky town of the Moscow region.
In 1951-1955 he served in the airforces.
In 1955 - 1959 he was a timberman, mechanic and engineer of mining machinery at Stalinogorskugol trust in Novomoskovsk town of the Tula region.
In 1964-1997 he was a chairman of the prosperous Lenin farm in the Novomoskovsk district.
In 1986-1989 he was chairman of the All-Union Council of collective farms. On March 1989 the Council delegated him to the USSR People's Council.
In April 1990 he was elected chairman of the Agrarian Union of the Russian Soviet Federated Socialist Republic.
From June 1990 to August 1991 he was chairman of the Peasant Union of the USSR.
On 19-21 August 1991 was a member of the State Emergency Committee. Starodubtsev prepared a draft Committee decree ''On saving the harvest''. After the putsch had failed he was arrested on treason charge.
On June 1992 he was released from detention on health grounds having given a written undertaking not to leave the place of living. Starodubtsev returned to his former job at the Agrarian Union of Russia. During a certain period he headed the Peasant Union of the Commonwealth of Independent States.
In 1993-1995 he was a member of the Federation Council.
In 1997-2005 he was the governor of the Tula region.
In 1999 he was elected deputy of the State Duma on the Communist Party list, but refused to take the deputy mandate.
In 2007 he was elected State Duma deputy from the Communist Party of Russian Federation for the second time.
Awards:
Hero of Socialist Labor (1976)
Three Orders of Lenin (1973, 1976, 1986)
Order of the October Revolution (1971)
Badge of Honor (1965)
USSR State Prize (1979)
Order of St. Prince Daniil of Moscow 2nd Class
Order of St. Sergius of Radonezh 2nd Class
Golden badge Miner of Russia
Title of the Man of the Year 2002 nominated "For the glorification of Russia / The Governor of the Year"
As he claimed in his income declaration of 2010, Vasily Starodubtsev earned 2, 8 million rubles, he had 12.5 acres of land in use as it was his share in Lenin collective farm he headed. Starodubtsev owned an apartment measuring 139 square meters and UAZ Patriot jeep produced in Russia.
Starodubtsev is married for the second time. By his first wife he has a son, now a farmer, and a daughter who graduated from the Timiryazev Agricultural Academy.
Sources: Wikipedia

Dossier:
Vasily Starodubtsev's political credo surprisingly has not changed with the lapse of time. On August 2011, when remembering the putsch, he still "strongly believed" that in 1991, Mikhail Gorbachev and Boris Yeltsin "did not fight for power. No, they seemed to fight, sort of, but in fact both together were supporters of the destruction of the great power. "
Source: KM.RU, 17 August, 2011

In 1996 before Starodubtsev was elected governor of the Tula region, Pronskii distillery made 14 agreements with foreign companies under his direct supervision. The distillery was to export to the near abroad about 6.5 million liters of alcohol in the value of more than $ 9 million. It was a scheme for dodging excises and other taxes as in fact Pronskii alcohol was not exported from Russia but was transferred to clandestine workshops of Tula, Moscow and neighboring regions, where adulterated vodka of 30% proof was made. In the beginning of 1997 first vice-premier Vladimir Potanin who had visited Pronskii distillery stated that vodka tycoons of Tula "committed all kinds of economic fraud" and concealed "trillion-dollar amounts" from the Treasury. After taking governor's office Starodubtsev denied any kind of involvement in the scam.
Source: NG, 13 September, 1997


As a result of Starodubtsev's economic activity, Tula region suffered major financial losses. And one can not seek consolation in the fact that the funds were not misappropriated by the governor but spent on his vague, idle projects.
The disastrous project on sowing maize and sunflower in the region cost about $ 60 million. DM 14.5 million expenses on German grain harvester combines that were purchased despite the fact that Tula Combine Factory produced ones as well, will be covered in 45 years at the earliest.
Starodubtsev bought Hi-Tech 100 modular installation produced twenty years ago which could be profitable only if installed at an oil well while oil could be no way hit in Tula. The purchase cost not $ 4 million, as was promised by sellers, but 11 million. Installation of the mode required equal amount. The region funds could not provide the money.
The region got encumbered with debts because of similar undertakings as Starodubtsev lent money from Moscow banks, using his friendship with Moscow mayor Yuri Luzhkov. Reports say that on 1 October, 1999 total debt amount of the Tula region was 2.6 billion rubles. Even Tula White House, the residence of regional administration, was mortgaged to Rosbank, one of the creditors of the region.
Source: Profil, 31 January, 2000


Starodubtsev was fond of fast and expensive cars. In 1990-2000 he had three car accidents driving Toyota jeep. Each time he crashed information on the accident was restricted while the action was withdrawn. Yuri Starodubtsev, Vasily Alexandrovich's nephew, inherited family trait. In the spring of 2003 Yuri rammed into Oka car with his Niva jeep, driving under the influence. A family that that was inside the car, a father, a mother and their half-year-old daughter, died on the spot.
Source: Telekompaniya Plus 12, 5 May, 2003
Reports say that acting governor of St.-Petersburg Georgy Poltavchenko was partially responsible for the fact that the term ''red zone'' was out of the political vocabulary as well. Namely, in 2005 he contributed to the removal of communist governor of the Tula region Vasily Starodubtsev from his position.
Source: Itogi, 5 September, 2011


In the summer of 2011 Vasily Starodubtsev did not rule out the possibility of alliance between communists and socialists for the State Duma elections, if the latter would be able to fulfill a number of requirements set by the Communist Party. Starodubtsev called possible alliance with Spravedlivaya Rossiya a tactical one: he cited Lenin and claimed that people could be not only allies but also fellow travellers during the struggle for power.
Source: IA Tulskaya Pressa, 25 August, 2011