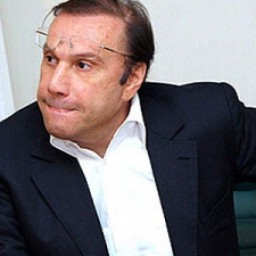 Biography:
Victor Nikolayevich Baturin was born on October, 2, 1956 in Moscow. In 1983 he graduated from Moscow Institute of Management named after Ordzhonikidze with a degree in manufacturing organization and management.
In 1983-1989 he worked in senior positions in the aerospace industry.
In 1989-1991 he participated in business projects.
In 1991-1994 he became a co-founder and director of construction firm LLP Inteko in Moscow.
During 1994-1998 he was president of Inteko-Plast.
In 1998-1999 he was chairman of the Government of the Republic of Kalmykia. In 1999 he became adviser to the President of the Republic of Kalmykia.
In 1999-2005 he was first vice-president of Inteko. In early 2006 Yelena Baturina, the sister of Victor Baturin, made an announcement via the media that her brother had left his post as vice-president of the company and lost the right to represent her interests and to make statements on her behalf. In response, Baturin said that his sister's announcement was a complete surprise for him. Of all the billions of dollars of Inteko assets Baturin got only 50% of Inteko-Agro and Sochi real estate development business. The businessman tried to sue his sister, demanding legal registration of his dismissal and compensations provided by the law, but the lawsuit has not resulted in anything good so far.
Since 2003 he has been Inteko-Agro CEO.
His first wife was Yulia Saltovets. From October, 5, 2001 to April, 29, 2008 he was married to Yana Rudkovskaya. On December, 27, 2008 he married Ilona Obraztsova. On March, 1, 2009 a daughter, Tamara, was born.
Source: Wikipedia
Dossier:
By the end of the 1990s the Baturins' company entered the construction business and was one of the main contractors in the construction of Kalmykia City Chess. The idea of ​​a special residencial complaex for the international chess tournament belonged to the president of Kalmykia, Kirsan Ilyumzhinov. After a while Inteko became one of the defendants in the case of misuse of budgetary funds for the construction of City Chess. In October 1998 Baturin was appointed chairman of the Government of the Republic of Kalmykia and in January 1999 became advisor to Ilyumzhinov, but he held that position only until February 1999.
Source: Company, 23 October 2006
In 2003 Baturin became CEO of Inteko-Agro, a subsidiary of Inteko. In the same year the company acquired more than a dozen farms in Belgorod region. In 2005 the regional government accused the agricultural holding in buying the land at reduced prices in order to resell it later. Some time later the media disclosed the grounds of the conflict. The thing was that the activities of Inteko-Agro were in the way of plans to develop Yakovlevky mine, the owner of which was Metal Group ltd. controlled by Viktor Chernomyrdin, Russian Ambassador to Ukraine, and his son Vitaly.
Source: Kommersant, 18 October 2005
On February, 15, 2004 there was a partial collapse of the roof of Transvaal-park water park in Yasenevo district in Moscow. As a result of the disaster 28 visitors of the entertainment complex were killed and more than 100 people were injured. The largest creditors of Terra-Oil, which controlled the water park business, were the Baturins. In March 2005 Tver district court found the information published in the media not corresponding to reality, and imposed a fine of 10,000 rubles on each defendant as compensation for moral damage.
Source: Kommersant, 21 March 2005
In January 2006 Inteko press service announced the dismissal of Baturin, but he stressed that the left Inteko voluntarily. Official data were published only in March. It was reported that he left the company in February 2006 and on March 17 at an extraordinary meeting shareholders of Inteko CJSC decided to purchase his stake in the company. According to one version, the reason for Baturin's dismissal was him being excessively scandalous which displeased his sister. A year later Baturin said that he was fired illegally because he allegedly was never shown an official document confirming this decision.
Source: Vedomosti, 12 February 2007
In December 2006 Baturin filed a lawsuit against Inteko to Tver district court in Moscow. He demanded to restore him to office and pay him compensation amounting to 6 billion rubles for vacations unused for 15 years working for the company. Observers suggested that it was a "bogus claim" and that in fact Viktor Baturin claims a quarter of the shares of Inteko which, according to him, he was deprived of illegally. By some estimates, the cost of the package at that time could be up to one billion dollars. On February, 12, 2007 Tver Court of Moscow dismissed Baturin's lawsuit.
Source: Kommersant, 13 February 2007
On April, 29, 2008 the court dissolved the marriage of Victor Baturin and Yana Rudkovskaya. But the story does not end there. Rudkovskaya was dissatisfied with the marriage contract drawn up in September 2007. According to the document after the divorce she received 5 million dollars, non-residential premises on Parkovaya Street in Sochi, and the right to renew the contract with Victor Belan (Dima Bilan). Under the contract, the children were to stay with their father, but the former businessman's wife said that she intended to challenge this document. The court decision on division of property did not suit her and she announced her desire to divide the property in the traditional way, that is, in half.
Shortly before the hearing the couple's property acquired at the time of marriage was arrested at the request of Rudkovskaya. The arrest was not lifted after the divorce.
Source: Izvestia, 06 May 2008
On September, 5, 2008 a video in which Baturin was speaking derogatory about Bilan, Rudkovskaya, and Evgeni Plushenko, Olympic champion in figure skating, was posted on Russia.ru web-site. As a result, all of them filed suits against him and the administration of the web-site on which the video had been posted, demanding 1.5 million rubles for moral damage (500 thousand rubles in favour of each plaintiff). In June 2009 Tver district court of Moscow found Baturin guilty and demanded him to pay 50 thousand rubles to each plaintiff.
Source: RIA Novosti, 21 October 2008
In 2010 it became known that Baturin's business was badly damaged by the global financial crisis. Creditors including VTB, Locko Bank, Rosselkhozbank, Grant Ltd, Park Service Ltd., Velez Agroproduct LLC and former business partners demanded Baturin to repay 53 million dollars of debt. The businessman refused to pay the money. At the end of 2009 he was banned from traveling abroad and in May 2010 his property was seized and put up for auction. Bailiffs expected to gain about half a billion rubles from the sale of Baturin's property. According to Baturin, it all happened because of the divorce proceedings with Rudkovskaya.
Source: Ekho Moskvy, 05 May 2010
In January 2011 Odintsovo city court of Moscow region recovered from 98.7 million rubles Baturin on claims filed by Garant and Park Service. The court also satisfied the claim of Ryazan region Federal Tax Service inspection against Baturin.
Source: RAPSI (Russian agency of legal and court system information), 13 January 2011
In June 20011 a Moscow's court sentenced Viktor Baturin, elder brother of ex-mayor Luzhkov's wife Yelena Baturina, to a suspended 3 year imprisonment and 300,000 roubles fine ($11,000). According to the investigation, in June 2008 he sold non-residential premises in Second Tverskaya-Yamskaya Street in Moscow to Igor Vashurkin for 23.8m roubles ($0.83m). He undertook to turn the premises over to the new owner within 3 days. But at the end of June he sold the same premises to another buyer, Dmitry Zhuravlev, investment director of Gazstroykomplekt trade-and-production company. Zhuravlev paid $1.5m and took a receipt for money received. As a result Baturin earned 35m ($1.2m) rubles from the illegal deal.
Dmitry Zhuravlev said before the court, that he had no financial claims against Baturin and thought Baturin was innocent. Zhuravlev asked the court to drop the case against Baturin on the grounds that there had been no crime. Zhuravlev assured the court he had received full compensation for the abandoned deal. But the Article «Fraud» in the Criminal Code of the Russian Federation does not stipulate the conciliation of sides that is why the trial went on.
Source: NEWSru