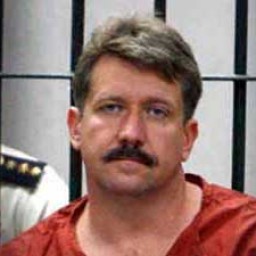 Biography:
Victor Anatolyevich Bout was born 13th of January 1967 (some other sources state – 13th of January 1970) in Dushanbe, the capital of the soviet republic of Tadzhikistan. In the end of the eighties he graduated from the military institute of foreign languages in Moscow and served in Angola in UN peacekeeping force 'till the end of 1991 (some other sources state that he was an interpreter in a military-transport aviation unit in Vitebsk).
In 1992 Bout went to Africa. With elder brother Sergey he went in to aviation freight operations, found as a result a chain of aviation companies, the largest of which was Air Chess ("Transavia"). Some witnesses say that for this he supposedly illegally got a few transport airliners and helicopters from Russian companies and took them out of the country.
According to expert opinions already in the mid 90's Bout got himself a reputation of illegal arms trader. He allegedly worked with governments as well as rebels from Asian and African countries: to mention a few, Afghanistan, Angola, Togo, Ruanda, Liberia and Sierra Leone. Bout was also suspected with connections to "Taliban" and "Al-Qaida".
From year 2000 onwards Bout is stated as one of the biggest arms traders in the documents of UN and other international organizations and also in the US state department. This despite that, by some information, about in the year 1998 Sergey Bout bailed out from the illegal business of his brother. In 2005 USA stated sanctions towards Ricard Chichakli is believed to be Bout's main bookkeeper.
Bout knows a number of foreign languages including Farsi, Khosa, Zulu, English, French and Portuguese.
Bout is married. Spouse Alla Bout, from St Petersburg, some sources say to be the daughter of a high-ranking officer of the KGB. She is a fashion designer and lived for years in Africa.
Source: people.ru 12.03.2008
File:
First big money Bout made by supplying South African gladiolus to the Persian Gulf countries. After that he transported frozen chicken.
Source: "Absolutely Secret" 08.09.2003
In 1995 Bout chartered an airplane from a Tatar airline for supplying a batch of machineguns and other ammunition to Kabul, for the government of Burhanuddin Rabbani, who was fighting the "Talibans". This flight ended in a forced landing to Kandahar and the plane was captured by the Taliban. During the year talks about letting the crew went on and during that time Bout became a supplier for mullah Omar. The crew made an escape to Shardshu, the HQ of Bout.
This incident caught the eye of US intelligence. In January 2000 Bout was accused of illegal supply of arms to the Angolan rebel movement UNITA for the first time. In 1996 Bout registered a company Air Chess in Mongolia and opened an office in Belgium. When Bout started working in Belgium, he had one airplane. After a few years – already 50-60. Together with Leonid Minin he supplied partisans in Sierra Leone and the Charles Taylor regime in Liberia with weapons from central Asia, Belarus, Romania, Moldova and Slovakia. In 1997 the company relocated its plane park to the United Arab Emirates. This was related to the investigations started by Belgium about the accusations towards Bout.
In the august of 1997 a company Air Cess Swaziland was founded, headed by Bout. With the help of this company appeared a joint company Air Pass, co-owners of which were Air Cess and South African Norse Air Charter. Its services were frequently used by Imad Kabir, the main middleman for UNITA arms purchases.
As a result South African law enforcement organs were interested in the company and it faced problems, airplanes were removed from Swaziland registries. Then in 1998 Bout registered two more companies in Equatorial Guinea and Central-African Republic. At the same time in Alma-Ata a freight airline IRBIS was founded, which had no own airplanes, but chartered planes from Air Cess. Bout is named as the main supplier of arms for UNITA in the 90's. Imad Kabir is believed to be the main middleman. The leader of the movement Jonas Savimbi paid in diamonds.
Source: "Absolutely Secret" 10.2002
To the eyes of the mass media Bout got after the publication from UN about the situation in Sierra Leone. In the UN file in 2000 he is accused about being involved in almost every armed conflict in Africa.
Source: "Kompania" 05.12.2002
In 2002 in foreign media appeared messages that Bout supplied arms to African countries and "Al-Qaida". In February 2002 in Belgium was arrested Kenyan Sandzhavan Rupra, who, according to investigation, was involved in Bout's illegal business with diamonds. He told that in the end of 90s Bout delivered arms to Afghanistan. The diamonds, called "bloody", served as a stable currency and payment for the arms. Therefore it was supposed that Bout supplied with arms also Bin Laden – his accounts were frozen after September, 11 and he provided himself with precious stones in case of expenses.
Source: "Kompania" 05.12.2002
Bout tried to open a diamond cutting factory in the capital of Ruanda Kigali, and also had an airplane stock in Belgian Otsend, from there the diamonds got to the market of Antwerp.
In January 2002 in American printed media appeared information that Bout took part in operations of Emirates airlines Flying Dolphin, it was reported that from Emirates to Kandahar chemical weapons were delivered. Supposedly, for Bin Laden. It was confirmed also that from year 1991 to 1996 Bout regularly violated UN arms embargo for Sudan, where Bin Laden lived that time.
Source: "Grani.Ru"05.09.2002
Belgium shortly accused Bout of money laundering and issued an international order for his arrest. By that time he had already hidden himself. When Interpol spread a message that Bout's location was unknown and he definitely was out of Russia, Bout gave a live interview on Moscow radio "Echo of Moscow". There Bout stated that he dealt only in transportations but not in trading arms.
In a short run English Minister OF Europe affairs Peter Heine demanded Bout's extradition from Russia, accusing him arms supply for Bin Laden. Russia, however, declared that Bout didn't have passport of RF and he was not announced wanted.
Source: "Kompania" 05.12.2002
Americans didn't succeed to drive Bout into a corner because there were no such a law, which would permit to hold criminally liable for actions outside of USA. Then it was decided to begin a large-scale operation. In 2000 Bout's telephones were taped and surveillance of him was initiated. First the authorities of United Arab Emirates were intended to arrest Bout and extradite him to Americans, but those decided to wait because they didn't know enough about his business that moment.
In February 2002 Americans tried to agree about cooperation with Belgium in the case with Bout, but they were refused. When Belgians sent an international order for his arrest to Interpol, he already left to Moscow. In Russia it was announced that Bout's participation in Al-Qaida activities would be checked. But it was clear that nobody searched for Bout in Russia. Shortly Russia announced that there were no grounds for pursuit of Bout.
In August 2003 Bout appeared again in an interview to correspondent of New York Times in Moscow. He didn't deny anymore that he transported arms. However he expressed an opinion that the forwarder didn't bear responsibility for the freight on board.
Source: "Absolute secret" 08.09.2003
Bout was detained by the police of Thailand in a hotel of Bangkok in March 2007. The arrest was a result of cooperation of Thai police and American drug control agency (DEA).
Source: "Vedomosti" 07.03.2007
DEA agents were acting as representatives of Columbia revolution fighters (FARC). According to a legend, FARC fighter, being in war with Columbian government, needed missiles. The good had to be thrown down in Columbian Jungles. Negotiations with Bout were started through his partner Andrew Smulyan.
Source: "Novaya gazeta" 13.03.2008
FARC supposedly needed the arms to defend cocaine traffic. FARC, besides, was considered to be an international terrorist organization. It's specific was that it declared USA the enemy number one, and the legislation of the States permits actions against those who attempts on life of American citizen even outside of the country. Cooperation with such organizations is subjected to a punishment by the law of the States.
Confidential source №1, paid informer, established contact with Smulyan. Bout knew earlier the informer. The informer sent a letter to Smulyan with a request to contact Bout and inform about business offer. The meeting between Smulyan and interested in buying arms people took place. At the meeting he got acquainted with two more confidential sources, also paid informers, who introduced themselves as FARC representatives. Bout asked through Smulyan to organize a meeting with his middleman and also told that he was ready to launder money for the organization for 40 %. His help he explained as follows: "Any communist are our friends.
Source: "Novaya gazeta" 13.03.2008
Smulyan after some time informed, that the arms were ready in Bulgaria to be landed in jungles of Columbia. Smulyan was asked to arrange a personal meeting with Bout. They wanted to entice him to Romania, but somebody warned Bout that it would be dangerous for him. Then the agents stopped insisting on a meeting, but Bout decided to meet. He called the agent №1 and told that he was going to Thailand. They agreed on a meeting there, where Bout was arrested afterwards. Smulyan succeeded to hide himself, he was announced wanted.
Source: "Izvestiya" 14.04.2008
In Thailand Bout's term of imprisonment was prolonged.
Source: "Moscow Komsomol member" 20.03.2008
The court refused to release him on bail while expecting materials from USA, confirming his criminal activity. USA announced about their intensions to extradite Bout.
Source: "Kommersant" 11.03.2008
Shortly the Thai prosecutor refused accusations of Bout. But in the courtroom Bout was detained again on demand of USA for 60 days while expecting for the enquiry for extradition. Bout's brother Sergey told that day before two American Jeeps were expecting near the courthouse. Bout suspected that he could be captured and called his defenders which didn't know about the session. That, according to Sergey Bout, saved him from kidnapping.
Source: "Vedomosti" 10.04.2008
In summer 2009 the court of Thailand decided that the case of Bout was political and refused Americans in extradition. The public prosecutor's office appealed against that decision. The appeal court decision was expected. At that moment next development happened in the case of Bout.
In February 2010 New York public prosecutor's office brought new accusations against Bout: in fraud, money laundering and violation of international sanctions, forbidding arms supply to hot spots. That meant for Bout to stay in the prison of Thailand for indefinite term.
Americans insisted that Bout and his friend, the American Victor Chichakli, sold arms and planes to Liberia regime of Charles Tailor. In 2004 in USA was commenced criminal proceeding against Chichakli, he escaped to Russia. At the same time his assets were frozen. Americans considered that Chichakli was Bout's front man, and the assets belonged to him. Together they were incriminated to fraud, money laundering and criminal collusion.
Source: "Kommersant" 19.02.2010
According to investigation, Bout and Chichakli couldn't do transparent business because of UN and American Ministry of Finance sanctions to their companies, therefore they began to set up new companies and register them under other surnames. In 2004 they founded an air company Samar Airlines in Tajikistan. In summer 2007 Bout and Chichakli tried to purchase airplanes for it. Money for them was transferred by front companies. The fraud was revealed and money was frozen.
Source: "Russian BBC" 18.02.2010
In August 2010 in Thailand a scandal flared up: it became known that the assistant of Thai Prime Minister Sirichok Sopkha secretly met with Bout in prison, trying to get from him a compromising for the ex leader of the country Taksin Chinavata. There were rumors that Thailand was going to exchange Bout for runaway ex-Prime Minister, who was supposedly in Russia. But Sopkha didn't find out any useful information from Bout.
In August 2010 the appeal court of Bangkok made a decision to extradite Bout to USA. But the extradition was not immediately possible because FBI sent new accusations of fraud and money laundering, and the court of Thailand had to consider them.
Source: "Kommersant" 30.08.2010
Shortly was published Bout's statement in which he confirmed that the proceeding against him was framed-up by American intelligence services. He also denied the opinion, that he was familiar with Vice Prime Minister Igor Sechin while serving in Mozambique.
Source: Gazeta.Ru 27.08.2010
In November 2010 Bout was urgently sent to USA. Russia found out about the extradition post factum, as well as his wife, advocate and Russian consul. Bout was accompanied to a plane by armed people, he was in mask and bullet-proof vest. His passport left in Russia.
Source: "Kommersant" 17.11.2010
At present moment Bout is in investigative isolation ward in New York, in a single confinement cell for dangerous special criminals. He refuses to cooperate with the investigation. Bout is facing imprisonment for life.
Source: "Kommersant" № 12 (4553) 26.01.2011
Hollywood has done a movie about Bout "Lord of War" with Nicolas Cage starring.
Source: "Sobesednik" 20.02.2007