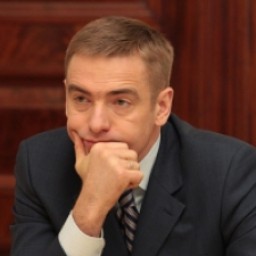 Bio:
Viktor Evtukhov was born on 2 March 1968 in Leningrad. In 1993 he graduated from Leningrad Financial and Economic Institute with a degree in economic cybernetics.
In 2002 he graduated from St. Petersburg State University and in 2004 got a master's degree at International Relations department of St. Petersburg State University. In 2008 he graduated from Master of Business Administration program of St. Petersburg International Management Institute (IMISP).
In 1987-1989 he served in the Armed Forces of the USSR.
From September 1990 to January 1991 he worked as a picker at Leningrad agricultural machinery pilot plant.
From January 1991 to July 1993 Evtukhov was commercial director of AGRO LLP.
From August 1993 to November 1994 he served as commercial director at Advent CJSC.
From November 1994 to December 1996 he was commercial director of Advent LLP.
From January to August 1997 he was commercial director of Tsentr Optovoy Torgovly (Russian for "centre of the wholesale trade") LLC.
From August 1997 to January 1998 he worked as a commercial director of TOTS LLC.
From February to March 1998 Evtukhov served as financial director of Vostok-Service LLC.
From April to December 1998 he was financial director of Firma Inter-control LLC.
Since 1998 he was member of the Legislative Assembly of Saint Petersburg
On 6 November 2009 St. Petersburg Governor Valentina Matvienko appointed him representative in the Council of Federation.
On 16 February 2011 Dmitry Medvedev appointed Evtukhov Deputy Minister of Justice of the Russian Federation.
Awards
Medal for the 300th anniversary of St. Petersburg
Sign of St. Petersburg government "for humanizing the school" for active work with young people and promoting a healthy lifestyle
Badge of excellence in physical education and sports
Gold Medal of St. Petersburg Legislative Assembly
State Councilor St. Petersburg, Class I
Evtukhov has a Ph.D. in Economics, a master's degree in Regional Studies (Europe), and a master's degree in Business Administration. He is member of the Political Council of the United Russia St. Petersburg regional branch.
He is married and has two daughters.
Source: Wikipedia
Dossier
In 2006 members of St. Petersburg Legislative Assembly appealed to the Prosecutor General Yuri Chaika, urging him to start an anti-corruption investigation in the Russian Premier League. The appeal initiated by Victor Evtukhov, Legislative Assembly member from the United Russia, was supported unanimously. The request to the Prosecutor General stated that many bookmakers, "apparently, having inside information, know the outcome and results of matches involving mentioned teams in advance." When asked why the deputies did not address relevant authorities such as Vyacheslav Mutko, head of RFU, or Sports Minister Vyacheslav Fetisov, Evtukhov replied that "since neither RFU nor the Federal Agency for Physical Culture and Sport can bring the order, whom else should we have contacted, but the Prosecutor General."
Source: Gazeta, 09 November 2006
In 2010 Evtukhov publicized information concerning his income. It was 1.8 million rubles. His wife, Elena Yurkan, earned 5 million rubles. Elena Yurkan told Delovoy Peterburg, that the money was earned at her main job. The Senator's wife heads 007 Service Centre (a taxi service, air and railway tickets booking, equipment repair, etc.). The spouses have in shared property two apartments of ​​204 and 65.4 square metres. Elena Yurkan has two apartments of ​​57 and 104 square metres. Evtukhov emphasized that his wife became the owner of the mentioned property before their marriage.
Source: Delovoy Peterburg, 17 May 2010
The year 2011 saw a scandal around Federation fund, which in 2010 held a charity event with the participation of international stars and Prime Minister Vladimir Putin. Dmitry Gryzlov, who was present at the "dinner, concert, and auction" on 11 December 2010, said that he was offered to seat at table next to such stars as Ornella Muti or Mickey Rourke for a fee of 500 thousand to 1 million rubles. It was Victor Evtukhov who was actually seating next to Mickey Rourke and other stars.
Source: Novaya Gazeta, 09 March 2011
In October 2011 an Internet scandal burst out. Through Twitter of Georgy Poltavchenko, St. Petersburg Governor, Evtukhov blamed Mikhail Sukhodolsky, St. Petersburg police chief, in causing traffic jams. Some time after Evtukhov said that it was an assistant of his who had written that. The assistant, according to Evtukhov, exceeded his authority and left the abusive message in Poltavchenko's Twitter, but he personally apologized to Sukhodolsky, and then said that St. Petersburg police chief was not in town when he and his assistant were stuck in a traffic jam. In turn, Sukhodolsky told reporters that he considered the incident settled.
Source: Novaya Politika, 03 November 2011