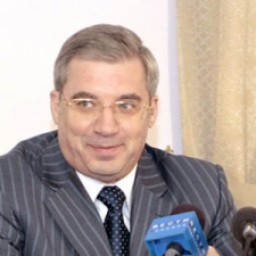 Biography:
Victor Tolokonsky was born on May 27, 1953 in Novosibirsk. In 1970 he graduated from school № 22 in Novosibirsk. In 1974 he graduated from Novosibirsk Institute of National Economy becoming an economist. In 1978 he finished his graduate studies at Novosibirsk State University.
In 1978 - 1981 he taught political economy at Novosibirsk State University and Novosibirsk Institute of National Economy.
In 1981-1991 he was a Novosibirsk region official, his positions ranging from chief of the Regional Planning Commission to the Deputy Chief of Economic Planning.
In 1978-1991 he was a member of the Communist Party.
In 1991-1993 he was deputy chairman of the Novosibirsk City Council.
In 1994 he was elected chairman of the City Council of Novosibirsk.
In 1994 - 1995 he was the president of the Association of Siberian and Far Eastern cities.
In March 1996 he was elected mayor of Novosibirsk.
Since May 1997 he was member of the Council on Local Government in the Russian Federation.
Since November 1998 he was member of the Council on Local Government under the President of the Russian Federation.
In December 1999 he was elected head of the administration of Novosibirsk region. He was recognized as Member of the Federation Council on February 16, 2000.
In December 2003 he was re-elected governor of Novosibirsk region.
In July 2007 he was appointed for another five years as governor of Novosibirsk region after approval by the Regional Council on the proposal of President Vladimir Putin.
On September 9, 2010 he was appointed presidential envoy to the Siberian Federal District upon a decree of President Dmitry Medvedev.
Awards:
He was awarded Order of Merit for the Fatherland, IV degree, Order of Friendship and of St. Sergius of Radonezh, I degree.
H is State Councilor of the Russian Federation, class 1
He is married and has two children. His wife, Natalia Tolokonskaya, is head of the department of infectious diseases at Medical Academy. Their son Aleksey is deputy Minister of Health of the region. Their daughter Yelena is head of department in regional hospital. Their son-in-law, Yuri Bravve, is chief medical officer of the Regional Diagnostic Centre.
According to income declarations filed in 2010, Tolokonsky earned 2.7 million rubles and Natalia Tolokonskaya had an income of 1.3 million rubles. The governor owns only half of the apartment of 304.5 square metres.
Source: Wikipedia
Dossier:
In April 1999 schools of Novosibirsk began to demand that parents paid 450 rubles for immunizations for their children with a vaccine against hepatitis B. For the credibility school principals showed a leaflet about how deadly and contagious hepatitis is. The leaflet was signed by Natalia Tolokonskaya, the wife of the mayor and at the same time chief medical officer dealing with infectious diseases in Novosibirsk.
All medical care that should be free of charge was provided for money in Novosibirsk. Revenues from fee-based services were divided between medical personnel according to the rank. So it happened that the salaries of chief medical personnel were consistently more than 50 thousand rubles, and this certainly influenced the economic welfare of the Tolokonskys.
Source: Kompromat.Ru, 001 May 2002
The scandal broke out in late summer 1999, when the mayor Tolokonsky ordered to rent out the building of Novosibirsk oldest cinema, located in the heart of the city, to medical company Nycomed for lease for 49 years on incredibly favourable terms. Among Nycomed staff there was his brother, Sergey Tolokonsky.
After Victor Tolokonsky became head of the regional administration, Nycomed received a number of impressive buildings in the center of Novosibirsk to set up elite boutiques.
Source: Slon.ru, 17 September 2010
In fact, when Tolokonsky was Novosibirsk governor, the region saw emergence of the so to say medical mafia. Most of the scandals concerned withdrawals from the regional non-budgetary fund of obligatory medical insurance. In 2001 Medtechnika company, most likely affiliated with Tolokonsky, claimed the price of commuters, acquired in the framework of comprehensive program for providing computers to district hospitals of Novosibirsk region, at more than twice the market price. The Fund paid for it. As a result, apparently, the money was divided between the obligatory medical insurance fund top officials and Medtechnika.
Source: Moscow Post, 03 December 2010
In February 2010 leaders of regional and city administrations close to Tolokonsky were arrested in Novosibirsk on charges of involvement in a criminal organization. Among the arrested officials there were Aleksander N. Solodkin, the main sports expert of the region, and his son, deputy mayor of Novosibirsk, Aleksander A. Solodkin. They were accused of "crimes on the grounds specified in paragraph 3 of Article 210 of the Criminal Code (participation in a criminal organization and management of bodies within the criminal group using position in the government), paragraph "a" Part 3 of Article 163 of the Criminal Code (large scale extortion in order to obtain property while acting as an organized group), Part 3 of Article 294 of the Criminal Code (interference with the preliminary investigation by a person using his position).
Source: RIA Novosti, 19 October 2010
In March 2011 Hassan Ganeyev, who had pleaded guilty concerning his participation in an organized criminal group of Aleksander Troonov (Troon) and gave testimony on the grounds of which the Solodkin father and son were arrested, said that after the arrest of Solodkin Sr. criminal group members were in direct contact with governor Tolokonsky. In addition, Ganeyev said that Solodkin, Jr. participated in the group on an equal footing, and Solodkin Sr. was a counselor to Troonov. Solodkin senior became influential to an extent where he became the godfather of the group, receiving full control over it. According to Ganeyev, Solodkin was hushed up by Tolokonsky' team.
Source: Sibkray.Ru, 18 March 2011