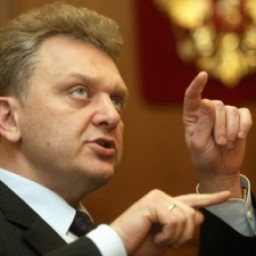 Biography:
Viktor Khristenko (born August 28, 1957, Chelyabinsk) graduated from the engineering and construction works faculty of Chelyabinsk Polytechnic Institute in 1979 with a diploma of construction manager. Aleksandr Pochinok (1990-2000 tax minister, 2000-2004 labour and social care minister) graduated from the same institute.
He worked at the institute as a senior lecturer and an assistant professor. In 1979 he unsuccessfully tried to join the Communist Party. "There were two candidates for one place, but my rival's father was a party boss", Khristenko said in the interview with Moskovsky Komsomolets newspaper (23 June 1999).
1990-1991 member of Chelyabinsk city council
1991-1996 deputy, first deputy head of the Chelyabinsk Region
March 1997 Yeltsin appointed Khristenko his envoy in the Chelyabinsk Region
July 1997 deputy finance minister of Russia
April-September 1998 deputy prime-minister in Sergey Kirienko's cabinet
28 October 1998 first deputy finance minister
May 1999 He was one of two first deputies prime-minister in Sergey Stepashin's cabinet (Nikolay Aksenenko was the other deputy). He had the same post in first cabinet of Vladimir Putin.
January 2000 deputy prime-minister in Mikhail Kasyanov's cabinet
24 February-5 March 2004 He was acting prime-minister after resignation of Mikhail Kasyanov and before Mikhail Fradkov was sworn in. He wasn't nominated as prime minister.
March 2004 minister of industry and energy in the cabinets of Mikhail Fradkov and Viktor Zubkov
Since 12 May 2008 minister of industry and trade in the second cabinet of Vladimir Putin
11 January 2010 member of governmental commission for economic development and integration
Awards: Order of Merit for the Fatherland 3rd grade (2007), Order of Merit for the Fatherland 4th grade (2006), Grand Officer of the Order of Merit of the Italian Republic, Order of Friendship 2nd grade (Kazakhstan, 2002), Russian Orthodox Church Order of St Daniel of Moscow (2010), Commendation of the President from the Russian Federation.
Khristenko lives in a cottage in Krylatskoye village (Moscow region) in an exclusive neighbourhood called "Fantasy Island", built in the protected environmental zone Moskvoretsky Park (near Rechnik neighbourhood). He owns a flat of 218.6 square metres.
He met his first wife in the institute in 1979. They had 3 children: Yulya, Vladimir and Angelina. In 2003 he married Tatyana Golikova, social care minister.
Source:Wikipedia
Dossier:
During the 1996 presidential elections Khristenko worked as the head of Yeltsin's campaign staff in the Chelyabinsk Region in close association with Yevgeny Minchenko, head of New Image PR agency. They used power of local government to put the media under control of the Yeltsin's campaign staff: regional newspapers, radio, TV stations (including commercial) were loyal to the president. As a result, in the Chelyabinsk Region Yeltsin won more votes than average. Khristenko was awarded commendation from the president.
Source: Moskovskiye novosti, 26 February 2004
In 1996 Khristenko authored a leaflet titled "In search of vanished deposits", published in 10,000 copies in the Chelyabinsk region. This leaflet was a manual for people, who lost there money in the financial pyramids, and contained regulations and legislative acts. According to the reports, the Foundation for Protection of Investors (founded by Khristneko) spent 50m roubles of state funds to published the leaflet. 20m proceeds from selling the leaflet never reached the accounts of foundation. It turned out after the audit that more than a half of 670m roubles, which the state allocated for the foundation to compensate the victims of the scams for the loss of money, disappeared. Because of that governmental officials nicknamed Khristenko Alchen the Bashful Chiseller («His whole being protested against stealing, yet it was impossible for him not to steal. He stole and was ashamed of himself … and she used to call him Alchen» from Ilf and Petroff. The twelve chairs).
Source: Kommersant, 08 June 1999
In April 1998 Sergey Kirienko appointed Khristenko as a deputy prime-minister, responsible for Russian finance. But his activities were not successful. International financial institution, such as IMF or IBDR refused to negotiate with Khristenko due to his "incompetence". Anatoly Chubais was charged with carring out the talks.
Source: APN, 31 May 1999
On August 21, 2002, member of the State Duma Vladimir Golovlev was killed while walking his dog in the Pyatnitskoye Highway. Rumour has it that he was murdered after revealing the name of Khristenko under interrogation in the Chelyabinsk Prosecutor's office about privatization scams.
Source: Izvestiya, 17 October 2002
According to the reports, Golovlev helped Ventspilis port (Latvia) increase the volumes of Russian oil transit. Through the mediation of Viktor Khristenko and his governmental commission, he allegedly «brought» additional 3m tonns of oil to the port.
Source: Moskovsky Komsomolets, 29 March 2003
At a private discussion in 2004, captains of Russian metallurgical industry revealed that minister of industry and energy Khristenko controls about 20% of shares of Magnitsky Metallurgical plant. When asked directly if he owned the shares, Khristenko said: "Have a look at my tax return and you will not find the shares".
Source: Vedomosti, 27 March 2007
In 2004 Khristenko's daughter Yulya married Yevgeny Bogdanchikov, youngest son of Sergey Bogdanchikov, head of Rosneft energy firm. In 2004 Yulya worked as a senior expert in the law department of Sevmorneftegaz company (the company is a subsidiary of Gazprom and Rosneft established in 2002; later Gazprom bought 100% stake in the company).
Before the matrimony Yulya Khristenko dated an Artem from Chelyabinsk, but dumped him because he was poor.
Source: Novaya gazeta, 21 January 2008
In 2006 Chelyabinsk Pipe Rolling Plant (ChTPZ) revealed the information that Vladimir Khristenko, 25 year-old-son of energy minister Viktor Khristenko, has been appointed as the chairman of supervisory board of Czech valve producer MSA a.s., first foreign asset of Chelyabinsk Pipe Rolling Plant.
Vladimir Khristenko graduated from Moscow's Higher School of Economics in 2003 and headed analytical service of MeTriS JSC. In 2004 24-year-old Khristenko headed ChTPZ-Complex pipe systems and chaired working group for service and engineering business development.
Source: Kommersant, 4 September 2006
Khristenko Junior was filmed in the video clip, which showed him among nude girls. The clip was a birthday present he made for himself. «I pray my father will not see it. He will not survive the shock», - said Khristenko. Indeed, Viktor Khristenko was disappointed with his son's birthday clip.
Source: Tvoy Den, 22 December 2006
According to the tax declaration, submitted in 2008, Khristenko owned an exclusive apartment in "The Island of Fantasy" village. In 2007 average price of 1 sq. metre of such apartment was $14,000. So the apartment cost RuR80m ($2.5m). According to his tax return, in 2007 he earned RuR 2.153m ($70,000). If he did not pay for food, flat and clothes, he would be able to buy such a flat in 37 years.
Source: Sobesednik, 10 March 2010
In 2009 Lev Khasis, director general of X5 Retail Group, was reported to spend $5m to establish "confidential relationships" with minister Khristenko and his deputy Naumov.
Source: Vokrug Novostey, 8 September 2009