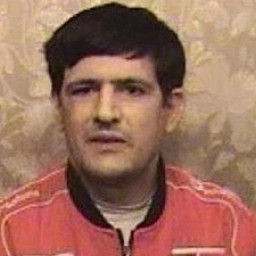 Biography:
Avdiyan was born and lived in Georgia; in the late 90's he moved to Moscow.
Nickname in the criminal world: Vitya (Vitalya) Tbilissky
Source: Moskovsky Komsomolets from 21.11.2007
"Thieves" approach to Avdiyan was made by influential Caucasian "kingpin" Shakro Young. His candidature was supported by another authoritative thief nicknamed "Zandi". In Moscow, Avdiyan was often detained for possession of drugs, but almost every time he managed to get away with a little prison term. Then the terms became bigger along with the authority of the kingpin.
Source: IA "Prime Crime" on 17/01/2011
Avdiyan belongs to the Armenian (according to other sources - to the Georgian-Abkhaz) criminal gang, one of the most influential in the capital. It consists of experienced fighters. OPG ('organized criminal group') monitors several types of legal and criminal business: car business, illegal financial transactions, arms sales, drug trafficking, gambling and racketeering, theft and robbery. OPG has strong connections to state institutions. The Armenian community has never feuded with anyone openly.
Source: ID "Sem dney" from 19.02.2000
He Is a heroin addict.
Source: Moskovsky Komsomolets from 21.11.2007
Dossier:
In March 1999, Avdiyan was arrested in the Bialowiezhskaya street in Moscow, they found the heroin, then he served for nearly a year in the "Matrosskaya Tishina."
In February 2000, Moscow's detectives arrested Avdiyan , finding with him a few doses of heroin. Before that they had received information that Avdiyan had sharply intensified after leaving at liberty, then they kept him under observancy.
Because of the seized drugs from Avdiyan , this time they managed to detain him only for three days. Why did they let him go, is unknown.
Source: ID "Sem dney" from 19.02.2000
In March 2004, investigators broke up a gathering, which was attended by Avdiyan , held at the restaurant "Nash Dvor" in Moscow on the street of 1905 year. There were 25 people in the restaurant, one arrived a little later, and also landed in the hands of operatives. Avdiyan led the meeting and was the only one in the hall of a thief in the law, while others were crownless authorities and other representatives of the underworld, as well as their relatives and bodyguards.
After the detention of all of them were released except for Avdiyan. He spent the night in a detention cell. The thief occurred to have 3 grams of methadone, and that served as a reason to initiate a criminal case on article 228 of the Criminal Code for possession of drugs.
Source: Moskovsky Komsomolets on 03/20/2004
In April 2007, Avdiyan was arrested by police in Ramenskoye district near Moscow. Security forces stormed the house where Avdiyan was hiding with the other thieves in law,. Then they had to look for its inhabitants who were hidding under the beds. In addition to Avdiyan, they detained David Chkhikvishvili (Dato Surgut) and repeatedly convicted Igor Bedarev. All three were in a state of narcotic and alcohol intoxication. They also discovered a weapons cache in the house.
By the time Avdiyan had been declated on the federal wanted list for more than two years.
Source: Prime Crime on 26.04.2007
Avdiyan was wanted for stealing a cell phone, Nokia 6600 priced at 9,000 rubles at the time of theft. In late August 2005, Avdiyan entered the apartment of 35-year resident of Krasnoprudnaya streets of Moscow. The hostess suddenly came home, but fell into a stupor, and the thief continued to search for valuables. When he went to the balcony, neighbor noticed him and shouted. Avdiyan fled the woman's mobile phone, watches and jewelry. In September 2006, he robbed an apartment in Khersonskaya Street.
Source: Moskovsky Komsomolets from 21.11.2007
In the words of Avdiyan, he was treated for numerous diseases in Ramenskoye.
Source: russianmafiaboss.com on 19.06.2007
After the detention, his fake passport in the name of the resident of Ossetia and heroin were seized.
Investigators proved the involvement of Avdiyan to the series of burglaries in an organized group. All the detainees have worked together on a tip.
Source: Prime Crime on 26.04.2007
In December 2007, the Meshchansky Court of Moscow found Avdiyan guilty of the crimes on four articles of the Criminal Code, including burglary, robbery, drug possession and forgery. Adiyan was sentenced to 10 years in the general regime penal colony.
In March 2008, the court considered the appeal of Avdiyan in trial court's decision and left the sentence unchanged.
Source: Prime Crime dated 28.03.2008
While serving his term in "Vladimirsky Central", Avdiyan , together with the thieves in law Avto Kopala and Merab Sukhumsky made a" thieves approach" to Shota Raminashvili (Lasha), who was sentenced to seven and a half years for illegal possession of drugs. Since 2006, in the absence of the thieves he was looking for a prison, and did well; he was awarded by the new arrivals and nominated for the "coronation". he had to wait for the ceremony until his release, in October 2009. But the newly acquired status affected him yet in prison in the form of numerous disciplinary punishments.
Source: Prime Crime of 2008
In July 2008, Avdiyan was arrested along with other thieves in law at the next gathering. It took place on a river boat, floating on the water reservoir in the Mytishchi district of Moscow. Gathering was seized covered commandos who landed on the boat from helicopters. Everyone on the boat, 50 people in total, including Avdiyan, were arrested and taken to the office. It turned out that the gathering was organized by a recognized authority Tariel Oniani to discuss the tense relations between the two Caucasian clans, led by Oniani and Aslan Usoyan (Ded Hassan). Clans fought over spheres of influence and money to build a future Olympic Games in Sochi. Usoyan previously held a gathering of his supporters, and took control over the most profitable entities and Oniani did not like that. Information about the gathering passed to their advantage a member of one of the clans.
Since there was no direct evidence against the detainees, many of them were released shortly after.
Source: KP.RU on 09.07.2008
In January 2011, Avdiyan was involved in a conflict between two thieves in law: Kamo Egiazarov and Sergey Asatryan. Asatryan had caught Yegiazarov spending inappropriately money from the thieves common fund, and because of that Asatryan suspended his thieving powers.
Asatryan decided to find out how Yegiazarov spent money and telephoned him in jail, where he was serving his sentence. However Yegiazarov denied the fact of embezzlement, and then Asatryan involved Avdiyan and Suliko Sharikadze to the showdown through the conference call. Yegiazarov admitted error and apologized. He spent money from common fund for drugs. He was deprived of the status of the thief, and then Yegiazarov had to serve the rest of the term as an ordinary prisoner
Source: IA "Prime Crime" on 17.01.2011