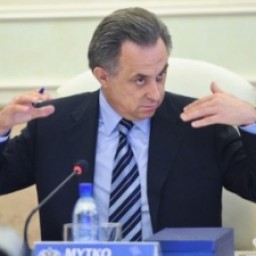 Biography:
Mutko was born on 8 December, 1958 in Kurinskaya Cossack village. He received vocational education at nautical school in Petrokrepost town (Leningrad region) having acquired a profession of motor mechanic. The next educational grade was river navigation technical school in Leningrad. In 1987 he graduated from distance training department of the Institute of Water Transport Engineers. On June 2007 he took a doctor's degree in economics.
In 1977 – 1978 – seaman and motor mechanic at the Leningrad sea port.
In 1978 – 1983 – chairman of the technical school trade union, tutor, later head of department, secretary and chairman of Kirovsky District People's Deputies Council.
In 1983 – 1991 — head of Kirovsky District authorities in Leningrad.
In 1992 – 1996 – vice-mayor and chairman of St.-Petersburg Government Committee on Social Affairs.
In 1993-2003 - president of FC Zenit.
In 2001 - 2003's - president of the Russian Premier League (football championship).
In 2003 – 2008 - Federation Council of Russia official.
In 2005 –2009 – president of the Russian Football Union (RFU).
Since May 2008 – Minister of Sport, Tourism and Youth Policy of the Russian Federation.
Since May 2009 – FIFA official.
Since November 2009 - chairman of the RFU board of trustees.
Awards
Order of Honour (1994).
Order of Friendship (2002).
Title of the Merited Worker of Physical Culture of the Russian Federation (2002).
In Memory of the 300th Anniversary of Saint Petersburg medal (2003).
In Memory of the 1000th Anniversary of Kazan medal (2005).
Letter of commendation from the Russian Government (2005).
Order For Merit For The Fatherland 4th Class (2008).
Letter of commendation from the Federation Council of the Federal Assembly of Russia (2008).
Founder and president of the Golden Pelican Public Charity Fund supporting football development in St.-Petersburg. President of the St. Petersburg Special Olympic Committee (the committee on competitions for athletes with physical disability). He also was a superviser of Goodwill Games arrangements in 1994.
He is married to Tatiana Mutko, a housewife. She used to work at the Baltic Shipping Company (BSC) personnel department and had introduced Mutko to Viktor Kharchenko, the director of the company. Mutko has two daughters.
According to the income declaration of 2010, Mutko earned 6.8 million rubles. He owns a land plot measuring 1291 square metres, a Mercedes E 350 car and 2 apartments in equity ownership. He rents a dacha. Tatyana Mutko's income was 6.200 rubles (about 250 dollars), she owns an apartment that has an area of 46.6 square metres and a garage that has an area of 12 square metres.
Source: Wikipedia
Dossier:
In 1990 Mutko was not only a member of the Kirovsky District Council, but also its chairman. Then during a team vacation of St.Petersburg VIPs at the expense of BSC (what was later much spoken about) Mutko met mayor of St.Petersburg Anatoly Sobchak and managed to win his favour. After that the mayor designated him as head of Kirovsky District authorities while forming a city government.
Source: Novaya Gazeta, 12.02.2007
In 1994 a large number of privatization checks remained idle and chairman of the State Property Committee Anatoly Chubais issued an order that allowed to the regions to use those checks for the needs of the disadvantaged. Mutko took advantage of his connections in the сity hall of St. Petersburg and distributed the surplus of unused checks between two newly established Doveriye (Trust) and Veteran funds. St.-Petersburg Government Committee on Social Affairs headed by Mutko was entitled to dispose of the dividends.
Veteran public corporation sold shareholdings of Tsentralniye Bulochniye (Central Bakeries) company to Energoimpuls (Energy Impulse) closed corporation for 38 million rubles. In 9 days Energoimpuls sold the shareholdings to Orimi-Invest closed investment company for 328 million rubles.
Source: Versiya,, 21.02.2005.
In 2002 president of FC Zenit Mutko managed to find an excellent coach for the team - Vlastimil Petrzhela who was very efficient in forming team fighting spirit and improving players' professional skills. However, Mutko himself often interfered with workouts being more of a hindrance than a help.
During a gubernatorial election in St. Petersburg Zenit was a great support for Valentina Matvienko and Mutko was a head of her headquarters. Petrzhela put a lot work to win silver medal for Zenit - so Matvienko won the elections. At the same time the budget deficit of the football club reached 61 million rubles in 2003 . The money was not enough even for the complete settling with the club staff.

As a fee for the election support Matvienko assisted Mutko in taking a position in the Federation Council.
Source: Sobesednik, 13.01.2009
Chamber of Accounts investigated a case of the illegal expenditure of the money aimed at Olympic-2010 training of Russian sportsmen and arrangements for Russian delegation in Vancouver. It was found out that Mutko's staying at Fairmont Hotel Vancouver had cost 35 thousand dollars (20 days). He also spent 4000 dollars on 97 breakfast vouchers (5 breakfasts a day).

Yuri Nagornykh (Mutko's deputy) and Gennady Aleshin (Mutko's former deputy, retired after the Olympics scandal) also stayed at the same hotel at the state expense. No one thought of the government degree N812 that limited an amount spent on official's hotel accommodation to 130 dollars per night – no more than that.
Mutko's wife joined a delegation charter flight to Vancouver but she deigned to pay 52 000 rubles for that only after Chamber of Accounts had started the inspection – on May 2010.
Source: Moskovsky Komsomolets, 02.07.2010