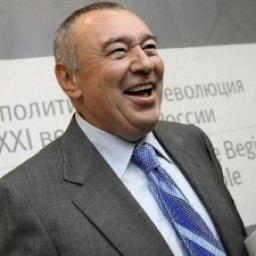 Biography:
Vladimir Chub was born to the family of a military man on July 24, 1948 in Pinsk in Brest region. In 1971 he graduated from Leningrad Institute of Water Transport and in 1990 from the Academy of National Economy under the USSR Council of Ministers, in which he studied by correspondence majoring in economic management.
Since 1971 he was shop foreman at the repair and maintenance base of the Red Fleet in Rostov-na-Donu, head of hull construction shop, head of the production supervisory department, and chief engineer.
In 1972-1973 he served in the Soviet Army (Northern Fleet).
In 1980-1983 he was second secretary of the Proletarian District Committee of the Communist Party in Rostov-na-Donu.
In 1983-1985 he was chief engineer of the Volga-Don Shipping Company.
In 1985-1989 he worked as first secretary of the Proletarian District Party Committee of the Communist Party in Rostov-na-Donu.
In October 1989 he was one of the nominees for the post of chairman of the Rostov-na-Donu City Council and was elected chairman.
In 1990 he was elected chairman of the Rostov City Council of the People's Deputies.
In October 1991 he was appointed head of Administration of Rostov region.
In 1993 he was elected to the Council of Federation of Russia.
In September 1996 he was elected head of Administration (Governor) of Rostov region. In 2001 he was reelected for a second term. In 2005 he was appointed Governor for a period of 5 years by President Vladimir Putin.
Since June 2010 he has been chairman of the board of directors of Azov-Don Shipping Company JSC.
Awards:
Order of Merit for the Fatherland, II degree (2003)
Order of Merit for the Fatherland, III degree (1998)
Order of Merit for the Fatherland, IV degree (2008)
Medal of Honour (1996)
Order of Friendship (2010)
Order of Honour and Glory, 2nd degree (Abkhazia, 2003)
Order of Akhmat Kadyrov (Chechen Republic)
Honourary Certificate of the Russian Government (2008)
Commemorative Medal For service in the Caucasus (a sign of military distinction, established in South Federal District, 2003)
Medal for the 200th Anniversary of the Interior Ministry (awarded by Russian Ministry of the Interior, 2003)
Commemorative Medal "100th Anniversary of birth of the great Russian writer and Nobel Prize winner Mikhail Sholokhov" (Ministry of Culture and Mass Communications of the Russian Federation, 2005)
Since 1998 he is Academician of Transport of the Russian Federation and a honourary member of the Academy of Transport of the Russian Federation.
He is married to Zoya Chub, has a daughter, Tanya, and a grandson, Vladimir.
In 2008 Zoya Chub owned two apartments (241.8 and 30 square metres), a plot of land (930 square metres), a garden house (63.7 square metres), a garage (45.4 square metres), and non-residential premises (754, 2 square metres). Zoya Chub also owned a apartment 248 square metres in equal shares with her husband, the same as the garage and commercial premises. The Chubs do not own any vehicles.
Source: Wikipedia
Dossier:
Chub, the former first secretary of the District Council, became governor in 1991. According to media reports, Boris Yeltsin twice refused to approve him in office. Then the Russian president got tired of fighting with the privileges of party members, and Chub, a flaming Communist, mastered the basics of market economy.
Source: Novaya Gazeta, 12 September 2005
In the early 1990's Doninvest bank was established in Rostov. It mysteriously receives an exclusive right to manage all accounts of budget organizations of the region. It was Mikhail Paramonov, governor's son-in-law, who headed Doninvest. Doninvest was not only in charge of budgetary funds transactions, the holding also had access to all the pension money of the region. The notorious TagAZ was established together with Doninvest and easily obtained unprecedented tax benefits. Some media mentioned that the Russian State Customs Committee gave customs privileges to Doninvest at the request of the Governor Chub. The regional administration transferred loans taken out of Sberbank to TagAZ. There was no intention to repay the money to the bank.
Source: Komsomolskaya Pravda, 02 September 2004
In 2004 the story of the imprisonment of Sergey Bidash, a famous businessman and social activist, was the widely publicized in Rostov region. Having managed to improve the situation at Taganrog Metallurgical Plant and make it one of the leaders of the Russian economy, Bidash could not find common ground with Governor Chub.
Bidash was forced to resign from his company, which soon had new, more tractable, owners. Attempts of Bidash to carry out other business projects in the region also faced obstruction. Then he was put in a remand prison. "Bidash is a local Khodorkovsky, and he should be in prison," said Chub.
Source: Russkiy Kurier, 23 December 2004
In 2005, during by-elections to the Duma in Kamensky single-seat constituency in Rostov region, before the start of the race, Vladimir Chub gathered heads of district administrations and ordered each of them to ensure victory of Vadim Varshavsky, owner of Russliy Ugol (Russian for "Russian coal"), in all districts. Visiting regional centers Varshavsky held the so-called "meetings with voters," which are attended by local officials. A common, in terms of Russian law, candidate spoke on behalf of the authorities. Moreover, representatives of regional administrations did not hesitate to urge residents to vote for the owner of Russliy Ugol, saying that that was whom the governor wanted to be elected.
Source: Rossiyskaya Gazeta, 16 September 2005
Don area Communists presented to the regional parliament a bill on changes in the regional law "On guarantees to the head of the administration of Rostov region, who stopped exercising his authority, and to members of his family." According to the opposition, the sum, allocated annually for the former governor provided by the current law and comprising 9.2 million rubles, was too high, and the statutory privilege was not justified.
According to the regional law passed by the parliament on June 10, 2010, the former head of the region will annually receive 80% of the salary of the incumbent governor, which was about 250 thousand rubles, for life. The annual sum spent on providing services to former governor includes transportation (825 rubles rubles) and security services (286 thousand rubles).
A governor no longer in office also receives life and health insurance, a spa treatment and medical care for him and his family.
Source: Nezavisimaya Gazeta, 29 June 2010
Little is known about Zoya Chub, classmate and wife of former governor of Rostov. She has never appeared with her husband at official functions. She did not appear in public mush, as well. But since 2009, when Vladimir Chub included data about his wife's finances in his tax declaration for the first time, everyone knew about the entrepreneurial talent of the then first lady of the Don area. In 2008 revenues of Zoya Chub amounted to 25.8 million rubles, which was nearly 10 times higher than the earnings of her husband. In 2009 she earned more than 174 million rubles, making Chub one of the richest wives of a governor.
It is not known for certain what business the governor's wife was engaged in. Only her restaurant business is transparent as she and her daughter Tatyana Chub owned Loza entity, which managed two restaurants, Chasha Dona and Delovoy Dvor. In 2008 net profit of Loza reached 36.8 million rubles. Another 20-28 million rubles could result from the apartment of 241.8-square metres and the garden house of 900 square metres that were mentioned in her declarations for previous years. Other sources, apparently, will remain a secret. In June 2010 a different person took the post of Rostov governor, thus the Chubs are no longer required to publicize their income. However, the minimum revenue of the couple is known as Vladimir Chub's pension is 195 000 rubles a month.
Source: Vedomosti, 23 July 2010
On April 12, 2011 Rostov-na-Donu hosted the Day of Wrath, on which local officials received black spots. Participants of the demonstration put forward political demands to the authorities which included those to return to free elections practices, to register opposition political parties, to introduce electronic voting, direct election of governors, and direct elections for magistrates and district judges, to conduct an inquest into the results of activities of Vladimir Chub, the former governor of Rostov region, and the members of his team.
Source: Kasparov.ru, 13 June 2011