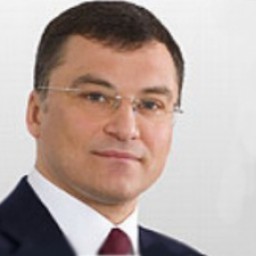 Biography:
Dunayev was born on 28 November 1965 in the city of Satka in Chelyabinsk region. In 1998 he graduated from the Academy of Economics named after G.V. Plekhanov.
Since 1996 he was chairman of Magrezit Combine JSC board of directors. In 1999-2002 he was member of Magrezit Combine JSC board of directors. Since 2002 he was general director of Magrezit Ogneupor Group Management Company CJSC. Since March 2005 he has been Magnezit Group holding board chairman.
Awards
Honourary Certificate of Chelyabinsk region governor
Honourary Metallurgist Title
Honourary citizen of Satka (Chelyabinsk region).
Source: Magrezit Group website
Dossier:
Vladimir Dunayev and Sergei Korostelev started their business with collecting scrap metal on the premises of Satka Steel Plant. Subsequently, the partners established Magrezit Group and became full-fledged businessmen. It took several years for a provincial team to grow into one of the most promising groups of influence in the South Urals.
Source: Delovoy Kvartal, 22 February 2010
In 2008 Yugtranzitservis was on the list of the largest non-public Russian companies. Established in 1997 by Magrezit co-owners Vladimir Dunayev and Sergei Korostelev and their junior partner Kirill Podolsky, in the early 2000s Yugtranzitservis emerged into an export grain. Thanks to the good market situation and effective management, the company became one of the market leaders. However, the major shareholders had a corporate conflict with Podolsky, which resulted in his departure, along with 40 other experts, and in the sale of a 30% stake.
Korostelev and Dunayev began to develop the company themselves. But after a while Podolsky managed to return the company. He used the proceeds from the sale of his stake and borrowed funds to buy the whole Yugtranzitservis.
Source: Forbes, 13 October 2008
In 2009 Magrezit Group faced challenges. The company announced a technical default on the second series of 2.5 billion rubles bond issue.
The default came about after placing a second series of ruble bonds for a period of four years in April 2007. But in October 2008 Magrezit turnover decreased by 30%, in November by up to 80%, and in December and January by 50%. All these months the company worked with a loss. In 2009 Magrezit expected a decline in production by 50%.
Experts predicted the sale of assets, a transfer into state property, or bankruptcy.
Source: UralBusinessConsulting, 16 April 2009
In 2010 Magrezit had been suffering losses for three consecutive quarters and could not perform a 2.5 billion rubles tender. But board chairman Vladimir Dunayev took out a loan from Sberbank and in May repaid half of the loan. He undertook to pay out the remaining half over five quarters.
Source: Sekret Firmy, 20 January 2010
In 2011 Edkham Akbulatov, Krasnoyarsk region prime minister, Magrezit Group board chairman Vladimir Dunayev, and Mikhail Alekseyev, CEO of UniCredit Bank CJSC, signed a trilateral agreement on cooperation. Magnezit Group launched a new investment project for the construction of CIS largest modern industrial complex on deep processing of magnesite. UniCredit Bank is committed to fully fund the project, the total amount of investments in the program exceeding 7 billion rubles.
Source : globalsib.com, 18 February 2011