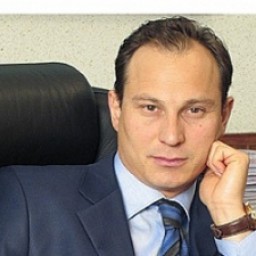 Biography
Vladimir Golovnev was born on 25 January 1970 into a family of power engineering specialist in Vladivostok. In 1987, he finished secondary school. In 1993, Vladimir earned a degree at the Moscow Aviation Institute. In 1995, he graduated from G.V. Plekhanov Academy of National Economy. He did a postgraduate research at the Ivanovo Textile Academy, where he obtained a PhD in 2006.
Vladimir Golovnev is a Doctor of Sciences in Economics.
In 1992, Vladimir started a manufacturing company that produced uniform clothing. In 1996, he chaired the Association of Textile and Light Industries Enterprises called Vostok-Servis. He co-chaired an all-Russian NGO called a Business Russia. He was a MP, working in the 5th State Duma in December 2007-December 2011.
Awards
Vladimir Golovnev is an Honorary Citizen of Vladivostok, Honored Worker of textile and light industry, Honored Entrepreneur of Russia.
He was awarded with medals and diplomas of All-Russia Exhibition Centre. He was awarded a Philanthropist of Russia award by the Academy for Security, Defense and Law-Enforcement Issues.
Vladimir Golovnev is married and has a son and a daughter.
Source: Kommersant
Dossier
In 1992, Golovnev sold a parcel of Soviet military body-warmers, which he had got by chance. It was the beginning of his business. Today his Vostok-Servis is the Russia's largest producer of special clothing, footwear, and tools in the worker-protection market. Huge national corporations, such as Gazprom and Russian Railways, are among his clients. Soviet style is in the past; uniform produced by Vostok-Servis looks European.
Golovnev's empire is said to include not only clothing, but also real-estate property in Moscow.
Source: RBK magazine, March 2007
It was not the business intuition, but rather the corporate structure that has helped Vostok-Servis working clothes producer stay afloat. The company, owned by first deputy head of the Committee for Economic Policy and Entrepreneurship of the State Duma Vladimir Golovnev, has a powerful network of 250 retail stores. In order to cut spending, active tourists now switch to working clothes, preferring it to professional outfit.
The company itself tries hard to save money. Now it uses energy-saving bulbs. "It may save only a few cents a day, but the chief thing is psychology," Golovnev says. When the crisis is over, the company will be accustomed to live within one's means.
Source: SmartMoney, 27 April 2009
Current MP, representing the Novgorod Region, Galina Izotova and Vladimir Golovnev, will not run for a seat in the parliament in the same region.
Golovnev said that he had been asked by the president to work in the Far East. "There are regions in Russia, where situation is hard, and our national leader sends there the most experienced MPs, who proved themselves in the State Duma and are ready to face difficult tasks. We have serious plans to develop the Far Eastern Federal District, and there is a lot of work to do over there. I consider it a task given by the party and the president," Golovnev said.
Source: pryamayarech.ru, 27 September 2011
The Vostok-Service Company is one of the most active Russian companies in the fight against HIV/AIDS. It has been intensively conducting HEALTH@WORK employee education programs. In 2006 there were 5 trainings conducted at 4 enterprises and the Moscow head office, covering 130 employees. The company takes an active part in the events of the Russian Association of Business Against AIDS, including the Annual Summit of Business Against AIDS, and regional Business Against AIDS meetings in the regions where the company operates.
Vladimir Golovnev, the President of the Vostok-Service Company and the co-chairman of National Association of Business Against AIDS, has put a lot of his energy into personally convincing his colleagues in private sector to join the fight against AIDS through implementation of non-discrimination policies, workplace prevention programs, and public advocacy.
Source: GBShealt
Discovering the elite St. Petersburg real estate seems to have ended with decent loss for the State Duma deputy Vladimir Golovnev. Top managers his international holding company "Vostok-Service" spent about $ 10 million belonging to the MP's company under the guise of a prestigious construction. The St. Petersburg project participants say: people of Golovnev refused to discharge their financial obligations, citing the high costs of his election to the Russian parliament.
Rumafia, 16 May 2010
In 2010, Vostok-Servis-Spetsodezhda LLC ordered to demolish a building of former kindergarten in 61/2 B, 8th Line of Vasilievsky Island, St Petersburg. The company had no permission to carry out demolition works. The State Building Authority annulled the approval to carry out "reconstruction" it had given to Vostok-Servis-Spetsobezhda before, and therefore the demolition was illegal. The works were stopped.
On 25 April 2011, representatives of Vostok-Servis-Spetsodezhda were summoned to the municipal administration of Vasilievsky Island. They explained that they were going to build a new kindergarten and that they had all necessary documents. Meanwhile, the city government Commission for Building and Land Tenure said that the project of a new kindergarten did not meet existing sanitary norms, because the building could overshadow the nearby secondary school no. 28. Despite the company's claims that they had obtained all necessary approvals, they had only two approvals of Russian Consumer Rights Protection Service, saying the land could be used for building.
On 31 October 2011, NGO Mitrofanievsky Union sent a letter to various committees in the city government (KGIOP, KGA, KUGI, KZRiZ), to vice-governors Roman Filimonov and Igor Metelsky, to the municipal administration of Vasilievsky Island, State Building Authority, Prosecutor of Saint Petersburg's office, Chief Investigative Department of Russia's Investigative Committee in St Petersburg, asking them to open a criminal case under Article 243 of the RF Criminal Code and punish those responsible for ruining the historic building.
Source: Ekho Moskvi, 4 November 2011