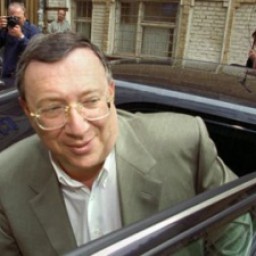 Bio:
Vladimir Gusinsky was born on 6 October 1952 in Moscow. In 1969 he entered Gubkin Moscow Institute of Oil and Gas, but in 1970 he was expelled for academic failure.
In 1973-1975 he served in chemical intelligence troops in Ukraine.
In 1975 -1981 he studied at stage director department of Lunacharsky State Theatre Academy.
In 1985 he was production manager of the International Youth Festival in Moscow and stage director of show programme arranged for foreign participants of the Goodwill Games.
In 1986Gusinsky along with his friend Boris Hait established Metall metal products co-operative.
In 1988 he founded Infeks co-operative that was engaged in financial and legal consulting and making policy analysis for clients, mostly foreign ones.
In 1989 he was a director-general of Most joint enterprise.
In 1989-1997 he was the president of Most-Bank.
In 1994 - 1997 he was a chairman of the Representative Council of banks authorized by the Moscow government and vice-president of the Russian Bank Association.
In 1997 - 2001 he was president of Media-Most holding company operating NTV, NTV+, TNT channels, Segodnya newspaper, Itogi, 7 Dney, Caravan Istoriy magazines and Ekho Moskvy radio.
In January 2000 he was elected vice-president of the World Jewish Congress.
In 2000 Gusinsky was arrested in connection with the investigation launched after the 11th channel of St. Petersburg television company had been illegally seized. A few days after his arrest Gusinsky was released. Then he left for Spain and there was arrested for the second time at the request of Russian prosecutors. However, he was released again.
In 2003, in Greece, Gusinsky was arrested again at the request of Russian prosecutors, but later he was discharged.
In 2007 he became a citizen of Spain and lost Russian and Israeli sitizenship.
Awards:
Order of Friendship of Peoples (1994)
Order of the Legion of Honour (France )
TEFI award for contribution to the development of national television (1999)
Gusinsky was married twice. He has son Ilya, now Israeli citizen, by his first wife Olga Lvovna Gusinskaya. He also has two sons, Vladimir and Stanislav, by his second wife Yelena, his assistant at Media-Most.
At the end of 2003 Gusinky's wealth was estimated $ 400 million.
Source: Wikipedia



Dossier:
In October 1986 Gusinsky's associates applied to the police. Police department opened a fraud case against Gusinsky under the article 147, part 1 of the RSFSR Criminal Code. One of Gusinsky's friends demanded from Gusinsky recovery of the debt, while another one accused him of missapropriation of the money Gusinsky had been given to buy a car by proxy. In December 1986 the case was dismissed under the article 8 of the RSFSR Code of Criminal Procedure "due to changing circumstances"
Source: Rossiyskaya Gazeta, 1 November 2003

In October 1989 Most-bank was established. Gusinsky became its president. The bank entered top ten list of the largest Russian commercial banks because of its share capital, totalling 18 billion 250 million rubles, and became an authorized bank of Moscow Government. Financial rise of the bank and its president was associated with Gusinsky's close relationship with Moscow authorities. Accounts of large municipal and government agencies were opened at Most-bank at that time.
Source: Sovershenno sekretno, 8 September 2003

In December 1992, during the 8th Congress of People's Deputies of Russia, Business politcal initiative alliance established by Gusinsky and other major businessmen, spoke of the need for a compromise between the executive and legislative authorities and protested against "direct presidential rule and abolition of the Deputies' Congress". Businessmen insisted on "serious protection policy for Russian business."
In 1993 Business politcal initiative was split by a conflict between Menatep Group operated by Konstantin Zatulin, Mark Masarsky and Mikhail Khodorkovsky and Gusinsky's Most Group. Tension was generated after Moscow mayor Yuri Luzhkov appointed Most-Bank as the authorized bank of Moscow Government.
Source: Grani.Ru, 14 December 2000
On 2 December1994 officers of the Presidential Guard were ordered by their chief Alexander Korzhakov to raid Moscow office of Most-bank, located at the City Hall quarters in Novy Arbat street. Officers blocked the office for several hours. A criminal case on the raid was dismissed "for lack of corpus delicti''. Moreover, chief of Moscow FSB office Evgeni Savostyanov, who then had come to the aid of Gusinsky along with his officers, was immediately fired. Soon after that Gusinsky left for London and spent five months there. It was the first overt conflict between Korzhakov and Gusinsky-Chubais alliance.
Source: Vremya novostey, 16 June 2000

In 1994-1995 Gusinsky was at war with businessman Boris Berezovsky. Berezovsky and president of REN-TV company Irina Lesnevskaya even claimed that Gusinsky had been involved in the murder of popular television journalist and ORTV director-general Vladislav Listyev. However, in 1996 Gusinsky and Berezovsky became friends. They allied with Anatoly Chubais in the struggle for re-election of president Boris Yeltsin.
Source: Panorama newspaper, 23 January 2006

On 13 June 2000 Gusinsky was summoned to the Prosecutor General's Office for questioning on the case of Russkoye Video company. As prosecutors claimed, being a manager of Russkoye Video, Gusinsky had illegally seized the 11th channel of St. Petersburg TV company. The channel, valued at $ 10 million, was allegedly purchased by Gusinsky for $ 5000 and one million dollars was spent on the bribe for director-general of Russkoye Video who helped to arrange the deal.
Right at the prosecutor's office Gusinsky was arrested and immediately put to Butyrskaya prison. On 16 June 2000 Gusinsky was charged with committing a serious fraud, but a few days laterthe case against him was suddenly dismissed, most likely, in exchange for Media-Most shares.
Source: Vremya Novostey, 11 December 2003

Being released from prison, Gusinsky left for Spain, but at the end of December 2000 he was arrested at the request of Russian prosecutors there. Prosecutors not only resumed the case of Russkoye Video, but also opened a new case against Gusinsky. Gusinsky, along with CFO of Media-Most Anton Titov were claimed to transfer illegally credits received from Gazprom corporation to foreign accounts. A month later Gusinsky was released from prison on bail and stayed under house arrest at his own villa. President of the USA Bill Clinton, who was about to resign then, Israeli minister Shimon Peres and members of World Jewish Congress appealed to Spanish king Juan Carlos and asked him to protect Gusinsky. Fifteen months later Gusinsky was released since Spanish authorities did not find sufficient grounds for extradition.
Source: Kommersant, 26 February 2007

In 2002 Gusinsky was mentioned by Russian media in connection with the so-called ''writers' case''. Chubais and Alfred Koch wrote a book on specific traits of privatization in Russia and got over 100,000 dollars as inadequately high fee. TV journalist Sergei Dorenko, when interviewed by Vlast magazine, stated that ''writers' case'' had been a result of earlier conflict of interests between Gusinsky and Vladimir Potanin.
Source: Kommersant-Vlast, 18 November 2002

In September 2003 Gusinsky, who had gone to Greece, was arrested again at the request of Russian prosecutors, circulated by Interpol. Again, certain politicians and even organizations supported Gusinsky. Gusinsky spent a few months in Athens prison. But then Greek court refused to issue an extradition order and recognized Gusinsky as a victim of political repression.
Source: Rossiyskaya Gazeta, 1 November 2003

At the beginning of October 2009 The Marker Israeli economic newspaper published an interview with Gusinsky. He expressed his willingness to return home, if allowed by Russian authorities. This interview drew wide public response and was even commented by Gusinsky's former competitor Boris Berezovsky. Berezovsky said their names had been mentioned together too often before, but they would no longer be closely associated.
Source: Kursor Israeli newspaper, 12 October 2009