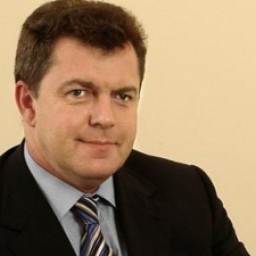 Biography
Vladimir Iorich (born in 1958, Stalinsk) graduated from Kemerovo Polytechnic University in 1980 with a degree in Economics and Engineering.
1980-1987 engineer, economic director at an enterprise called Gidrougol, in Novokuznetsk
1988-1990 deputy director of Yubileinaya mine of Kuznetskugol company
1990-1995 sales director of Kuznetskugol
1995 president of Swiss company Conares
1995-2004 head of Mechel Trading AG
In 2006 Iorich sold his 42% stake in Mechel to his partner Igor Zyuzin and moved to Switzerland
In 2007 a Iorich-led fund called Pala Assets Holdings acquired a 14.5% stake in Austrian steel trader Voest Alpine Intertrading AG (VA Intertrading) from Siemens for estimated 72 million euro.
Source: Russian Wikipedia
Dossier
Zyuzin and Iorich bought up shares in a number of coalmines near Kemerovo and established Southern Kuzbass in the early 1990s. Southern Kuzbass became the largest coal supplier to Magnitogorsk Metallurgical Plant and to Mechel. According to a source in a metallurgical company, Zyuzin and Iorich were also involved in buying up the securities of Magnitogorsk Plant and Mechel at the time and continued their joint business even after Iorich received German citizenship in 1995 and left Russia.
Source: Vedomosti, 5 Oct 2004
According to financial accounts of Mechel, the group consisted of Mechel Metallurgical Plant, Korshunov Mining Plant, Southern Urals Nickel Plant, Southern Kuzbass Coal Company, and a number of facilities both in Russia and abroad. In 2003, the group produced 4.2 million tons of rolled steel, 14.2 million tons of coal, 3.5 million tons of iron ore, and 13,500 tons of nickel. Mechel Group generated $1.630 billion in the first half of 2004, compared to $930.5 million in the first half of 2003, according to the US GAAP. In 2004 net income was $254.5 million ($67.7 million), with EBITDA of $420.8 million ($157.3 million). In 2003 the company generated $2.05 billion with net income of $143.5 million and EBITDA of $341.5 million, according to Mechel's investment memorandum.
In 2004, Mechel announced its plan to list its shares on a foreign stock exchange. Mechel issued additional shares, increasing its charter capital by 30%. New-York-based Deutsche Bank Trust Company bought 76% of the new shares.
Mechel disclosed yesterday that Igor Zyuzin, the chairman of the grup, and Vladimir Iorich, CEO, were joint owners of the company.
Source: Vedomosti, 5 Oct 2004
In 2006, Mechel disclosed information about its shareholders to meet the requirement of NYSE. As of 31 December, Zyuzin owned 19.7% of shares in the company, Iorich - 15.4%, Conares - 24.5% and Metkhol - 10.3%. The other 14.5% was controlled by Klypso, which had acquired the stake from Britta in 2005.
Mechel's owners got rid of foreign executives in the company. Iorich became Conares CEO, his son Evgeny headed Klypso. Zyuzin made his secretary, Oksana Zhedrinskaya, CEO of Metkhol. Mechel did not comment on the reshuffle and did not give information neither about Iorich Junior, nor about Ms Zhedrinskaya. According to a source in Mechel, Evgeny Iorich studied abroad and joined Mechel a year and a half ago. He is currently deputy sales director of Mechel's trading house. Oksana Zhedrinskaya has been Zyuzin's aide for more than 10 years. During the period, Zyuzin and Iorich became owners of the company with market capitalization of $3.9 billion. In 2004, each received 2.4 billion roubles ($80 million) as dividends.
Source: 8 Feb 2006
In February 2006, Vladimir Iorich and Igor Zyuzin became divided over the future of the company. Iorich was against the deal to acquire a controlling stake in Yakutia Coal for $411 million. Iorich promised to sell his shares to Zyuzin within a year and go out of the business. But Zyuzin wanted to buy the only the amount of shares which was enough to control the company. UBS AGJersey Branch of UBS bank planned to sell $700-million worth ADRs and $300-million ADR-convertible bonds. Investors were ready to pay $21-22 for each receipt, and it was a clear failure. To reduce expanses Iorich decided to sell only part of his stake. He sold $350 million worth ADRs and $150 million worth bonds. The analysts believe the deal was poorly negotiated, and that the haste triggered financial failure. It was rumored that Yorich wanted to get rid of his stake as soon as possible.
Source: Vedomosti, 20 Mar 2006
Having received over $1 billion from his Mechel associate and fellow billionaire Igor Zyuzin, Vladimir Iorich based himself in Swiss Zug where he avoids publicity. He has registered two investment funds in British Jersey - Pala Investments Holdings and Pala Assets Holdings. Iorich keeps reshuffling his investment portfolio. Now he owns shares in a dozen of American, Canadian and Turkish companies, including manufacturers of rare earth metals, industrial paste, mining mixers, windmills etc. Due to the financial crunch, shares of his portfolio fell in price by half, but in general Iorich's investment brought more profit that Mechel's shares that plunged by 90% during the crices.
Source: Forbes, 2009
In 2011, Vladimir Iorich ranked no. 61 in the list of Russia's richest businessman with net worth of $1.6 million.
Source: Finans, 14 February 2011