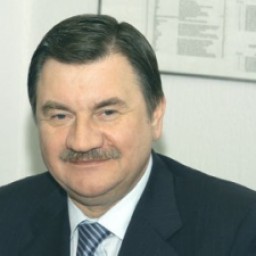 Biography:
Vladimir Nastich was born on April 3, 1953 in Donetsk. He graduated from Donetsk Polytechnic Institute. He began his career as a roller in a cold rolling shop of transformer steel. Then he worked at sheet rolling shop in Novolipetsk metallurgical combine (NLMK) as shift foreman, head of the rolling department, and chief engineer of production.
In 1988-1996 he headed the NLMK department of dynamo steel.
In 1996 he was appointed production director of NLMK.
In 1998-2000 he was NLMK director on metallurgy.
In 2000-2004 he served as chief engineer and NLMK JSC first deputy CEO.
In 2004 he was elected CEO of Novolipetsk Metallurgical Combine JSC.
In 1997 he became a PhD in technical sciences. He has the title of Honourable Metallurgist and Honoured Metallurgist of the Russian Federation. He was awarded the Order of Merit and an insignia for Merit before Lipetsk. He was elected deputy of the Lipetsk regional Council of Deputies in1998 -2002.
In 2010 Nastich owned about 1% of NLMK shares worth 210 million dollars.
Source Delovoy Petersburg
Dossier:
Until August 2005 Vladimir Lisin owned 93% of NLMK shares. But at the end of the summer he sold a 3.24% to Costen Holding Ltd. In doing so the owner of NLMK awarded its managers, as among the beneficiaries of the offshore company there were NLMK board members and its CEO, Vladimir Nastich.
In November 2005 Lisin withdrew from charity work and announced that he would sell a 7% stake on London Stock Exchange.
Source: Vedomosti, November 25, 2005
On October 11, 2010 Vladimir Nastich resigns as NLMK first vice president and CEO due to retirement.
Source: Lipetskoye Vremya October 11, 2010
Vladimir Nastich leaving the position of NLMK CEO was a surprise to many. Nastich left office, according to the official version, "in connection with retirement." The metallurgist at the time was only 57 years old. However, he lost not only the chief executive position, but he was expelled from the management board of NLMK.
Source: Novosti Lipetska, November 17, 2010
Observers noted: Nastich did not reach retirement age, which for men in Russia is 60. This fact provides for an opinion that perhaps the reason for retirement was not the one officially announced. Several businessmen in Lipetsk on condition of anonymity suggested that the real reason for Nastich leaving NLMK could be a conflict with Vladimir Lisin, the owner of the plant, or other top managers of NLMK, in particular Aleksey Lapshin, the president. A high ranking regional administration insider said that there had been no fuss at the plant prior to the retirement and that the CEO had left quickly and quietly. Another source added that man in Lipetsk Nastich was an influential person as he was involved primarily in the development of the local enterprise and not other of other enterprises within NLMK. "If there was a reason for the resignation of Nastich, it certainly was not his professional skills and knowledge", he said.
Source: Kommersant (Voronezh), October 12, 2010
In 2010 the media reported that Vladimir Nastich could become the new mayor of Lipetsk. Nastich commented on the possibility of nominating for mayor: "I have been and still am a team player. Besides, I belong to one of the strongest trams in the country. I would hardly want to give a refusal to my friends, my comrades, my colleagues, if they need my knowledge and experience to tackle difficult problems of the city. "
Source: 48.unise.ru, November 09, 2010