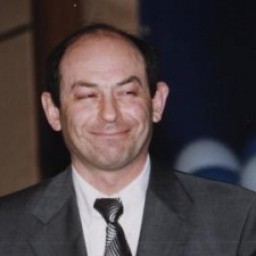 Biography:
Vladimir Rushailo was born on 28 July, 1953 in Morshansk into a family of military man.
In 1972 he started his career at the interior agencies. In 1976 he graduated from Omsk Interior Ministry Police High School of the USSR.
In 1976-1992 he worked at the criminal investigation office of the Moscow police.He worked at the burglary department for five years, as well as at the homicide department and at the group crime and habitual crime department.
In1986 Rushailo started supervising activities of Beryozka Moscow elite chain-stores.
In 1992-1996 Rushailo was head of the Organized Crime Regional Office of Moscow police.
In 1996 he was deputy chief of the organized crime department of Russian Interior Ministry. On October Rushailo was dismissed from his position due to a conflict with superior officers.
In 1997-1998 Rushailo was adviser on legal matters to chairman of the Federation Council Yegor Stroyev.
In 1998-1999 he was Deputy Minister of Internal Affairs and head of Chief Directorate for Combating Organized Crime under Russian Interior Ministry.
In 1999-2001 Rushailo was Minister of Internal Affairs.
In 1999-2004 he was secretary of the Security Council.
From 2004 to 2007 Rushailo was chairman of CIS Executive Committee.
On December 2007, deputies of Arkhangelsk Legislative Assembly delegated Rushailo to the Federation Council.
On May 2010 Dmitry Medvedev appointed Rushailo Special Representative of the President of Russia in Kyrgyz Republic.
Awards
Hero of the Russian Federation (1999)
Order For Merit For The Fatherland 2nd Class (2003)
Order of Courage (1998)
Order of Honour (1998)
Badge of Honor (1986)
Order For Personal Courage (1992)
Jubilee Medal 300 Years of the Russian Navy (1996)
Medal In Memory of the 850th Anniversary of Moscow (1997)
Medal In Memory of the 300th Anniversary of Saint Petersburg (2003)
Order of the Russian Orthodox Church of the Holy Prince Daniil of Moscow 3rd Class
He is married to Marina Rushailo. He has three sons by his former two wives. Ilya Rushailo, one of his sons, studied in the UK on Berezovsky's money.
Source: Wikipedia


Dossier:
In 1994 Otari Kvantrishvili, a prominent businessman, whose name was associated with the activities of the criminal gangs, during B-6 Moscow TV channel translation threatened Rushailo saying that he should "think of his children." A month later Kvantrishvili was killed.
Source: Novaya Gazeta, 12 April, 2001

In 1994 Rushailo, the head of the Organized Crime Regional Office, sent an information against famous singer and Kvantrishvili's friend Iosif Kobzon to the U.S. State Department. Rushailo stated that Kobzon was involved in arms and drugs trafficking, as well as had close relations with the Russian mafia. After that Kobzon was barred from entry to the United States.
Source: Itogi, 7 March, 2011

On March 1995 after the murder of television journalist Vladislav Listyev Rushailo ordered to search the office of LogoVAZ public company director-general Boris Berezovsky.
Source: Arkhiv zhurnalista, 9 March, 2004
Despite heavy fighting with criminal authorities by all means, even unscrupulous ones like planting drugs or cartridges on a suspect, Rushailo very tolerant of the criminal habits of his subordinates. In fact Organized Crime Regional Office of Moscow police fought against criminal mob not to ensure law and order but to seize mob's territory and replace gangsters as 'protectors'. Subordinates called Rushailo "dad" and Regional Office stuff was nicknamed Shabolovskaya gang by the criminals. Finally, at the end of 1996 Interior Minister Anatoly Kulikov lost his patience and arranged an inspection of Moscow Police Regional Office. As a result, Rushailo was transferred to an interim position of the deputy chief of the organized crime department of Russian Interior Ministry which he took for less than a week.On 22 October 1996 Rushailo's attempt to put pressure on his superiors through scandalous press-conference resulted in his immediate dismissal.
Source: Stringer, March 2000

While being the Secretary of the Security Council Rushailo kept his old connections and "working methods". His son Andrei Rushailo supervised confiscation goods transport so Rushailo had easy access to confiscated property. Fact-finding on the property was impossible as Rushailo disallowed all the questions by phone.
Source: MK, 2 March, 2004
In 2004 Andrei Rushailo, the son of Vladimir Rushailo, was responsible for Moscow Ring Road accident that resulted in damage of four cars. All the people involved in the accident survived, including Andrew Rushailo who was injured most seriously. Ambulance car brought him to the neurosurgery department of the 36th City Hospital. Doctors immediately smelt alcohol on his breath and wrote it down in the medical history. However, drunk driving was to be proved with documentary evidence - blood test - which could indicate blood alcohol content. Andrei Rushailo refused to do the test. Doctors learned the real name of their patient much later, though. At first, the son of the top-ranking official refused to say his name and was registered as unknown person.
Source: Izvestiya, 18 May, 2004

In 2000 in Penza 13-year-old Israeli boy Adi Sharon was released after being held as a hostage for more than 10 months. He flew to Israel by the same plane as Interior Minister Vladimir Rushailo who paid a visit to Israel.
In Israel Rushailo said that the boy's release had been timed to his visit. Rushailo was very surprised when instead of general admiration and respect he received in response a set of verbal blows and reprimands from the local media.
Almost all the Israeli newspapers accompanied their glad reports on the release of the boy with by no means a rhetorical question: "Why was the release so slow?". As it became known, high-ranking Israeli Intelligence Service officials were puzzled why the rescue operation had been put off up to Rushailo's visit, as exact location of the boy, according to the Israelis, became known to the Interior Ministry at least on December 1999. Israel even offered its state special mission units for setting the boy free. But the offer was turned down. Only after Israeli prime-minister had directly applied to the president of Russia with a personal request the case began to move forward. Special police squad and ... TV journalists were sent to the bandit den
Source: Lenta.Ru, 4 June, 2000

Contrary to official statements reports say that in 2007 Rushailo failed senatorial voting and after that local politicians were forbidden to tell anyone about the scandal while voting was declared illegal. Only 22 MPs voted for Rushailo while he needed more than half of the parliament votes, that is at least 31, for the approval of his candidacy.
Sources: REGNUM, 8 November, 2007
In 2011 Iosif Kobzon said that Rushailo was the only person to blame for the fact that he was barred from entry to the United States.
Source: Izvestiya, 3 August, 2011