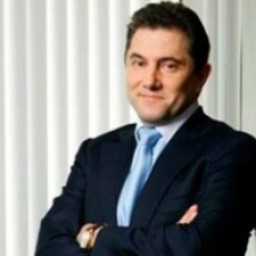 Biography
Vladislav Burov was born in 1963 in Volgograd. In 1985, Burov earned a degree in Physics from the Saratov State University. He did postgraduate research at the same university.
In 1989, Burov was appointed director of Sintez Center, a commercial enterprise under cover of the komsomol and the Saratov University. He headed Sintez until 1992.
1989 member of the city council of Saratov
1992-1997 director of Saratov's Center for Social Initiatives
Since 1998, Burov has been a director of Buket Group.
1998 director general, Saratov-based Zhirovoi Kombinat Open JSC
2004 chairman of the board of Solnechnye Producty Group
Burov owns stakes in all companies, comprising Buket Group. Besides Solnechnye Producty, Buket Group includes Saratovskaya confectionary and Nizhnevolzhsky Commercial Bank. Solnechnye Producty includes fat-and-oil production units in Moscow, Saratov, Novosibirsk, Armavir, Atkarsk and other cities.
Source: Vzglyad-Info
Dossier
While a student, Burov worked as a night watchman at a confectionary that he bought 15 years later.
Burov has earned a PhD, taken out 4 patents, and authored over dozen of scientific papers. He worked at a research centre, and at the university's Center for Scientific and Technical Creativity of the Youth. He earned his first big money, 10,000 roubles, for a research and design done for Signal research-and-production enterprise. Using this money as initial capital, Burov began to build his trading empire. As a start-up, he swapped VAZ cars for cigarettes, cigarettes for petrol, petrol for sugar, and sugar for cars. His firm, Buket, retailed everything, starting from foods and finishing with electrical instruments.
In 1997, Burov acquired a 43% stake in a macaroni factory for $100,000. Next year he bought the Saratov Fat Processing Factory. The confectionary became his property a year later.
Saratov-based Buket tries to keep low profile. Neither affiliated entities, nor quarterly accounts are available for public scrutiny. All candidates, applying for a job at the factory, face severe tests, including psychological one, which is very unusual for the mayonnaise manufacturer.
Source: Novaya Gazeta, 7 September 2006
In 2006, shareholders of Moscow Fat Processing Factory, or MZhK, entered into a new phase of conflict. A rally in support of the head of Saratov-based Buket Group was held in front of the MZhK building. Windows of the factory's pass-through were smashed. The dispute over position of the director of MZhK began late in April 2006 after death of the head of the enterprise, Melkon Aznauryan, at the beginning of that year. Step by step, the dispute grew into a war, involving gunned men and fighters from SWAT police unit. Alexei Podobazhny, who represented interests of Monaco Cinema LLC and Neoscala Ltd, that owned 24% of shares in MZhK, clashed with Vyacheslav Burov, head of Buket Group, controlling a 40% stake. On 28 April, Buket called urgent meeting of shareholders, which elected Buket president Vladislav Burov as a director general of MZhK. Representatives of Monaco Cinema and Neoscala Ltd did not recognize the results of the elections and did not let Vladislav Burov into the director's office. After that, Vladislav Burov, along with other representatives of Buket Group, supported by Saratov SWAT police unit, tried to enter the office building, but the MZhK security service beat off the assault. Despite the failure, Burov did not give up plans to take over the enterprise.
In the end, Vektor Group, led by Vladimir Khazanov, surrendered and sold its shares to Buket for estimated $3-4 million.
Source: Razvitie biznes-sistem, 27 November 2006
In 2009, a group of official at Nizhnevolzhsky Commercial Bank, or NVK, used forged documents to give out a loan. The guarantor of the loan was senior economist of NVK Alexei Ruchin. On paper, the loan was cleared, but as a result of elaborate fraud 7 million roubles ($230,000) disappeared from the bank's accounts, and the lender obtained property worth only 2 million roubles. The bank incurred 5 million losses. Suprisingly, the Central Bank did not find any violations in the bank's accounts books, despite the probe held at the beginning of 2010. It is rumoured, that the fruad might be only the top of the iceberg. Why did the Central Bank oversee the violation and covered up the fraud? Is not it because the bank is a part of oligarch Vladislav Burov empire?
Sourvce: Vzglyad, 13 May 2010
2012 saw plummet in the net profit of NVK bank. According to Banki.Ru, the net profit decreased by 255.5%.
Source: Banki.ru, 13 March 2012