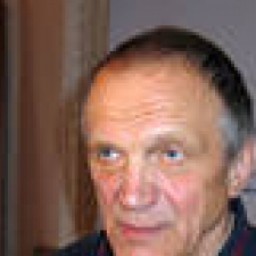 Bio:
Vladislav Tetyukhin was born on 29 November 1932 in Moscow. He graduated from Moscow Steel and Alloys Institute as a metallurgical engineer. In 1956 he defended candidate's thesis. In 1975 he became doctor of technics. He started his career at Verkhnesaldinsky metalworking plant near the Ural Mountains. From 1956 to 1975 he worked his way from a foreman to the deputy department head of Verkhnaya Salda Metallurgical Production Association.
In 1976 he headed the laboratory sector and 4 years later he was promoted to the head of research department of STC VIAM NGOs in Moscow.
In 1992 he was appointed director-general of Verkhnaya Salda Metallurgical Production Association public corporation.
In 1998-2008 he was the director-general of VSMPA-AVISMA
Awards
the Lenin Prize.
Order of Red Banner of Labor.
Order of Merit for services to the State
Award of the Council of Ministers.
Tupolev medal for achievements in aeronautical engineering.
Badge of Honour of 300th anniversary of metallurgy in the Urals.
Tetykhin is married and has two sons.
In 2011 his wealth was estimated at 61 million dollars.
Source: bizgorod.com, 3 March 2011

Dossier.
In the mid-2003 VSMPA became a center of a scandal which broke out on 2 July when Tetyukhin announced that third-party investors were ready to purchase shares to gain control over the company. A loud campaign against the buy-out was carried out accompanied by loud statements like ''we will not allow to take away the people's property bit by bit''. Then at the EGM changes in the articles of the company were approved which permitted an individual to possess more than 2% of shares. Finally, it was announced that ''the people's property'' was owned not by workers, but by and Tetyukhin and deputy director-general Vyacheslav Bresht. Soon, the deputy director of purchasing and road transport, as well as of reconstruction, of HR and of finance, were offered an indefinite leave. According to some sources in the company, they were sent off because of investigation on purchase of the shares that started in July. It was found out that four deputies sold their shares to an outside investor. The reason was their strong disagreement with Tetyukhin's investment policy and purchasing system. The director-general did not consult with his deputies and instantly replaced marketing department personnel at the slightest suspicion of involvement of third-party mediators in sales chain. Foreign trade activity of the plant was serviced by the company of Tetyukhin junior, whose nominal owner was an employee of the enterprise.
Source: Ural-Polit.ru, 27 August 2003

Four managers were just cut off from the outside world. In particular, the trade union refused to meet them, while Kvant local television channel refused to broadcast their appeal that was previously recorded, as Tetykhin was said to promise to put both the manager of Kvant and the speakers out of the city if the programme was on air.
However, in September 2003 debate between board member Katerina Fabritskaya and chairman of the board of directors Otto Leder was held. Fabritskaya noticed that ''the time of Stalinist rulers had passed''. In response, Leder recalled Tetyukhin's social activity. Tetykhin started modernization of the plant, including retraining of workers, which led to break-even performance of the enterprise. Moreover, foreign partners, especially Boeing which is 60% dependent on Tetyukhin as duralumin and titanium supplier, threatened to terminate the contract if major shareholders were replaced.
Source: Metallurgical Bulletin, 3 September 2003
In autumn 2005 Vladislav Tetyukhin and chairman of the board of directors Vyacheslav Bresht managed to buy out a13% stake in the corporation from Renova company. The next step was supposed to be IPO on a major exchange in mid-2006. However, in early October Renova made an attempt to return the lost stake. Renova sued out arrest of a 74% stake in VSMPA-AVISMA and applied to the courts of Cyprus and the United States for cancellation of the deal. IPO was about to fail and shares of the corporation fell sharply.
Source: Nakanune.ru, 13 October 2005
Throughout 2006 and partially 2007 Bresht and Tetyukhin were negotiating the sale of VSMPA-AVISMA with Rosoboronexport state agency. It was the only opportunity to rectify the situation and to carry out IPO on the London Stock Exchange. But Tetyukhin rated dividend payments not at equity participation which would be natural and simple, as it was before, when 10% of the profits were divided between shareholders, but at Russian accounting standards, which made it difficult to quote a price for the shares on the international market. His inconsequent strategy compicated IPO of the company.
Source: Vedomosti, 20 April 2007

In March 2007 at the annual meeting of Yekaterinburg Union of Industrialists and Entrepreneurs Tetyukhin harshly criticized activities of the Union and local government. When speaking about social projects of his enterprise, Tetyukhin said that he funded social programs: he established military colleges, supported public health services, and financed social sector. In fact Tetyukhin denounced the policy of the regional government as last years they left municipalities without financial support which prevented any kind of development and only made it possible to go on with cleaning streets, eliminating garbage and changing street lamps bulbs now and then.
Source: 22 March 2007


In March 2009 Tetyukhin resigned. Not least because new director-general Evgeny Romanov was obviously ill-disposed towards him. A few months before Tetyukhin'd resignation there was an unspoken confrontation between Tetyukhin's team and Romanov's newcomers. For instance, new company structure was not approved up to 1 March 2009 as there were serious contradictions, but in fact, it was the whole business policy they conflicted about. Since January almost all the ''old ones'' have been moved to minor positions. Tetyukhin himself explained his decision by his venerable age as he turned 77 years old.
Source: Pushkarev-forum.ru, 13 March 2009

In February 2011 Vladislav Tetyukhin was appointed adviser to the director-general responsible for science and technology. Previously he was business development director. So finally Tetyukhin is no more a top manager of the company.
Source: Kommersant (Perm), 12 February 2011