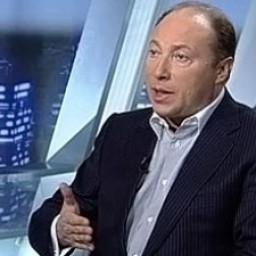 Biography
Vyacheslav Aminov (born 10 June 1960, Odessa) is a graduate of law faculty of Moscow State University. Aminov holds a PhD in Law.
1989 sales director of a textile plant called Osvobozhdenny Trud (Moscow)
1991-1993 vice president of Legpromsyrye Trading House, president of Prominvest, director of Interprivatizatsiya Foundation.
1994-2000 member of the board of InterTEKbank (collapsed in 2000)
1998 deputy executive secretary of the CIS Boris Berezovsky
He was sentenced to a suspended year-and-a-half term for $50 bribe to a FSB general.
Former advisor to executive secretary of the CIS Boris Berezovsky and to head of the Staff of the RF President Alexander Voloshin
Joint owner of a number of private security companies
Source: Personizer.Ru
Dossier
Aminov worked as a vice-president of Legpromsyrye Tading House and as a head of sales department at a hosiery factory before 1991. Since 1993, he headed MPIK Prominvest Closed JSC, a year after he went into oil business, joining the board of InterTEKbank. Like Berezovsky, Aminov survived an attempt on his life in 1995: a land mine exploded under his personal Mercedes. The attempt was believed to be a vengeance from the Ingush mob.
Aminov carried out delicate missions on Berezovsky's side. For instance, he hired Alexander Litvinenko to gather damaging material against prominent Russian politician for Berezovsky. Aminov was rumoured to arrange young girls from Mademoiselle Agency for Berezovsky. He drove them in luxurious Mercedes from the agency to a vast country house near Moscow. In winter 1999, mobsters raided a Moscow club called Lips that was a dance venue for Mademoiselle models. Berezovsky asked Aminov to fix the problem. Aminov again hired FSB officer Alexander Litvinenko.
Source: FLB, 25 Mar 2000
Aminov became famous after the 1999 scandal, surrounding private security company Atoll that he had co-founded. Atoll was reported to spy on famous politicians and businessman. According to the sources, Aminov's CIS secretariat boss Boris Berezovsky, together with Vladimir Rushailo and Rushailo's aide Alexander Orlov masterminded the enterprise. Aminov had numerous connections in the law-enforcement agencies and in the Staff of the President (he was rumored to be an out-of-staff advisor to head of the Staff Alexander Voloshin). Antoll was not the only enterprise engaged in gathering damaging material. There were also YUGAN and Tram agencies. Aminov was a deputy director general in both of them. Aminov gathered a lot compromising material. It is remarkable, that a probe into Atoll was opened by Economic Security Department of the FSB, but the sting operation to catch Aminov was carried out by FSB Own Security Department.
Source: Gazeta, 25 December 2001
Aminov has been Berezovsky's most loyal and devout associate. He was called Berezovsky's shadow personnel manager. He kept compromising materials against key figures in Russian politics. According to sources in Russian security agencies, Aminov used his connections to replace former head of the Russian Tax Police Sergei Almazov with Vyacheslav Soltaganov. FSB Economic Crime Directorate head Pushkarenko and deputy interior minister Vladimir Vasilyev were removed in the same fashion. Aminov was also rumored to prepare the documented compromising evidence about Evgeny Primakov's flat for publication. Moreover, notorious FSB officer Alexander Litvinenko gathered compromising material about Russian statesmen for Aminov.
Source: Moskovskaya Pravda, 28 Dec 2001
In 2001, the Supreme Court imposed suspended sentence on public advisor to the head of the Presidential Staff Alexander Aminov for bribing a FSB officer. Aminov handed over $50,000 to a lieutenant colonel as a payment for arranging his meeting with FSB chief Nikolai Patrushev. The Supreme Court ruled that Aminov was guilty of attempting to give a bribe, not giving a bribe, and cut his sentence to suspended prison term of a year. Aminov is an out-of-staff advisor to the head of the Staff of the President of Russia Alexander Voloshin.
Mr Aminov is known as a lobbyist, pushing economic interests and arranging cadre reshufflings. In the materials of the case he was called 'non-legal person entrepreneur', and the materials were classified and examined by the court without journalists. All court participants signed non-disclosure agreement and refused to convey any details, concerning the bribe. According to the reports, Aminov could have given a $50,000 bribe to an official in the apparatus of the FSB, who had the rank of lieutenant colonel, in December 2000. Aminov allegedly asked him to arrange a meeting with the FSB head Nikolai Patrushev.
After detention, Aminov refused to cooperate with the investigation. Prosecutor asked the judge of the Moscow City Court to sentence the lobbyist and shadow entrepreneur to a suspended 4-year jail term with 3 years on probation. The judged agreed that the sentence should be suspended and sentenced Aminov to a shorter term - suspended year and a half with 3 years on probation. The judge dismissed another criminal case against Aminov, who was accused of tax evasion on the defense motion. Aminov and his lawyer Alexander Hoffstein appealed against the decision, asking the Supreme Court to also dismiss the bribery case "for the lack of crime".
Source: Kommersant, 6 May 2003
Vyacheslav Aminov avoided publicity and focused on his job in the Presidential Staff, headed by Alexander Voloshin. When Voloshin was sacked, Aminov inherited his position under new head of the staff Dmitry Medvedev. Aminov was rumoured to say that he had been left to "look after Dima". When Medvedev moved to the government, Aminov followed him (who could care for Dima better than Aminov?). When Medvedev won a jackpot and became Putin's successor, Aminov was said to prepare huge diagram of a new Medvedev's vertical of power. It allegedly included the staff of the president, the government ministers, security forces generals, and regional leaders - all in different colors. Aminov was said to fill the sections of his diagram with certain names, written in skillful lettering, after the receiving a certain sum.
Source: Vek.Ru, 11 March 2008
The conference of the RF Modern Pentathlon Federation took place in the building of the National Olympic Committee of Russia in Moscow. The federation discussed the results of 2011, awarded best sportsmen and coaches, and approved of the plans for the next year. President of the Modern Pentathlon Federation Vyacheslav Aminov made a report, saying that the world championship, which took place in Moscow, was the main achievement of the Federation in 2011. It was the first modern pentathlon competition held on a single venue, that was the sports complex Olympiysky.
Source: Gazeta.Ru, 20 January 2012