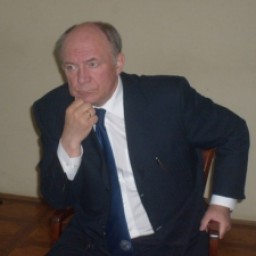 Biography:
Vyacheslav Pozgalyov was born on November 15, 1946 in a family of a military man in Pyongyang (North Korea). In 1964 he finished school and entered Leningrad Electrotechnical Institute. After graduating from the Insatiate, in 1970 he began working as an industrial engineer at the Cherepovets Metallurgical Plant. Two months later he was appointed foreman of large electric machines repair shop. After serving in the Army, he continued working at the plant.
In 1978 he became the youngest production foreman. The shop he headed became the leading one at the plant.
In 1991 he was elected mayor of Vologda.
In March 1996 he was appointed acting head of administration of Vologda region.
In October 1996 he was elected governor of Vologda region, receiving more than 80% of the vote.
Since 1997 he has been member of the Board on the local government under the President of Russia. He is Deputy Representative of the Russian Federation to the Congress of Local and Regional Authorities of the Council of Europe and member of the World Federation of United Cities.
In 1999 he was reelected governor of Vologda region. About 80% of Vologda citizens voted for him.
On December 7, 2003 he was elected Governor of a third term. A total 83% of voters voted for him.
On June 14, 2007 Vladimir Putin nominated acting Governor for approval by the regional parliament for another term. On June 21, 2007 the Legislature approved him as Vologda region head
Awards:
Order of Merit for Fatherland, II degree (1999)
Order of Merit for Fatherland, III degree (1996)
Medal of Honour (2003)
Order of Friendship (2006)
Badge of Honour (1985),
Chevalier honourary sign "Public Recognition"
Commemorative Medal of the Ministry of Interior of Russia "For assistance" (2011)
He is laureate of the Russian government grant in science and technology. He is member of the board of trustees for the publication of the Orthodox Encyclopedia. He has the rank of reserve colonel. He is author of I do not want to be President (1995) and a number of articles in the central and regional press.
He is married and has a daughter. His wife's name is Tatiana. His daughter, Maria, graduated from Leningrad Institute of Culture, is married to former professional hockey player who was on Severstal team.
Source: Lentapediya
Dossier:
In 2000 Anatoly Chubais, head of RAO UES, was accused of rigging the vote for the board of directors of RAO. He helped five of his faithful companions to become board members. They got exactly the same percentage of votes with four decimals accuracy. Moreover, the percentage they got was the minimum for becoming member of the board.
As a result of the voting at the meeting of shareholders, four Chubais's men including Victor Kress, Mikhail Prusak, Vyacheslav Pozgalyov, and Leonid Melamed received exactly 5.3069 percent of the vote. And another one, Valentin Zavadnikov, received 5.3068 percent.
Source: Kommersant, 26 July 2000
In 2004 a third of Mezhdurechenskiy district, 140 hectares, were given to Nikita Mikhalkov fir personal use for 49 years. Since then the remote corner of the region has been gradually developing, which was funded not only by Mikhalkov. In 2006 regional budget allocated nearly 12 million rubles for construction of a bridge and the road Svyatogorie - Isady - Mytnitse village. When the Legislative Assembly discussed the expediency of spending money on a section of road leading to the river bank, where hardly anyone lived (the road problem was much more acute in other populated areas), a representative of the Department of Roads assured that there several people live in the area in summer on their dachas. It is unclear whom he had in mind since Mytnitse village had no registered residents close to the river and only two elderly sisters live nearby. The bridge and the road went exactly to the house of Nikita Mikhalkov. This is a very convenient place in every sense because there are few people there, but there is a registered settlement, so purchasing land did not require transferring it from the category of agricultural land.
Source: Novaya Gazeta, 03 April 2008
In August 2006 an international scandal occurred in Vologda region. King of Spain Juan Carlos I de Borbón came to Vologda to hunt. The official press reported that "Hunting was good." But in October Sergey Starostin, Deputy Chief of the Regional Office for the Protection and Development of hunting resources, said that the king had killed not a wild bear, but a tame one called Mitrofan that had been made drunk with vodka with honey. And that that was not the first framed up hunt. High-ranking guests allegedly hunt on wolves, grown on the farm of one of the deputy governors.
When regional administration gave no comments for several days, to everyone's surprise, it was revealed that hunting did not take place at all and that the king spent four days in Vologda forests "getting acquainted with historical sites," and absolutely sober Mitrofan was at that time in his cage. But no one saw Mitrophan since then. In the end, the owner of the bear said in front of television cameras, that Mitrofan was an angry bear and that he tried to escape from his cage, and he had to shoot him. As for the skin, it was set on fire and burnt.
Source: Komsomolskaya Pravda, 01 December 2006
In summer 2011 the governor of Vologda region chose not to use rotating lights on his vehicle. Pozgalyov said that he made the decision based on his personal beliefs, not for the sake of PR. "Lightbars cause more harm than good. One should also take into account public opinion, which today strongly opposed emergency lights for vehicles." He added that it is better to leave home earlier than to "tease people with one's benefits."
Source: Russian News Service, 23 June 2011