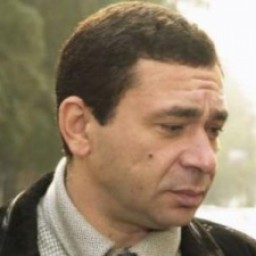 Biography:
Yakov Goldovsky (born February 26, 1962, Krivoy Rog, Ukraine) spent his childhood years in Tashkent (Uzbekistan). He studied farm mechanisation in the Tashkent Institute of Irrigation and Mechanised Agriculture. He graduated from Lomonosov Odessa Polytechnic Institute.
1979-1981 metalworker in Volgograd and Krivoy Rog
1981-1983 military service in the Soviet army
1983-1987 metalworker in Tashkent
1987 metalworker in the Lyuberetsky consumer cooperation union
1988-1989 metalworker in the Moscow Automobile and Road Institute
1989-1990 member of Autotechnika cooperative firm
1990-1993 director general of joint Soviet-Panama enterprise called Columbus
1993-1994 director of Eddi private enterprise
1994-1995 consultant for Kedr-Tsentrs JSC (cedar items producer)
1995-1996 director of GNC Holding AG.
1996-1997 deputy director general of Roskontrakt JSC
1997 director general of Gazsibkontrakt JSC
1998 president of Sibur JSC, member of the board of SIBUR and Petrochemical company JSC
November 1999 chairman of supervisory board of Salavatnefteorgsintez JSC
April 2000 member of Coordination Council of National Entrepreneurs
In early 2002 he was detained and retired as a director general of Sibur. He turned over the company to Gazprom. He was released and left Russia.
2003-2005 Through the companies affiliated with him, Goldovsky acquired a number of PET preform manufacturers in Lithuania, Ukraine and Russia. But in 2006 he quitted in business.
2004 He seized control over Nizhny Novgorod-based Korund chemical company, Romanian RAFO Oneşti oil refinery and Ukrainian FUD development company.
He is married and has 4 children.
Source: Lyudi.Ru
Dossier:
At the end of September 2001 Goldovsky had a conversation with first deputy chairman of Gazprom Petr Rodionov. Rodionov informed Goldovsky about Gazprom's intention to reelect the board of directors of Sibur and offered Goldovsky to resign. However, the president of Sibur addressed his complaints to Aleksandr Miller, the chairman of the board of Gazprom.
Source: Vedomosti, 3 October 2001
On January 7, 2002 the Prosecutor General's Office opened investigation into what might fall under Article 201 of the Criminal Code (abuse of power by manager of commercial entity). The criminal case was opened after officials of Gazprom alleged that a group of people stripped Gazprom of RuR2.6b ($90m) by selling the assets of Gazprom's daughter companies. On January 8, 2002 the police searched the offices of the daughter companies of Gazprom as part of the investigation. Three executives of Sibur were arrested: Goldovsky, chairman of the board Vyacheslav Sheremet and vice-president of the company, responsible for legal issues, Yevgeny Koshchits.
Source: RIA Novosti, 9 January 2002
On January 18, 2002, Goldovsky and Koshchits were indicted on a charge of committing offences under Article 201.2 (Sheremet gave a written cognizance not to leave the city). On January 31, 2002, a spokesman of the Prosecutor General told journalists that Goldovsky was indicted on an additional charge of misappropriation and large-scale embezzlement of assets, entrusted to the defendant (Article 160.3).
Source: Interfaks, 31 January 2002
On March 25, 2002 Vyacheslav Skvortsov was elected the CEO of Sibur. On July 1, 2002 the prosecutors brought Goldovsky and Koshchin case before the court. On July 31, 2002 the trial began at Moscow's Gagarinsky Court. The first day created a sensation. Gazprom and Sibur withdrew the lawsuits in the sum of 511m ($18m) and 606m ($21m) respectively. The bailiffs told the court, that the losses they had incurred were redeemed entirely. This weakened prosecution, because the defendants were on trial for the charges of inflicting damages.
Source: Kommersant, 1 August 2002
On August 8, 2002, the court released Koshchits on 2m ($70,000) bail. Goldovsky's lawyer asked the court to release his defendant on bail too. He said that Goldovsky was in hospital, where he got prepared for the surgery. Goldovsky told the court he would not flee, because he wanted the truth to be found. He offered 20m ($700,000) as a bail. The prosecutor supported the motion.
Source: RIA Novosti, 8 August 2002
On September 24, 2002 prosecutor Dmitry Shokhin urged the court to impose 4 years on probation sentence on Goldovsky and to 3.5 years on probation on Koshchits. The prosecutor also urged the court to bring guilty verdict for every count of indictment.
Source: RIA Novosti, 24 September 2002
On September 2002 the court sentenced the accused to 7 months in prison. They were found guilty of abuse of power by executives, which infringed damages to their companies. They were acquitted on other counts due to the absence of crime. Personal securities of the accused did not let the journalist in the court room when the sentence was pronounced.
Source: Lenta.ru 25 September 2002
In spring 2011, Vladimir Yevtushenkov, boss of Sistema conglomerate of companies, was reported to consider establishing the third core business (besides, telecommunications and oil-and-gas) – now, a chemical one. Insiders said, Sistema offered Goldovsky a position of advisor, responsible for finding suitable assets. Goldovsky told the journalist, he would have accepted the offer. "If there were an offer, I would say "yes"", said Goldovsky.
Experts say that the proposal would have given Goldovsky a chance to get back to Russian business.
Source: Rupek, 31 May 2011