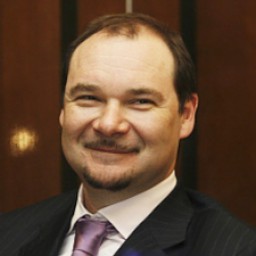 Biography
Yuri Zhukov (born 22 August 1969, Potsdam, GDR) graduated from Moscow Institute of Economics and Mathematics in 1995, and later on, Moscow Institute of Communal Services and Construction.
1991 director general of Vikong private enterprise
1993 head of a company called Svet
In 1994 he co-founded First Mortgage Company, which after restructuring grew into PIK Group
In 1998 Yuri Zhukov took up a few highly successful mortgages from private banks and from the government of Moscow city.
In 2001 PIK Group purchased Moscow's Second Plant for Prefabricated Buildings
The year 2010 saw long-running legal disputes over the ownership of the companies, comprising PIK Group, which resulted in Yuri Zhukov's losing the majority of his assets.
Forbes Magazine ranked him 49th in the list of the richest people in Russia with net wealth of $700 million in 2009. Compared to 2008, his fortune shrunk (it was $6.1 billion in 2008). When in 2010 the creditors demanded a loan payment and penalties in court, Zhukov almost lost his business and left Forbes list of the 100 richest Russians.
Sources: BtimesTimes
Dossier
PIK Group cheaply sold three property development projects and a sub-company called PIK-Nerud, paying off 6.9 billion roubles ($230 million) in debt. The buyer of PIK-Nerud and an unfinished building in Afanasyevsky Alley in Moscow was the co-owner of PIK Yuri Zhukov.
Source: Vedomosti, 3 July 2009
Nomos-bank has filled a lawsuit against PIK owner Yuri Zhukov's company Maritrade Investment ltd in Moscow Court of Arbitration. The bank seeks 12.5% of shares of PIK from businessman Yuri Zhukov in penalty for a $262 million loan, Maritrade Investment took out and did not pay off. PIK pledged 25% of its shares to secure the payment of debt: shares were provided in halves by Yuri Zhukov and second founder of PIK Kirill Pisarev. Yuri Zhukov offered to buy all liabilities of Maritrade from the bank, but Nomos refused. Nomos demands 12.5% of shares of PIK and the property or Maritrade Investment ltd for the loan payment and penalties, according to the lawsuit.
Source: Vedomosti, 19 February 2010
In summer 2010 the Court of Moscow's Meshchansky District seized two flats in Moscow from the possession of the founder of property developing group PIK Yuri Zhukov after Nomos-bank went to court and demanded $271.4 million for a loan payment. Nomos-bank also asked the court to take Zhukov's country house in prestigious Rublyovka residential area, his cars and stakes in a number of companies for the benefit of the lender.
Source: Kommersant, 10 June 2010
In July 2010, the Arbitration Court of Moscow froze Yuri Zhukov's Maritrade Investments Limited's stake in PIK GROUP. Russian state VEB bank, where the securities are deposited, was banned from any transactions in the shares, worth 206.678 million roubles (roughly $6.8 million).
The court issued injunction as a temporary measure to secure the interests of the plaintiff - IBG Development Group. According to the reports, IBG Development held Zhukov's stake in PIK prior to the company's listing.
Source: RAPSI, 28 July 2010
In two suits the Arbitration Court of Moscow has ordered Kvinturin LLC, which owns a prestigious cottage village, Park Vill, 10 km from Moscow in the Rublyovka area, 400,000 square metres, to pay 177.051 million roubles ($5.9 million) and $5.705 million in damages to Tankard Trading & Investments. According to the reports, prior to its acquisition by the Zhukov's company, PIK GROUP founders Kirill Pisaerev and Yuri Zhukov owned Park Vill.
Source: Russian Forbes, 29 July 2010
In 2011, Sberbank and German Gref were embodied in another corruption scandal, related to a property development business. Sberbank set up a subsidiary, Sberbank Development, and appointed troubled PIK Group co-owner Yuri Zhukov, who owns 12.5% of shares in PIK, as the head of the company. Zhukov swapped his shares in PIK for the shares in Sberbank Development.
A source in the bank told Kommersant, that German Gref decided to establish a new company in order to help his friend and partner Zhukov. "In fact, Sberbank does not need another company to run its non-core assets, because it already has Sberbank Capital for these purposes. But the leadership of Sberbank are on good terms with Mr Zhukov, and they decided to establish a company for him", the source said.
Source: Kommersant, 10 February 2011
In 2011, one of PIK founders Yuri Zhukov left the board of the directors of the company.
Source: Interfax, 22 June 2011
In the end 2011, businessman Yuri Zhukov, who lost control of his business during the financial crisis, reentered the property development market. His company Klever Asset Management co-invested into building of a residential area, 230,000 square metres, in Zarechye village near Skolkovo hi-tech hub. Klever Asset Management also acquired 920,000 square metres of land near Kutuzovo village, a few miles off Zelenograd, from Promsvyaznedvizhimost for estimated $65-75 million.
According to sources, Klever also planned to buy 180,000 square meters of land to build 170,000 square metres of residential quarters in Korolev city near Moscow.
The cost price of the project near Skolkovo would be $375-400 million, in Zelenograd - $1-1.2 billion. The starting price of a square metre in the first project could be 80,000 roubles ($2,700), in the second project - approximately 50,000 roubles ($1,700).
Source: Kommersant, 17 November 2011